"Produced in the Piedmont region of northern Italy, its origins date back more than 300 years to the presence of early Christian monks… Their skills in fine food and drink would have included the art of distilling, especially the use of the wild hazelnuts… to create a liqueur on which Frangelico is based today. Its name is… an abbreviation of Fra. Angelico, a hermit monk… during the 17th century." ~ from the Frangelico website www.Frangelico.com
If you ever stood on a mountain peak, you know how the stunning view can give you a new perspective on life. The world below with its miniature houses and trees seems simple and serene. From the mountain top, the world always looks completely at peace.
Valentina grew up in Sarajevo with Mount Trebević watching over the city. Sarajevo is protected on all sides by seven mountains and Trebević is the smallest and closest. Val remembers how easy it was to take the street car to the gondola and enjoy a fun day up on the mountain, hiking and eating in the restaurants. In 1984, this small mountain hosted the Olympic bobsleigh run and it was on the top of Trebević with the breathtaking views, that Val said "I do" to Radomir, the love of her life.
Val grew up in a home full of joy, family and friends. Her mother was always baking something special for her and her friends. The swag of dried branches that hung above the front door was often had the neighbourhood kids school pictures tucked into it. Her parents treated her friends just like family.
One of the favourite cakes Val's mom baked was called "Trebević," named after their dear mountain. It was a favourite at any event because it was a cake you could "dress up" or "dress down." Her mom would use premium chocolate and high end ingredients for special occasions and less expensive chocolate if it was going to be gobbled up by a pack of hungry children.
After their marriage, Valentina worked with Radomir building their new home. It took 3 years and when they finally moved in, Val's mom passed on to her a copy of the recipe for "Trebević." It had been a special part of Val's childhood and she looked forward to sharing it with her own children.
It was 1992. Val and Rad had only been in their new home for 8 months when the political tensions in Sarajevo intensified. Val was 2 months pregnant and the hospital for new babies had been destroyed, so she and Rad decided to go to Belgrade for a few days and wait for clearer heads to prevail with the politicians.
To avoid suspicion they packed up a small bag of things for a day trip: a few items of clothing and some toiletries. They planned to return soon and left everything else behind, including the Trebević recipe. Valentina and Radomir never returned to their home.
Ultimately all of their family and most of their friends had to leave Sarajevo, each of them starting new lives scattered all over the world. Val and Rad eventually chose Canada as their new home where they raised their two beautiful daughters.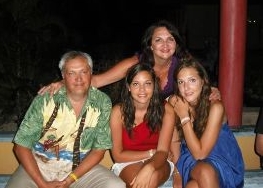 In the early 90's it was difficult to find and reconnect with old friends. The web and email were very new and social networking was unheard of. While Val embraced life in her new homeland, she missed her friends and worked hard to track them down. Some of them had settled in parts of Europe, while others were scattered as far away as Australia and New Zealand.
One of Val's dearest friends was found living in Vienna and they were thrilled to find each other. Her friend had also left with virtually nothing and faced the same struggle starting life in a new country. They enjoyed getting each others' letters in the mail.
One of her friend's letters mentioned that she had especially thought of Val and her mother because she baked Trebević that day. Val was wonderfully surprised! Somehow, even in her haste to leave, her friend had managed to save the recipe.
The friend sent a copy of the recipe and once again it was back in Val's family. Not only was she pleased to have her mom's recipe back, but she was also pleased to have a memento of the beautiful mountain she had grown up under the shelter of.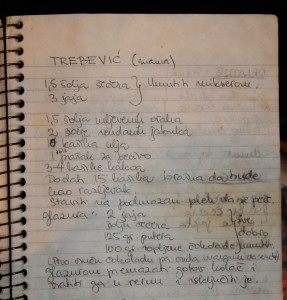 Val does not talk often of the war and its impact on her and her family. She has fondest memories of her home, her friends and her city. She remembers Sarajevo as a wonderful, vibrant, diverse city. From the top of Trebević, the little red-tiled roofs and cozy neighbourhoods throughout the large city looked serene and at peace. Everyone from all cultures lived together happily in the city guarded by the mountains.
Sometimes when she meets someone struggling, Valentina will share her story to encourage them. "I lost everything I had in one day." Otherwise, she enjoys focusing on the present and working toward good things for her family and for daughters' futures.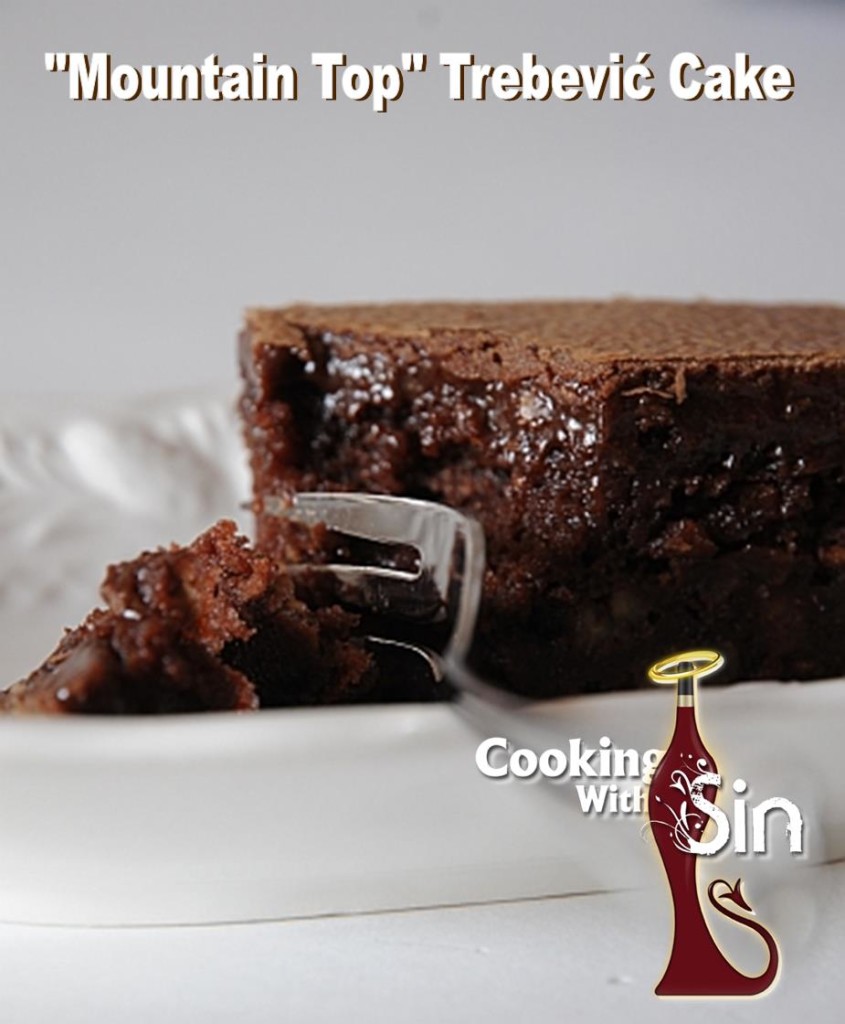 "Mountain Top" Trebević Cake
Note: Please read all the instructions over before beginning to bake. The cake needs to still be warm from the oven when the icing is poured on it.
Cake Ingredients:
1½ cup sugar 3 eggs 1½ cup chopped pecans 2 cups grated apple (4-5 apples) 10 tablespoons vegetable oil (2/3 cup) 1 tablespoon baking powder 3-4 tablespoons cocoa powder (Val recommends 3) 15 tablespoons flour (7.5 oz. or almost a cup) 1 cap of liqueur (Val's favourite is Frangelico)
 Icing "Glazura" Ingredients:
2 eggs 2 cups white sugar (NOT icing sugar) 100 grams chocolate chips (1 cup) 1 cap of liqueur 125 grams butter (1 1/4 cup)
Cake Instructions:
Preheat the oven to 400ºF.
Grease an 9 x 13 cake pan.
Beat the sugar and eggs together well with a mixer. Use a large bowl.
Stirring by hand, add all the rest of the ingredients into the sugar-egg mix.
Pour the batter in to the cake pan and bake for 30 minutes.
Icing Instructions:
Beat the eggs and sugar together well with a mixer, then place the mix in the microwave for approximately 2 minutes to thicken it. Stir it regularly to check.
While the mix is still hot, stir in the chocolate chips & liqueur until the chocolate melts throughout and is stirred evenly throughout the mix.
Using a mixer, beat the butter into the egg/sugar/chocolate mix until fluffy.
Put the icing on the cake while the cake is still warm from the oven.
Turn the oven off, then return the newly iced cake back to the oven for 10 minutes.
With the oven off, the top of the icing will harden while the rest of the cake retains its rich moisture.
Note: While there are a lot of apples in this cake, it does not taste like an apple cake, so spices that work well with apples often don't work well with this recipe. Treat this cake as you would chocolate brownies. Just like Valentina's mom, you can make if for special occasions and use high end ingredients and better quality chocolate or you can make it for a casual gathering and use less expensive ingredients. It works for every event.
"Today is your day! Your mountain is waiting. So… get on your way." ~ Dr. Seuss
Tags:
Chocolate
,
Fruit
,
Vegetarian