Come on out! The official launch for Cooking With Sin is on…
Tuesday, December 7th, 2010 from 7-9 pm
at the
Grand Valley Golf and Country Club,
Cambridge, ON. 
http://www.grandvalleygolf.com/
A big huge THANK YOU to the Merkir family for making it so fun and easy to arrange.

I'm excited to announce that it will be a fund-raiser for The Gleaners. http://www.ontariogleaners.org/ One of the CWS contributors, Shelley Stone, works for The Gleaners and they do amazing work. They have served over 5.5 million servings of soup to refugee camps and other areas in crisis around the world.
• $1 from every book sold at the launch will go to The Gleaners. • Two hand-quilted wine-themed wall hangings will be raffled off. • Buy a plate to taste some of the recipes from the book and the proceeds will go to The Gleaners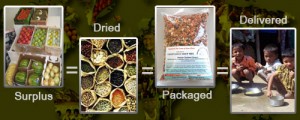 It will be a really fun night. Come and bring  friends. Buy a couple copies of the book – it is a great gift! Support the Gleaners. Sample the food, place a bid for a quilted wall-hanging and join me for a glass of "sin" at the cash bar.
Copies of "Cooking With Sin" will be available. Cash, cheque or ATM.
The Quilts
The hand-quilted wall hangings are a gift from my wonderful mother-in-law, Helen Roorda, a Cooking With Sin participant. Both quilts have a rod panel on the back and are ready to hang. Thank you Helen!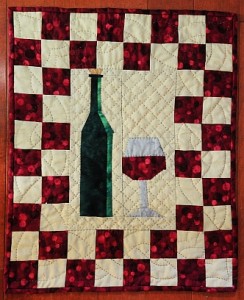 Quilt 1: "A Glass of Red" is 41 cm (16.25″ ) wide and 50 cm (19.75″) tall.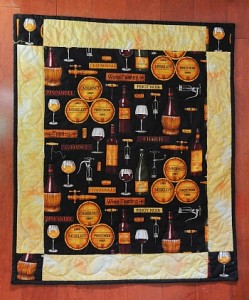 Quilt 2: "The Wine Cellar" is 53.5 cm (21″) wide and 62 cm (24.5″) tall.
Map & Directions
Grand Valley Golf and Country Club: http://www.grandvalleygolf.com/main6.cfm?id=40C737F7-B6A7-8AA0-6BE86CACDABC417E
From the 401, take the Homer Watson exit in Kitchener south, then turn right (south) at the first round-about onto Dixie Settlement Road. When the road ends at a "T" turn right onto Roseville Rd. and the club is about 1 km on the right.
I hope you "Like" Cooking With Sin on Facebook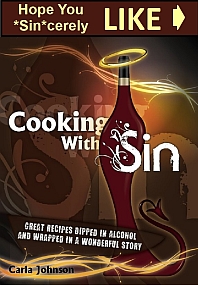 Follow me, Carla Johnson, on Twitter
@Carla_Johnson
Tags:
Buy the book
,
Events