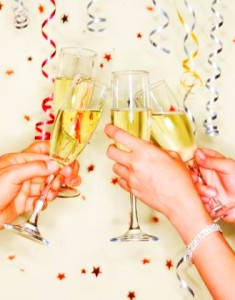 Heading out to buy some bubbles to bring in the new year? Don't be tempted by Dom Perignon. Save yourself a lot of $$ and check this out first!
The lastest test by "The Wine Trials" found that in a blind taste test, there were several sparkling wines under $15 a bottle that beat $50+ bottles. Here is their list.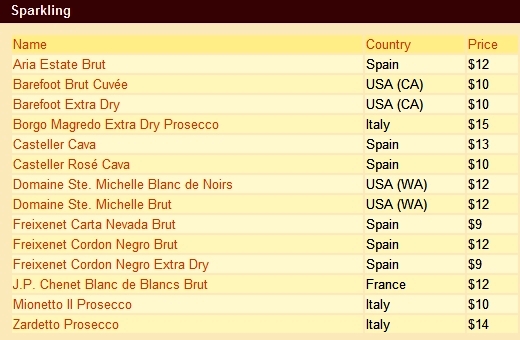 You can see all their test results on their site: http://www.fearlesscritic.com/wine/style/20/sparkling
Also…
Natalie MacLean is the Canadian author of "Red White and Drunk All Over." She regularly tastes and compares wines and shares her tips on her site "Nat Decants"
http://www.nataliemaclean.com/
For this season's New Year's celebrations, she says,  "There are some terrific bubblies that will add sparkle to your holidays without taking a shine to your wallet." She recommends the following bubblies…
#1 Santa Margherita Prosecco Di Valdobbiadene Brut (Italy). She says it is surprisingly rich and toasty, yet packed with luscious peach and pear notes.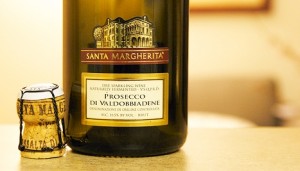 #2 Freixenet Cordon Rosado (Spain) – She says it has lovely aromas of fresh raspberries and strawberries.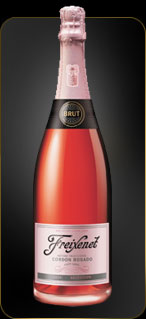 But in the latest edition of "The Wine Trials" most wine drinkers reported again that they preferred a $12 bottle of Domaine Ste. Michelle Cuvee Brut from Washington State to the $150 Dom Perignon.

"At a minimum it seems clear that many Americans might be wasting at least $138, at least where taste is concerned," he said.
Looking for more suggestions? You can read the full article in The Gazette at
http://www.nataliemaclean.com/blog/view/2010/12/16/sparking-wines-that-wont-blow-your-holiday-budget/133548 
Something I just learned…
Different sizes of champagne bottles have different names and several of them are people from the old testament in the Bible. Who knew??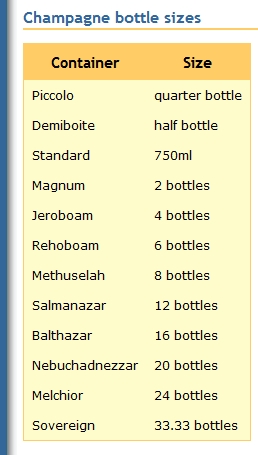 Tags:
Fun