We'll rant and we'll roar like true Newfoundlanders We'll rant and we'll roar on deck and below
Until we see bottom inside the two sunkers When straight through the Channel to Toslow we'll go. ~ Traditional Newfoundland folksong
When some people travel they remain aloof and distant tourists, but when Rhonda went to Newfoundland on a research trip with her husband John, remaining aloof was the last thing on her mind. Becoming an honourary Newfoundlander was on the top of her to-do list – 2nd only to watching her husband attach a tracking beacon to an iceberg with a robotic helicopter! Ya, pretty cool, eh?
Newfoundland is a very special island that became our 10th province, somewhat reluctantly, in 1949. A rocky, windy province rich in culture and traditions, Newfoundland was once a great exporter of cod fish. The supply was enormously abundant. The island economy relied almost solely on it, but in the early 1990's the cod disappeared, probably never to return. Newfoundlanders have always lived with harsh Atlantic winds, but learning to live with the devastating winds of greedy over-fishing and vision-less politicians has been extremely challenging.
Becoming an honourary Newfoundlander doesn't take long and it isn't a difficult process either, it's just a bit gross. You become a Royal Order of Newfoundland Screechers by participating in a Screech-In ceremony. If you are on the island, you will find many pubs that hold Screeching ceremonies.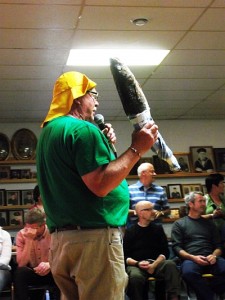 The Screech-In ceremony steps are simple and quick.

#1. A Newfoundlander must be present.

#2. Pour a shot of screech and have it ready.

#3. Sing some Newfoundland folk songs or recite the Screecher's Creed:

"From the waters of the Avalon, to the shores of Labrador,
We've always stuck together, with a Rant and with a Roar.
To those who've never been, soon they'll understand,
From coast to coast, we raise a toast, We love thee Newfoundland!"

#4. You must kiss a cod fish. Really. On the lips! This was an old traditional bon voyage to sailors heading to the Caribbean to return with the rum.

#5. You must answer the question, "Is ye a screecher?" with "Deed I is my old cock and long may your big jib draw." (Translation: Yes indeed my old buddy [old Cockney term] and may there always be wind in your sails." )

#6. Bottom's up! Toss back the shooter of screech/rum.

#7. You may even receive a certificate commemorating the illustrious event! Hopefully it is all captured on camera.
A few hundred years ago, barrels that carried both rum and molasses were rarely cleaned, so the sediment would be boiled and distilled with grain to produce a strong alcohol. While each batch had its own unique flavour and was more of a moonshine, it was called "Screech." Today Newfoundland Screech is a branch of rum.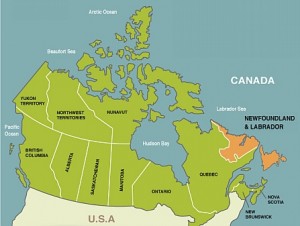 Sometimes life can get so rough
Along our rocky shore
We say we'll just pack up and leave
And won't come back no more
But something just keeps pulling us
As though it had us by the hand
And every road we travel on
Leads back to Newfoundland.
~ Gord Payne
Rhonda is a great friend of mine and a wonderful supporter of Cooking With Sin. You will love the two recipes she has shared here on the site: Bread Pudding & Hard Caramel Sauce and A Little Leftover Red Wine Jelly.
Here's a great clip about Newfoundland from "This Hour Has 22 Minutes" one of our favourite, brilliant Canadian comedies.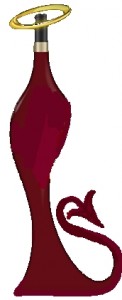 Click here so we can connect on Facebook!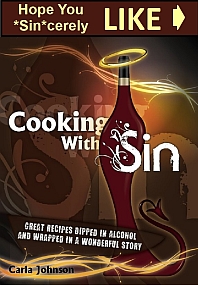 Tags:
Screech