"May the New Year bring you courage to break your resolutions early! My own plan is to swear off every kind of virtue, so that I triumph even when I fall!"

 ~ Aleister Crowley
This quote makes me smile. It reminds me of the old SNL sketch "Lowered Expectations." If you saw it, back in the day, you can probably still hum the tune. I am hoping 2013 will be a no nonsense year. No blubbering. No boasting. No baloney. Just lots of humour with a reality check.
You may have guessed I'm not a big believer in new year's resolutions. They are usually doomed to fail for many good reasons. On the other hand I do take time to reflect and ponder at the start of a new year. My thoughts for 2013 are on my personal blog CarlaJohnson.ca.
For Infinity Magazine's Winter 2012 issue I wrote an article featuring King's Court Estate Winery in the Niagara Region here in Ontario. Roland Zimmermann, the owner & vintner of King's Court, and I came up with a great drink you will find absolutely perfect for toasting in the new year. It is a mix of three very spectacular, Canadian ingredients. Enjoy!
King's Courtini
1 shot King's Court Estates Vidal Icewine VQA
1 shot Pure Canadian Maple Syrup
2 shots Canadian Whisky
1. Place ingredients in a shaker of ice.
2. Shake and strain into ice-filled martini glasses garnished with something festive.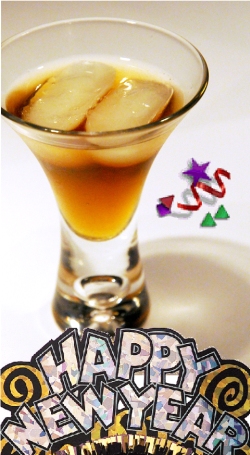 Tags:
King's Court Estate Winery
,
maple syrup
,
Vegetarian