"Many wagon-loads of enormous water-melons were brought to market every day, and I was sure to see groups of men, women, and children seated on the pavement round the spot where they were sold, sucking in prodigious quantities of this water fruit.  Their manner of devouring them is extremely unpleasant; the huge fruit is cut into half a dozen sections, of about a foot long, and then, dripping as it is with water, applied to the mouth, from either side of which pour copious streams of the fluid, while, ever and anon, a mouthful of the hard black seeds are shot out in all directions, to the great annoyance of all within reach.  When I first tasted this fruit I thought it very vile stuff indeed, but before the end of the season we all learned to like it.  When taken with claret and sugar it makes a delicious wine and water." ~ Frances Trollope (1780-1865) 'Domestic Manners of the Americans' (1832)
The last several years have seen the virtual disappearance of the watermelon with seeds and I am going to stand up and declare I miss them. I enjoyed spitting the black little slippery things out on the lawn at picnics. It was fun competing in  target practise with my friends. It is an art, you know, to propel a seed with accuracy and speed. And it is a celebrated skill that kids these days are missing out on.
And while I am sounding like an old has-been, I am going to declare that seeded watermelon tasted better. Mind you, I have not been able to compare and have no proof, but I am certain that seedless watermelon is blander and drier. It is less colourful and less flavourful. Or maybe I'm just wishing for the "good ol' days" when the grass was greener and the watermelon sweeter. And I am wishing I could teach my daughter how to spit a watermelon seed without it dripping down her chin like mine always did.

This fun video below, on how to make a watermelon keg, popped up on social media recently and I love it. But I also knew we could do better than just serve plain watermelon aqua fresca from it. A little bit of "sin" makes it a lot better.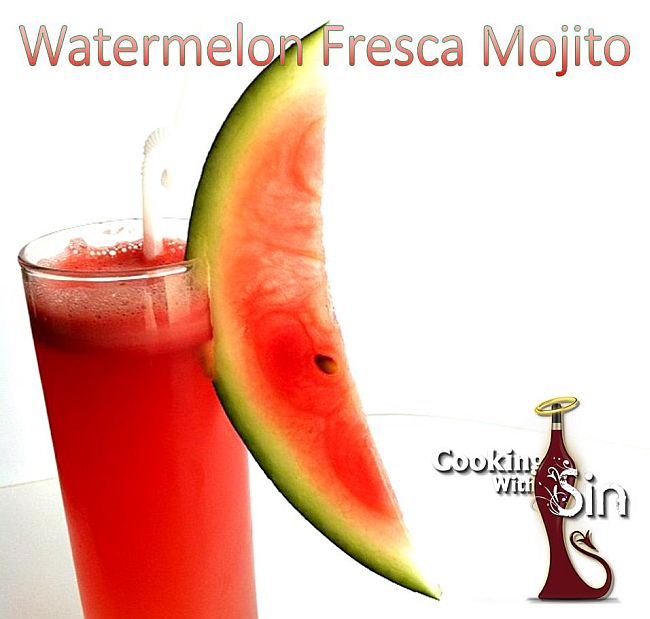 Watermelon Fresca Mojito
3 cups seedless watermelon
1  fresh lime, cut into sections
¼ cup rum
Sugar, to taste
Fresh mint
Club soda (optional)
1. Mix the watermelon in a blender until smooth.
2. Muddle the lime, rum, sugar and mint in a pitcher.
3. Stir watermelon into the muddled mix in the pitcher. Serve individual glasses and top each with club soda. Garnish with a slice of watermelon or mint sprig.
"The nature of watermelons is generally rather chilling and contains a great deal of moisture... Their cleansing action you can discover for yourself; just rub them on dirty skin. Watermelons will remove the following: freckles, facial moles, or epidemic leprosy, if anyone should have these conditions."
Galen (129-216 A.D.), Marcus Aurelius's personal physician



Tags:
Technique
,
Watermelon