Press Release – St. Patrick's Day
Cooking With Sin – St. Patrick's Day 2011 – Press Release
St. Pat's Party Bartender Wannabe
Salute St. Patrick's Day with Irish stout stew at your home bar
By Carla Johnson & Heather Pardon
What's the craic! St. Patrick's is the one day of the year where anyone gets to be Irish for a day. So, grab a shamrock and string on some green beads, then round up the funnest people you know. Get your hands on some Dust Rhinos tunes and turn them up loud, because you are the host, chef and bartender for this party.
As you caramelize the vegetables in this stew, make sure you have lots of your favourite dark stout handy, because you will need some of it for both you and the stew. While the crockpot works its magic, bake the soda bread. It is probably the easiest bread you'll ever make and it is perfect with the stew.
For good luck, don a delightful green leprechaun hat that says, "Kiss me! I'm Irish!"
"Bartender Wannabe" Irish Stout Stew
"May your home always be too small to hold all your friends." ~ Irish Blessing
Heather Pardon has never been a one-career kind of gal. In her lifetime, she has been both a chef and a baker. She has worked in health promotion, fund raising, events planning and even spent time in a horribly boring office job. She has been a personal chef and she has worked in both a running gear store and an outdoor gear store. For a while she was a personal trainer and operated her own bed & breakfast, but most of all she enjoys her current position as a Daisymobile driver, author and public speaker.
Heather enjoys trying new things and there are a few things she has had on her bucket list of careers to try in her lifetime. One of them is to work as a bartender. She has spent many years working the back of the house in restaurants as a chef, yet she enjoys getting to know people, and is curious about the bartender's perspective on humanity and the world. She also thinks it would be a blast of fun and would likely make great fodder for a book.
Heather's friends Pamela and Brian were thinking about opening an Irish Pub and as soon as she caught wind of their plans she mentioned her interest in helping out behind the bar. One day, Pam called Heather to cook an Irish dinner for them and a few guests. She answered with an enthusiastic "Yes!" and joked with Pam, "Is this my audition for working in the pub?"
Heather warned both of them that while she had spent twelve years working as a professional chef, she had never cooked an Irish stew before. After all, her lineage is Scottish, so she could be forgiven for this. Nonetheless, she accepted the challenge. After some research on traditional Irish pub fare, Heather eventually, she came up with this dark stout-laden stew recipe. Caramelizing the vegetables added even more colour and flavour to the stew. Serving it with the soda bread is a must!
Ironically, Heather had never been able to finish an entire dark stout prior to making this dish. She put a full can in the stew and drank a full can herself during cooking! That may bode well for her future career in bartending.
The evening was a huge success. Both the stew and soda bread turned out beautifully. This made her hopeful that one day, even for a short stint, she would be able to take some time away from behind the wheel of her Daisymobile and spend it behind the bar. In the interim however, she is satisfied she had one successful evening.
With this stew and a few dark stout on the side, you can re-create your own pub feel right at home with friends. You can be the host, chef and bartender all at once!
"Bartender Wannabe" Irish Stout Stew
Serves 8
  3 pounds stewing beef, cut into 2 inch cubes 3 tablespoons oil 2 large onions, coarsely chopped 1 garlic clove, crushed 3 tablespoons all-purpose flour 2 tablespoons tomato paste, dissolved in 4 tablespoons water 1 large can dark stout 2 cups beef stock Pinch of cayenne Sprig of fresh thyme 2 cups largely diced carrots 2 cups largely diced parsnip 2 cups largely diced turnip Salt and freshly ground pepper Chopped parsley, for garnish
Heat 1 tablespoon oil in a large skillet over high heat. Brown the meat on all sides. Do not over-crowd the meat while browning. Set aside in a bowl with any pan juices.
Reduce the heat, add 1 tablespoon oil to skillet and add the onions and crushed garlic, cooking gently 5 minutes until softened. Add flour and cook mixture together 2 – 3 minutes. Add tomato puree and 1 cup of stout, cover, and cook gently for 5 minutes.
Transfer the contents of the skillet and the browned meat to a slow cooker. Pour half of the remaining dark stout into the skillet and bring to a boil. Stir to dissolve any remaining caramelized meat juices from the pan. Pour over the meat, along with the remaining dark stout, beef stock and cayenne. Add the thyme and stir. Cover the slow cooker and cook on high for 1 hour.
Heat 1 tablespoon oil in large skillet over medium-high heat. Sauté carrots, parsnips and turnip in batches until brown and slightly caramelized.
Add the vegetables to the slow cooker after the meat has cooked for an hour. Stir, cover and continue cooking until meat and vegetables are tender for 1.5 – 2 hours. Remove the lid to thicken if needed.
Season to taste with salt and pepper before serving and garnish with chopped parsley to serve. It is great with Soda Bread.
Whole Wheat Irish Soda Bread
  2 cups whole-wheat flour 2 cups all-purpose flour, plus more for dusting 1 teaspoon baking soda 1 teaspoon salt 2 1/4 cups buttermilk
Preheat oven to 450° F. Coat a baking sheet with cooking spray and sprinkle with a little flour.
Whisk whole-wheat flour, all-purpose flour, baking soda and salt in a large bowl. Make a well in the center and pour in buttermilk. Using one hand, stir in full circles (starting in the center of the bowl working toward the outside of the bowl) until all the flour is incorporated. The dough should be soft but not too wet and sticky. When it all comes together, in a matter of seconds, turn it out onto a well-floured surface. Clean dough off your hand.
Pat and roll the dough gently with floury hands, just enough to tidy it up and give it a round shape. Flip over and flatten slightly to about 2 inches. Transfer the loaf to the prepared baking sheet. Mark with a deep cross using a serrated knife and prick each of the four quadrants.
Bake the bread for 20 minutes. Reduce oven temperature to 400°F and continue to bake until the loaf is brown on top and sounds hollow when tapped, 30 – 35 minutes more. Transfer the loaf to a wire rack and let cool for about 30 minutes.
__________________________________
Carla Johnson is an author & speaker. Her mission is to Reveal the EXTRAordinary in the Ordinary. When Johnsons' Mennonite grandmother caught her mother cooking with wine she scolded, "Cooking with sin, are we?" Carla's latest book Cooking With Sin: Great Recipes Dipped in Alcohol and Wrapped in a Wonderful Story! is a collection of recipes from people of all walks of life. Each recipe has alcohol in it and each recipe comes with a personal story from the cook. It is available at Chapters and on her site www.CookingWithSin.com.
Heather Pardon has fulfilled her bartender dream, somewhat, and now serves up the finest espressos as a coffeehouse barista. You can read more on her site www.WildDaisy.ca. Her story and recipe are published in the new book "Cooking With Sin: Great Recipes Dipped in Alcohol and Wrapped in a Wonderful Story!" by Carla Johnson. www.CookingWithSin.ca
__________________________________
Click on the photos to open them to save a larger resolution image more appropriate for printing.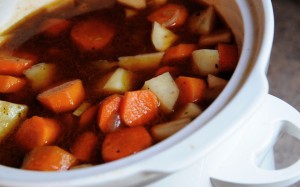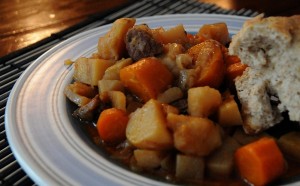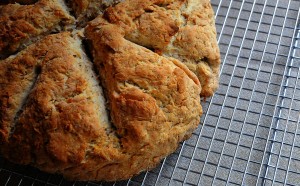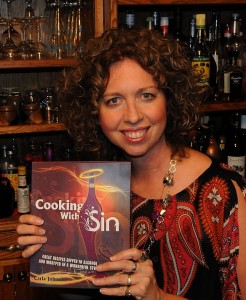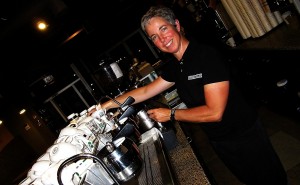 Thank you! I truly appreciate the support of the media.
If you have any questions or if you would like one of the photos in a higher resolution, please let me know. I am very happy to help.
Carla Johnson 519-623-2769
Carla@CarlaJohnson.ca
www.CarlaJohnson.ca
Cooking With Sin Great Recipes Dipped in Alcohol and Wrapped in a Wonderful Story!