"It's just the most amazing thing to love a dog, isn't it? It makes our relationships with people seem as boring as a bowl of oatmeal." ~ John Grogan
The 3rd & final in a series of 3 dog "tails" written by Chef Janet Craig of The Satisfied Soul.
When I moved to Belleville, Ontario, I started catering dinner parties at a lot of larger homes in the county that were on the waterfront in very rural areas. One party had this little Sheltie and I was alarmed when my server opened the back door and let him out. This property was 5 acres in the middle of nowhere and I asked, "Did you ask anyone if you can let the dog out? Is the yard fenced? Do they have an invisible fence? OMG! What is the dog's name?" Quickly, I picked up a lamb chop and waved it outside whistling like a jackass and fortunately, he returned.
While we avoided trouble that time, we may have done some damage later that night. While I was pulling a chocolate soufflé out of the oven, a chunk of it flew out of the pan. Before I could stop him, the dog snapped it out of the air while it was still piping hot. My server and I gave each other that "Oh no!" look. I immediately got him some cold water, but he didn't even react. He seemed very happy with his illegal treat. 😎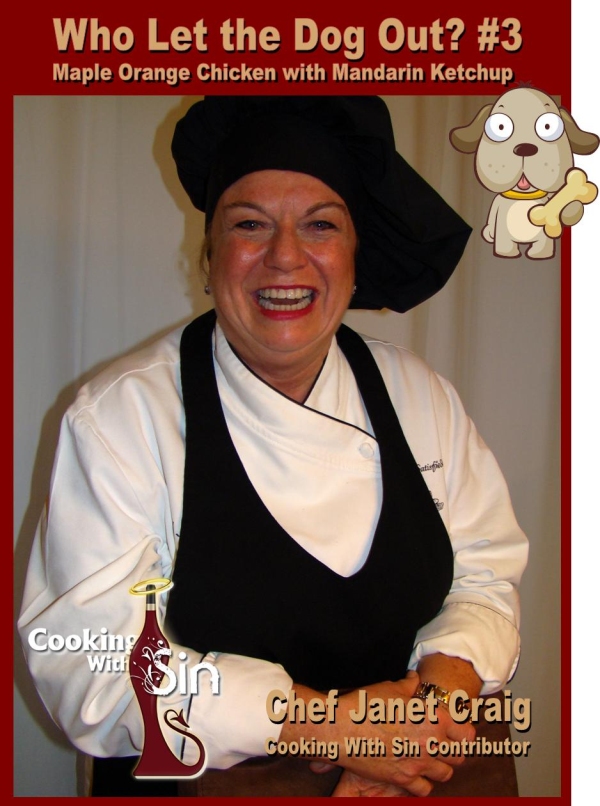 Who Let the Dog Out? #3
Maple Orange Chicken with Mandarin Ketchup
Maple Orange Chicken
 4 chicken breasts 1/4 tsp each salt and pepper 1/4 cup maple syrup 1 tbsp Noilly Pratt Vermouth 1 tbsp grated orange rind 1 tbsp fresh orange juice
1. Sprinkle chicken with salt and pepper and place in a resealable freezer bag.
2. Combine maple syrup, Vermouth, orange rind and juice. Pour over chicken in bag and let stand 1 hour in fridge or up to 24 hours.
3. Preheat an indoor or outdoor grill to medium heat. Remove chicken from marinade and grill chicken for 6-7 minutes on each side, covered, giving the chicken a quarter turn three minutes into cooking of each side. When chicken is cooked through, and no pink remains, remove from heat,
Mandarin Ketchup
2 cans mandarin oranges, drained (approx. 2 cups) 1 tbsp lime juice 2 tsp fresh ginger, minced pinch cinnamon 1/4 tsp allspice 1/2 tsp salt 1/2 cup Noilly Pratt Vermouth 2 tbsp maple syrup hot pepper sauce, to taste garnish – sliced green onions and toasted almonds
 1. While chicken is marinating, combine remaining ingredients except garnishes, in a blender and blend until smooth.
2. Pour into a medium saucepan and cook over med-low heat for 40-45 minutes or until reduced by half. (Measures about 1 cup sauce.)
3. Serve warm or cold.
To Serve
Slice the cooked chicken and drizzle with the Mandarin Ketchup. Sprinkle with sliced green onions and toasted almonds to garnish if desired.
Chef Janet's final thoughts: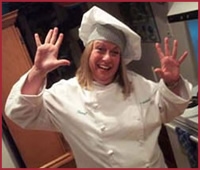 I have an older Rottie mix who was a rescue dog and I realized the other day when I let her out on the deck, how old & frizzled she looked (much how I feel some days). She gave herself a shake and smiled at me over her shoulder and I realized like my clients, that dog was everything to me.
So I have had the pleasure of working in some great homes but I think the doggy part of the clientele is still the most fun.
Thank you for letting me share my stories and recipes. Maybe our paths will cross someday.