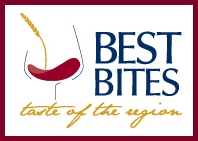 For the past three years I have been involved in "
Best Bites: Taste of the Region
" fundraiser here in Cambridge, Ontario. As the beverage contact on the organizing committee for the event I contact and invite the wineries, breweries & distilleries to the event. As you can imagine, I have the best job! This is the 5th in a series of "Thank You" posts featuring the beverage participants who have been such an important part of helping make Best Bites such a resounding success each year.

Every morning, Chef Chris Barkshire at Solé Restaurant & Wine Bar in Waterloo, Ontario, arrives early to make fresh batches of their signature house breads. One of their breads is made using Waterloo Brewery Company's "Waterloo Dark", a refreshing dark lager. It is a delicious, crusty, multi-grain bread that is a favourite of many customers.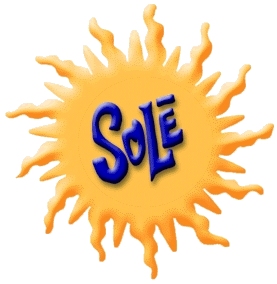 Waterloo, Ontario, a city just north of Cambridge, is a growing hub of IT start-ups and ventures. The city is also home to two renowned universities and several research facilities. With the growth, changes and fluctuations in the population, the city continues to have a solid sense of community. It is collaborations like this between these two popular local businesses that exemplify the support and comradery found in the city.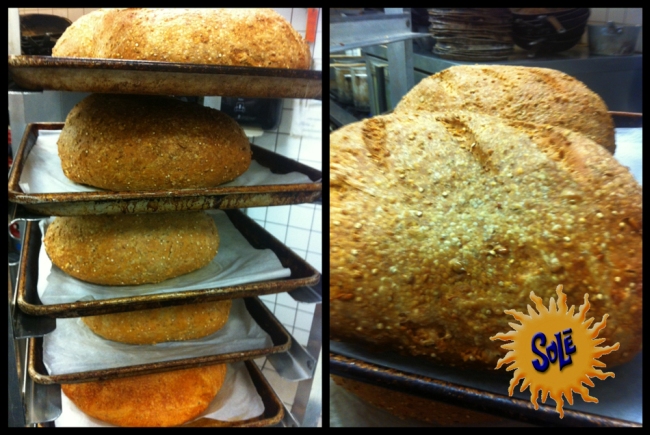 Solé Restaurant's
Waterloo Dark Beer Bread
  2 oz. fresh yeast ¼ cup warm water 1 tablespoon sugar 1.5 cups whole wheat flour 3 cups all-purpose flour 1/3 cup of each, flax, white sesame, quinoa, oats, sunflower seeds 2 teaspoons salt ¼ cup olive oil 4 oz. honey 8 oz. Waterloo Dark 8 oz. water  
1. Crumble fresh yeast into plastic container, add sugar and water.  Water should be at a nice tepid bath temperature. It will double in size so use a large container.  Put somewhere warm to activate.
2. In a mixer, add flour, salt and all the grains and seeds.  Mix for two minutes.  Add the remaining ingredients mix for three minutes. Then add the yeast mixture and mix for another 8 min.
3. The dough will be very tacky and sticky, to work with, so be sure to flour your hands as you pull it out of the mixer. Place in a large bowl and cover with plastic wrap.  Leave in a warm place where it can double in size.
4. After doubling in size punch it down, cut and shape it into loaves, rolls or any shape you want. Place on baking trays and let rise again.
5. Bake at 325°F for approximately 25 minutes or until you tap on the loaf and it sounds hollow.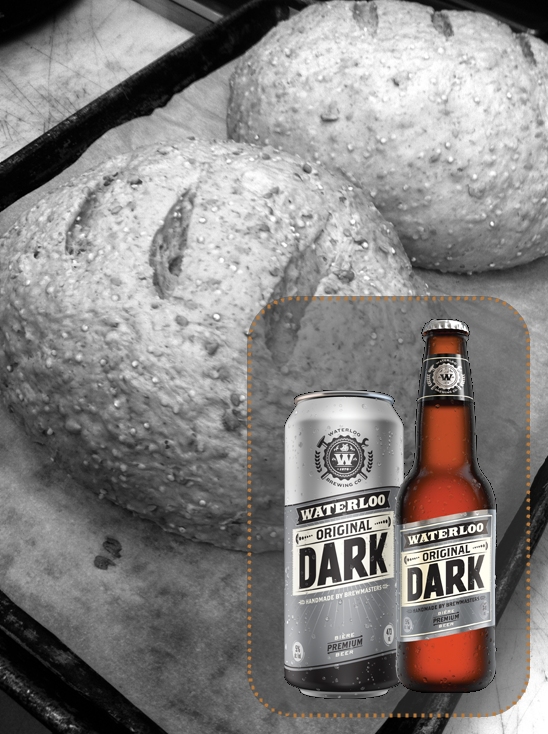 WATERLOO DARK
Brewed with specialty Canadian malts, imported hops and pure cultured brewer's yeast, Waterloo Dark has been recognized and honored multiple times for its superior quality and craftsmanship at the World Beer Cup, Canadian and Ontario Brewing Awards, and the Monde Selection International Institute for Quality Selections.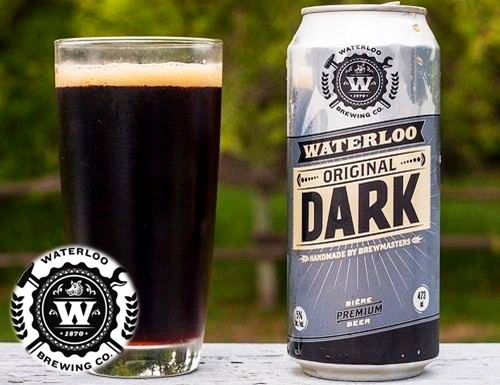 FOOD PAIRING
Dark lagers are enjoyed all year long, and they're not as filling as ales. Beef dishes go especially well with Waterloo Dark. This lager's roasted malt character allows your taste buds to enjoy the rich flavour of that perfectly cooked top sirloin steak. Waterloo Dark will cut some of the heaviness in sauce-based pork rib dishes as well.