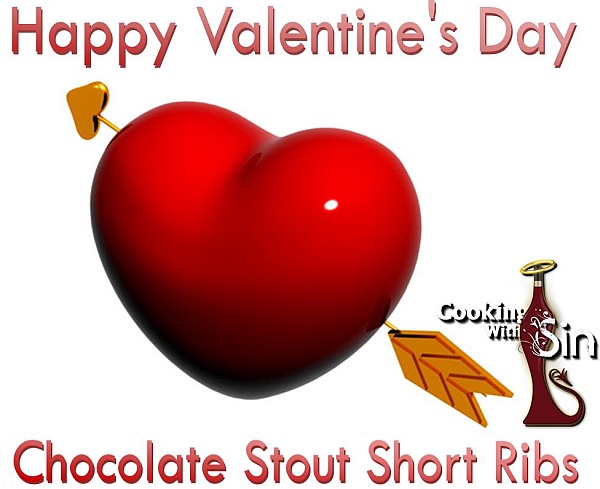 You must agree you can never get enough chocolate this time of year. Chef Janet Craig, the contributor our "Who Let the Dog Out" series of recipes has found another way to work it into your Valentine's Day. She likes to use Young's Double Chocolate Stout and I see that Black Oak Brewery just released their Triple Chocolate Cherry Stout, so there are some great options for you to choose from.
Happy Valentine's Beef Short Ribs
4 lbs beef short ribs
1 cup seasoned flour (salt, pepper, paprika)
¼ cup oil
2 large onions sliced
2 large cloves of garlic
2 tsp thyme
1 bottle of  Chocolate Stout
Dredge ribs in the flour (or use a bag to dust them). Brown on all sides in the oil.
Place onions, garlic & thyme in crock-pot and place ribs on top.
Cover with beer and cook 6-8 hours.
Take fluid out and skim off fat. It can be thickened with slurry of cornstarch & water or a roux of flour & butter. Bring to a boil until thickened.
Serve with horseradish mashed potatoes. Love is in the air!
Love is in the air!