The word rum is probably derived from the word "rumbullion," an archaic term for a big noise and/or uproar. Needless to say, this is a hard word to say when you've had a couple of rums, meaning the word was destined to be shortened. ~ Edmonton Journal
Adam Hewson's mother Claudette would make up a large jar of "fruit" every year. He remembers it being a large 5L mason jar that he loved and admired. That jar of fruit was like gold to him. Claudette loved to cook all types of interesting foods and bake all kinds of delicious sweets. Her heritage was Jamaican and her rum cake was a very special treat, but she liked to try foods from all over the world.

It was in this world of wonderful foods that Adam was raised and he has carried on Claudette's love of cooking. While he is usually quiet and easy-going, if you sit down and talk to him about cooking, he comes alive. He likes to use the freshest and most authentic ingredients. He shared more tips over a 1 hour lunch than I could have imagined. See the last post "Born to Cook" Cranberry Sauce to read more. On the rum theme, here are his tips on rum punch.
Did you know? Rum punch tastes better with a few grains of fresh ground pimento seeds. You may know it as allspice.
Did you know? There is a cute rhyme that helps you remember the recipe for rum punch.
Rum Punch Rhyme
1 of sour
2 of sweet
3 of strong &
4 of weak!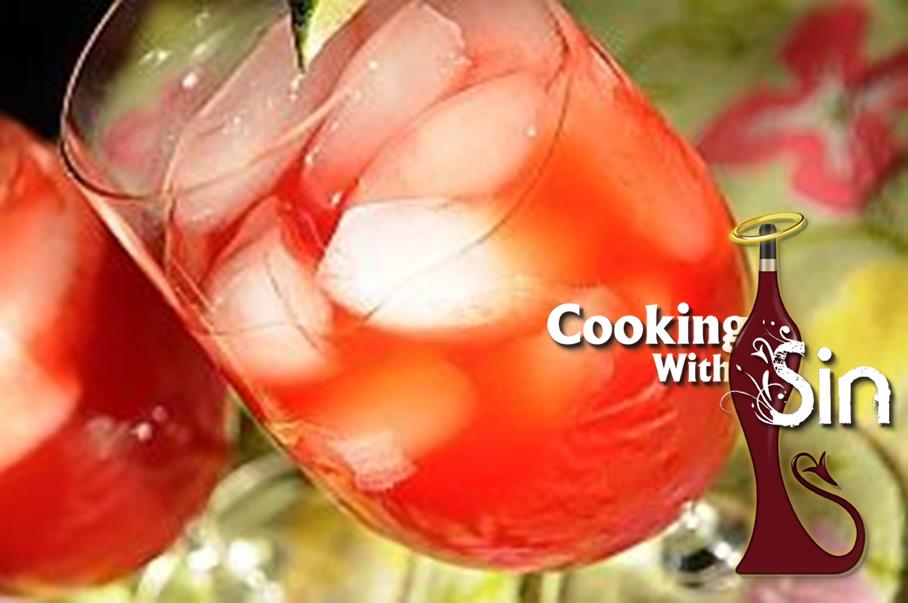 Now try this! It makes 4 drinks.
1/4 cup fresh lime juice
1/2 cup Grenadine
3/4 cup rum
1 cup fresh orange or pineapple juice
2 dashes Angostura Bitters will give it a nice edge.
Stir well, add ice cubes & decorate with lime slices, maraschino cherries, umbrellas… you name it!
Did you know? The most popular rum in Jamaica for making Rum Cake is Wray & Nephew's White Overproof Rum. For drinks, Adam prefers Appleton Estates Dark Rum. He says that cooking with Appleton Dark Rum would be a "sin."
Did you know? It is called Rum Cake not Fruit Cake. Rum Cake has a totally different connotation, doesn't it?! It is often called Black Cake too. If you burn the sugar it will darken the cake so it's essentially a black colour.
Adam will make up a jar of fruit any time of the year. He may try to time it for Christmas, but he may leave it sit for a year or more. Once he had let a jar sit for 3 years and he knew he had gold on his hands. Just for fun he told his cousin, a professional chef, that he thought it might not be good anymore and was thinking of throwing it out. His cousin gulped and begged to take it off his hands. Adam smirked and wisely declined.
Right now, Adam has 5 1L jars of fruit at home. He mixed them up 6 months ago and hasn't decided yet when he will use them. Some people will put some wine in too, but Adam says it's best with the overproof rum alone. You can make a non-alcohol version of the cake with fruit juice, but you just can't let it sit. It will be more like a fruit cake.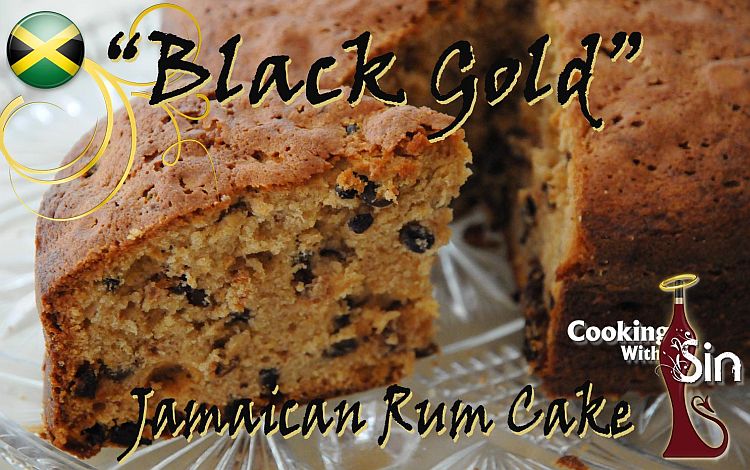 "Black Gold" Jamaican Rum Cake
Step One: The Fruit
1 cup raisins
½ cup prunes
½ cup currants
½ cup mixed fruit peel (orange, lemon & lime peel dried, available at bakery stores)
1 bottle overproof rum + some extra
Mason jars with lids (as many as you will need)
Adam's Tip: Proportions are 2 ½ cups fruit to 1 cup rum.
1. Mix the fruit and add the rum.
2. Fill each jar close to the top, and give it a bit of a shake to make sure the fruit is all covered in the liquid. There should be a little room left at the top of each jar so you can turn them occasionally to stir the fruit. You may even want to turn the jars upside down for a while.
3. Let the fruit sit for 3 weeks to 3 years. It's your choice!
4. The extra rum is needed over time. As the fruit absorbs the rum, you will need to add more more to keep the fruit covered.
Adam's Tip: Pour the rum into the jars after the fruit is in to make sure the fruit is all covered in the liquid.
Step Two: The Cake
1 ½ lbs. brown sugar
½ lb flour
6 eggs
¼ teaspoon real vanilla
1 cup butter, softened at room temperature
¼ teaspoon cinnamon
¼ teaspoon grated fresh nutmeg
½ teaspoon baking powder
1. Cream butter and sugar. Some people will burn* the sugar to make it dark. It's great for colour, but doesn't change the flavour.
2. Blend in eggs and vanilla
3. Add flour, sugar, spices, salt, pepper & baking powder mixing on medium speed.
4. Stir in Fruit by hand until consistent. May need to drain off some of the fruit juices before to get the a nice consistency. Save the extra juices to top up other fruit mixtures.
5. Bake in a spring pan (9"x4") for 2 hours at 300F
6. Cool pan on a baking rack.
*How to burn the sugar: Put the sugar in a heavy bottom sauce pan on low heat and stir constantly until the sugar melts and mixture is thick and dark. It's up to you how much you want it to burn. Warm water can be added to make it into a syrup.
Want to make your own browning for a "black" cake? Go to "Black Gold" Jamaican Rum Cake Tips.
Jamaican Rum Cake can be served iced or plain with a brandy sauce drizzled over it, but Adam prefers to serve his plain. He feels the icing and sauce take away from the simplicity of the recipe and may dominate the key ingredient, the rum fruit.
It is distinctly smooth and rich. The cake can be stored wrapped at room temperature for a long time to let the rum ripen the flavours further. Some have been known to brush on more rum to richen it over time.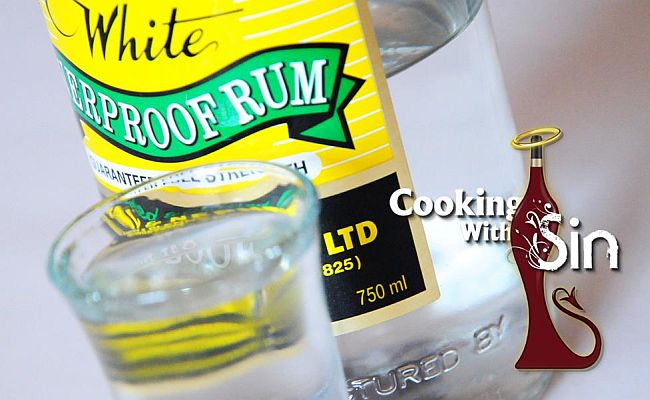 All fruits ripe!
Likky-Likky!