What whisky will not cure, there is no cure for. ~ An Irish Proverb
When I started this blog, my very dear friend Tracie Giesbrecht http://tracieonthego.com/ offered to be my "minion." She has heroically taken on the job of testing and tweaking the recipes and helping to edit the posts. Another set of eyes and taste buds is wonderful!
It may be true that "blood is thicker than water," but Tracie and I know that water can be turned into blood.
Tracie and I grew up in Sarnia, Ontario and our families, the Phibbs and the Johnsons were woven so tightly together that we just called everyone "aunt" and "uncle." Tracie's aunts and uncles were my aunts and uncles and vice versa. In fact, Tracie was certain we were first cousins until last year when the two of us sat down and laid it all out. Our two families have no blood connection, but there is a marriage connection through the Pease family. The simple version of the circle that connects Tracie and me is this. Tracie's mom Avis is cousins with Everett Pease who married my dad's sister Minerva.
My grandparents, Dorothy & Edwin Johnson moved a lot with their young family and first connected with Allan and Verona Phibbs in Saskatchewan. The two families, along with extended family members, then migrated to Timmins, Ontario together. The journey took several days and must have been quite an adventure. 22 people, one cube van, one car, the flat tires, the furniture precariously balanced on trailers, the active kids. They left in 1938, the day of Avis's 7th birthday. With so many bodies packed in tightly, one of the young adults thought he would be more comfortable travelling in the trailer carrying the mattresses. (These were the days long before seat belts!) Somehow the trailer came unhitched and he woke up to surprise "trip" of his own.  The group took a big detour through Minnesota to visit a community where other Johnson relatives lived. They parked out on the road and when people passing by saw all the bodies climbing out of the vehicles and trailers, they thought they were gypsies. It was the talk of the town.
Tracie and I grew up listening to stories about the epic Johnson-Phibbs trek. After four years in Timmins, the Phibbs clan packed up their belongings and moved to Sarnia. Not much later, the Johnsons followed and moved in with the Phibbs. It was a zoo until Edwin and Dorothy found a place for their own family. Both our families' roots remain in Sarnia to this day.
The Johnsons and the Phibbs have a very special relationship that is as rich and solid as  family. Our families have been close friends for 72 years… and counting. Interestingly though, there has never been a marriage between the two families – probably because we thought we were related!!
Like so many in the Johnson, Phibbs and Pease families, Tracie and I have long since moved away from Sarnia. Tracie and her family live in St. Catharines and I live with my family in Cambridge, Ontario. We are about an hour and a half apart from each other, but the "magic" of technology keeps us in close contact.
Tracie's Aunt Pauline sent us one of her favourite recipes for Rye Bread – rye the grain. (For our American readers, Canadians call whisky "rye" hence the play on words.) Pauline got this recipe from her cousins Ralph & Dorey Pease. (Everett's brother & his wife). It makes a perfect dip for these two whisky cheese recipes.
These two cheese recipes were given to me by my sister-in-law Audrey Roorda. They are from good friends of hers who are a little too shy to be named. They are a couple who come from two different Christian denominations. Her background is Pentecostal where movies, cards, dancing and all forms of alcohol were evil and forbidden. His background is Reformed and alcohol is okay, but must be handled in much moderation. Wanting to honour their upbringings, they have found a way to merge their two world views. They permit beer and wine occasionally in their home, but never hard liquor.
A few years ago, they won the door prize at a work Christmas party – a bottle of rye whisky. Both of them, being thrifty souls, couldn't throw it out and didn't want to encourage someone else to drink, so they decided to just keep it. At their next "Hockey Night in Canada" get-together they were preparing a recipe for cheese fondue that called for beer. This time there was an "Aha!" moment. Why not substitute the door-prize whisky, instead of the beer, since the alcohol should evapourate once it is cooked. Their friends loved it! Later, they did the same with the brie recipe.
They are still working on the original bottle of rye. Maybe their attitude is to cook with sin to prevent others from sinning.
Whisky Brie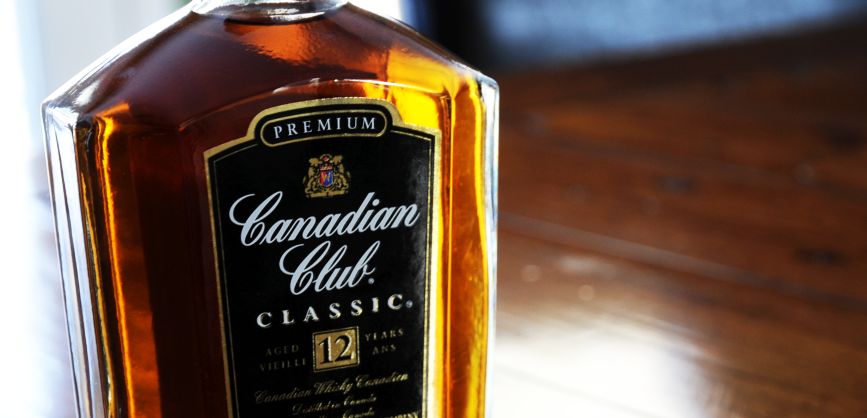 Ingredients 1 (226 g/8 oz.) wheel of Brie cheese 1/4 cup brown sugar 1/4 cup chopped pecans (or almonds) 1 tablespoon rye whisky (you can add more for a stronger flavour)
Preheat the oven to 350 degrees F (175 degrees C). Make 1/4 inch deep criss-cross cuts on the top of the brie wheel. Place the brie in a baking dish with sides.
Bake the brie in the preheated oven until it is softened, about 5 minutes. While it is baking, stir together the brown sugar, pecans and rye whisky in a small bowl. Pour the mix on top of the brie, making sure it goes into the slits and return it to the oven for another 10 minutes. Serve immediately.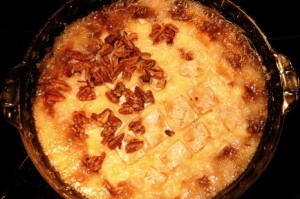 Rye Whisky Fondue
Ingredients:
1 cup minced sweet onion
1 tablespoon butter
1 cup milk
1 pound/450 g grated extra-sharp cheddar cheese
1 tablespoon cornstarch
1/4 cup rye whisky
Cubes of rye bread for dippers (see the next recipe)
In a heavy saucepan, gently saute the onions in the butter until soft and translucent. Add milk and bring to a simmer. Stir in cheddar cheese until melted and smooth.
Whisk together cornstarch and whisky until smooth. While constantly stirring, slowly pour whisky mixture into cheese mixture and continue to cook until thickened.
Pour cheddar whisky fondue into a fondue pot or heat-proof bowl. Serve with rye bread as dippers.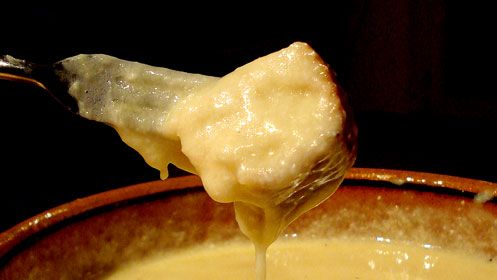 Dorey's Swedish Rye Bread
Ingredients 1 package dry yeast 1/2 teaspoon salt 1/4 cup white sugar 1/2 cup brown sugar 1/2 to 1 teaspoon anise seed (Dorey uses 1) 1/4 cup molasses 1 1/2 teaspoon lemon juice 1/4 cup shortening 2 cups scalded milk 1 cup dark rye flour About 4 cups flour (stiff dough)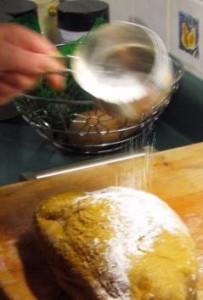 Dissolve the yeast in warm water, melt the shortening & scald the milk.
Transfer milk to a large bowl, and add the salt, white sugar, brown sugar, anise seed, molasses, lemon juice and melted shortening. Cool to lukewarm, and add dissolved yeast.
Add the rye flour, beating it with mixer. Gradually beat in white flour, kneeding the last cup or two by hand.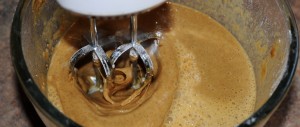 Place the dough in a greased bowl, and turn to coat the surface. Cover it with a damp towel, and allow to rise in a warm place for about 1 1/2 hours until it doubles in size.
Punch down the dough, and place it on a lightly floured surface. Knead it well until it becomes elastic and separate the dough into 3 loaves.
*Note: The dough is absolutely delicious, so keep your sampling to a minimum, otherwise you may only have enough for 2 loaves.

Place in greased 9 x 5 inch bread pans. Let rise in the pans for 3/4 of an hour or more, then bake at 325 degrees F for an hour.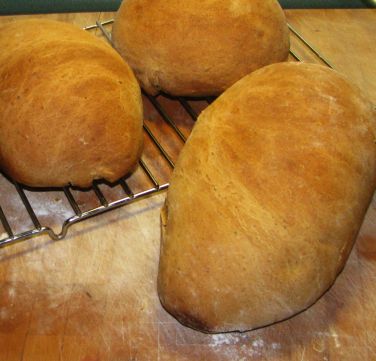 * * *
A Special Note from Aunt Pauline:
This is a sweeter tasting dark bread that is so delicious you will have people begging for the recipe, just like I did at the home of Ralph and Dorey Pease.
Some of you may not know of Gracie Allen, but her methodology will help you smile.
Gracie Allen's Classic Recipe for Roast Beef
1 large Roast of beef 1 small Roast of beef
Take the two roasts and put them in the oven. When the little one burns, the big one is done.
* * *
Enjoy!
If you are looking for more cheese appetizers, you might like "Goddess Supper I" Potted Cheese.
Tags:
Bread
,
Cheese
,
Lemon
,
Pecans
,
Vegetarian