"Champagne makes you feel like it's Sunday and better days are just around the corner." Marlene Deitrich
Barry Lane and Tara Park Lane found themselves far away from family and friends when they moved to the quiet snowy cottage town of Lindsay, Ontario, early in the new year. They had both quit their jobs and moved to this small town for school. To brighten up their small, generic apartment, they filled it with a mish-mash of hand-me-downs, wedding gifts and furniture they had scrimped and saved for. There was a rag-rug from Ikea, a wobbly wooden dinner table that had belonged to Barry's great-grandmother, and two wooden adirondack chairs. One chair was painted yellow and the other was a loud blue. They weren't allowed to paint the boring white walls, so they covered them with pictures. The place was jammed full.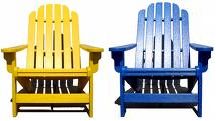 They had hoped for an apartment with more character, but this one was right beside the school. Barry could walk to class and Tara could use the car. Yes, the car. They had cut back to one car since neither of them had a job. Tara loved being free to drive the two hour trip to her "old faithful" Ikea store.  She also decided to take a Native Studies class at a nearby university that was "only" an hour and 15 minute drive.
Tara and Barry knew they were poor. While they found it challenging to adjust to their new economic situation, they decided that the poor situation they were in had some "cool" aspects to it, so they decided to call themselves "cool poor" and they found a few other types of "cool poor": student poor, starving artist poor and humanitarian poor. They were student poor, they were "cool poor." 
Tara and Barry's "cool poor" was not the living-paycheque-to-paycheque, no-holiday-in-Mexico-this-year kind of poor. Theirs was the no-paycheque-at-all kind of poor. They couldn't even "splurge" on a $3.49 plastic milk container. Instead, they poured the milk bags into a beautiful yellow and green pottery pitcher that had been a wedding gift from Uncle John and Aunt Shelly.
As beautiful as the pitcher was, it didn't pour very well and the milk could be unpleasant to drink because it always absorbed the odours of the previous night's leftovers. The milk had a different flavour everytime they tasted it. It was hard to enjoy. One day in the spring, Tara saw Barry bicycling home towards her with one arm in the air, waiving something blue in his hand. His whole body beamed a great big smile. As he got closer, Tara realized the blue thing in his hand was a blue plastic milk container. Yes, blue, not boring white. It had a piece of ripped off scotch tape on it with "25 cents" written in black marker. Barry had talked the guy at the yard sale down to 10 cents for it!
A few weeks after they had moved in, Tara's parents called to say they were going to swing by their place for a visit on their way home from a holiday. Tara looked for something yummy, warm and cozy to make them for lunch to stave off the winter's chill. She found a recipe called "Champagne Squash Soup." Tara and her mom both loved squash, so she knew it was the meal to make. The cheapest bottle of champagne would be half their grocery money for the week, but it was something they knew they had to do. So, they splurged, bought the champagne and made the soup.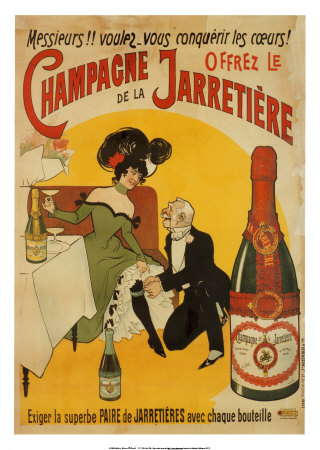 Tara still remembers standing in her small kitchen at the tiny apartment-sized stove, with the oven that never really worked, sautéing the onions in butter and adding the champagne. The aroma is sweetly embedded in her memory forever. It was exciting making this special soup for her parents; the soup they had sacrified their weekly groceries for.
The four of them sat on uncomfortable fold-out chairs at the wobbly wooden table and enjoyed the soup and their precious time together. Since they could barely afford the soup, there wasn't much else with the meal except a fresh loaf of bread from the bread maker, another wedding gift, and the remainder of the champagne. They cherished every sip.
Tara and Barry have made this soup many times since. They now have children and own their own home in Waterloo, plus they can afford a nicer bottle of champagne. While they are also able to serve more with it, they say it is best served with a thick slice of warm olive bread generously spread with butter that has melted into it. Don't forget a nice glass of bubbly, too!
And that milk jug… it still sits in their fridge hugging a bag of milk to this day.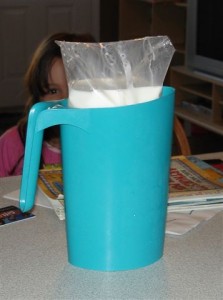 Champagne Squash Soup
4 lbs. squash, acorn or butternut

2 medium onions, halved & thinly sliced
4 tablespoons butter (2 + 2)
1/4 cup champagne (You will find some way to use the remainder of the bottle!)
4-5 cups chicken broth
1/2 teaspoon nutmeg
salt & pepper to taste
1/4 cup sour cream
Preheat oven to 350° F.  Line a cookie sheet with foil. 
Quarter the squash &  scoop out the seeds.  Place the quarters skin-side up on the cookie sheet and bake 1 – 1 1/2 hours until the squash is tender. 
Let the squash cool. Scoop out the pulp and pureé in batches in a food processor. 
Sauté the onions in 2 tablespoons of the butter until they turn clear.  Add the champagne and cook, stirring often, until liquid is absorbed and onions are golden brown.  Purée the onions in a food processor with a little of the squash purée. 
In a large saucepan, combine the onion and squash purées.  Whisk in the chicken broth until you reach the consistency you prefer. 
Cover and heat on medium, stirring occasionally.  Whisk in the final 2 tablespoons of butter.  Season with nutmeg, salt and pepper.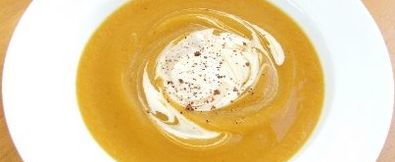 To decorate, fill individual bowls with the soup, drop a small spoonful of sour cream on top of each bowl and swirl with a knife. Sprinkle a pinch of nutmeg on top and you can garnish with a sprig of fresh parsley. 
Serves 6-8.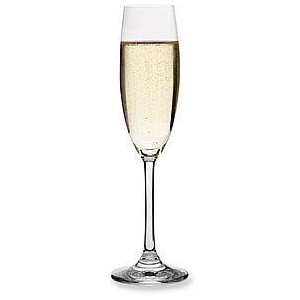 Cheers!
Tags:
Vegetarian