"As the story goes, Mr. Jack arrived at work early one morning and tried to open the safe in his office. Thing is, he couldn't recall the combination. In his frustration, he gave that safe a good, solid kick. The blow broke his toe and infection set in, leading to the blood poisoning that would take his life in 1911. Some people say Jack Daniel not only left his Tennessee Whiskey behind, he left us all a valuable lesson as well: Don't go to work early." ~ from the Jack Daniel's website www.JackDaniels.com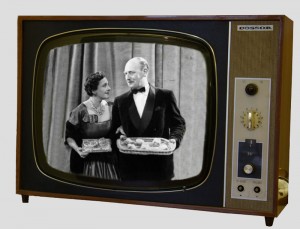 When he was 6 years old, he would run home from school excited to watch TV. While his friends enjoyed watching "Batman" and "Gilligan's Island", Ted Reader couldn't wait to watch "The Galloping Gourmet" and "Julia Child." He loved food and cooking very early in life. As he watched the cooking shows, he would choose his favourite recipes, make a shopping list and then head to the grocery store with his mom. He loved preparing special dishes and being actively involved in bringing people together at the dinner table.
The big dining room table in the Reader home was always family- and flavour-centric. Ted's mom loved to prepare and serve a wide variety of delicious food. His grandfather travelled extensively and Ted loved listening to the stories of the different foods his grandfather would eat abroad. Early in life Ted realized that good food was an important part of bringing family and friends together.
As he grew up, his parents tried to help him choose a good career; something with stability and a decent income, but Ted knew university wasn't right for him. All he wanted to do was to cook and see the world, so he started working in restaurants.
After gaining experience and growing comfortable with his skills, Ted knew he was ready for training, so he applied to a well-respected chef school. The administrator told him he wasn't a good candidate for the program. He said Ted had acquired too many bad habits from restaurant work and would be a bad influence on the other students. Not one to back down, Ted told the administrator he only wanted to correct his bad habits, but if it was going to be problem, he would take his talents elsewhere! The administrator said, "You're in."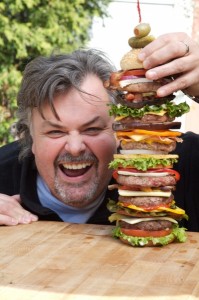 Before he was 30, Ted was the executive chef at the Skydome Hotel in Toronto and that was followed by a position as the executive chef at President's Choice where he developed chicken wings, "PC Thick and Cheesy Burgers" and other products that continue to be summer favourites on BBQs today.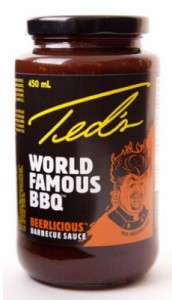 Today, Ted Reader owns Ted's World Famous BBQ. He caters, he has published over 20 cook books and travels worldwide demonstrating his BBQ skills. He is the corporate chef at a manufacturing plant where he specializes in product development. One of his operations goes through 2 million pounds of ribs a month!
Ted owns over 100 bbqs, grillers and smokers and usually has one in the back of his truck. He has made TV and radio appearances and GQ magazine called him "the crazy Canuck barbeque king." www.TedReader.com
Gourmand World Cookbook awarded Ted's book "Napoleon's Everyday Gourmet Grilling" the Best Canadian Barbecue book. Also, in 2008 he won the Cordon d' Or – Gold Ribbon BBQ Cookbook Culinary Academy Award.
Ted Reader just loves to cook! He loves having a crowd to feed, entertain and teach. He took his hopes of cooking and seeing the world to greater heights than he or his family could ever have imagined.
"Real Food for Real People"
If you get a chance to visit with Ted Reader, he will make you laugh out loud, yet you will understand how serious he is about his slogan "Real food for real people." He is not a food snob. He likes all kinds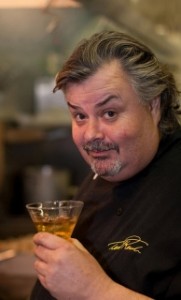 of food – the only exception being brussel sprouts. He calls them "green golf balls"!
Ted Reader of "Ted's World Famous BBQ" loves to prepare all kinds of food. From the most refined restaurants to the backyard bonfire he will wow you with something special. Lately he has been having fun plank grilling. His book "Napoleon's Everyday Gourmet Plank Grilling" was voted Best BBQ Cookbook in Canada by Gourmand World Cookbook Awards. The is one of his favourite recipes in the book. While this recipe does not contain "sin" he says it is so delicious it is "true sin."
Planked Brie with Peaches and Blueberries
1 thin cedar plank (approximately 6 inches x 6 inches square) soaked in water 1 ripe peach, thinly sliced into strips 1/2 pint of fresh blueberries 1 tablespoons honey 1 teaspoon chopped fresh thyme 1 wheel Brie cheese (about 5 – 6 ounces) 1 baguette, sliced
Preheat grill to medium heat.
In a small bowl, combine peach slices, blueberries, honey and thyme. Season with black pepper to taste and gently mix to combine.
Place brie onto plank and top with peach/blueberry mixture.
Place plank onto grill and close lid. Plank-grill cheese for 15 to 18 minutes until cheese is golden brown and slightly puffy and topping is hot. Remove plank from grill and allow cheese to cool for 1 to 2 minutes.
Serve immediately with fresh sliced baguette, a few big spoons and lots of napkins!
Serves 4.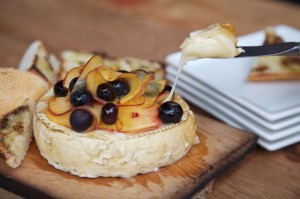 And now for some cooking with sin… with Ted!
With all his phenomenal training and experience, Ted can still surprise himself. Once while tailgating in the parking lot at a Buffalo Bills game, he created "Planked Twinkies." He told me, "It was a stroke of genius or insanity but in the end pure decadence. It makes me think of creating a cooking show based upon foods only found at 7-Eleven." Gotta love it!
Ted's "Planked Twinkies" are always a huge hit wherever he goes. Here is his recipe in his own words.
Super Bowl Planked Twinkies
Ingredients: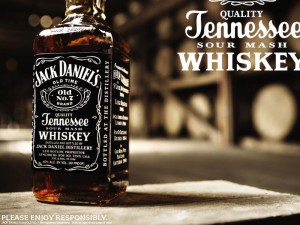 Twinkies Nutella Oreos Chocolate chips Mini marshmallows Caramel pieces Jack Daniel's whiskey
Try my Planked Twinkies. It's easy.
Take store bought twinkies, take em out of the plastic, line em up on a plank like little soldiers, …spread the tops of the twinkies with a thick layer of Nutella (chocolate hazelnut spread), top with a mixture of crushed up oreos, chocolate chips, mini marshmallows… and caramel pieces.
Plank grill with the grill lid closed over medium heat for about 15 minutes until the Twinkies get crispy and the topping is all hot and gooey.
Remove from the grill and take a cajun injector filled with Jack Daniels and inject each twinkie with a half ounce of JD dig in and get sticky.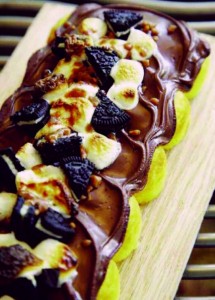 Real Food for Real People!
Do-Re-Mi Twinkie Song
I hope you "Like" Cooking With Sin on Facebook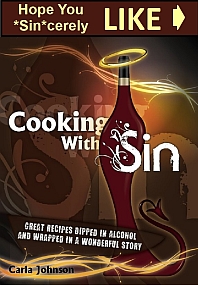 Follow me, Carla Johnson, on Twitter @Carla_Johnson
Tags:
Chocolate
,
Vegetarian