"I have a total irreverence for anything connected with society except that which makes the roads safer, the beer stronger, the food cheaper and the old men and old women warmer in the winter and happier in the summer."
~ Brendan Behan
At 24 years of age, Ian Szabo was at the peak of his career. After 3 years of cooking in the finest European restaurants and representing Canada in the Culinary Olympics 3 times, he had been appointed the Executive Sous Chef of one of the top clubs in Toronto. Running an extremely well organized brigade of over 120 people in his kitchen, he served the most distinctive dishes to the city's wealthiest & most influential people. For his own meals, someone from his brigade would bring him the finest foods: lobster, foie gras and fillets of all cuts. Everyday he prepared, served and ate the most exquisite foods in the world.
Then, in a short period of time, everything changed. It didn't just change, it turned upside down.
New management of the club was uncomfortable with Ian's age. They didn't believe he was old enough to handle the responsibilities of his job, so instead of accepting a demotion, he chose to quit.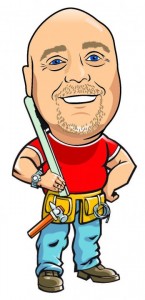 Ian's dad owned a painting company, so he decided to spend some time working with his dad. He knew it would pay some bills and help him fill his day.
One day, during his lunch break, as he sat in the back of the painting van eating his peanut butter sandwich and inhaling the aroma of varsol, it struck him that he was now below the poverty line. He had gone from eating the best of the best to living below the poverty line eating the simplest of foods.
It was at that moment he decided to start his own business and call it "PLP," "Poverty Line Painting."
Today, 7 years later, PLP Contracting http://www.plpcontracting.com/ has grown & expanded enormously. Ian appears on television shows, newspapers and magazines. He runs a brigade again, but this one works to renovate and upgrade properties. He has taken his brigade system from his kitchen and brought it to his home renovation team and he is happily on top (of his new game) again. No one doubts him now.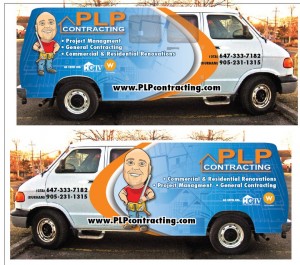 Ian absolutely loves to cook. He finds it very relaxing and fun. One of his favourite meals is a potluck supper with a big twist. He invites friends over and ask each to bring fresh vegetables, meats, fruit or flavours. When everyone arrives, Ian's challenge is to create dishes out of the miscellaneous ingredients. His friends often try to bring obscure ingredients, but I believe he has never been stumped yet!
Modest and delicious food is was Ian prefers to cook. He comes from humble roots and he loves to prepare simple foods in an extraordinary way.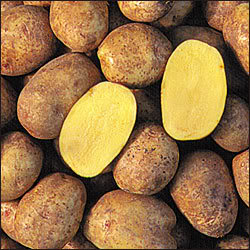 Yukon Gold German Potato Salad
Ingredients:
6 large Yukon Gold potatoes
1 tablespoon sea salt
1/2 medium Spanish onion, finely diced
2 large shallots, chopped
1 small sprig of thyme, clean off the leaves and discard the stems*
1 small bunch of chives, finely chopped
3 teaspoon Dijon mustard
3 tablespoons herb flavoured vinegar (Ian recommends Kressi** herb flavoured vinegar)
1/2 cup extra virgin olive oil
1/2 cup German "hefeweizen" wheat beer*** (pale, but cloudy)
Fresh cracked pepper
Sea salt
Equipment:
•
Bamboo skewer
•
Tea towel
•
Butter knife
•
Large serving bowl that holds a small bread plate at the bottom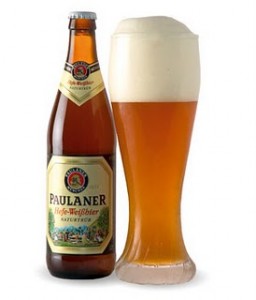 Wash the potatoes and cook them in salt water. Start them in cold water with sea salt and cook on medium-high heat for about 20 minutes.

Test the potatoes for firmness. They need to be cooked, but still firm and dense (not soft – like you would for mashing.) The best way to test is by inserting a bamboo skewer. If it comes out clean, they are ready. They can also be checked with knife or meat fork. The bamboo skewer in a potato is similar to using a toothpick to check a baking cake.

Drain the water and let the potatoes cool on a baking sheet or in a colander for 10 minutes. They need to be cooler, but still be warm.

In a large mixing bowl, mix the vinaigrette by adding the shallots, onion, chives, thyme, mustard, olive oil, vinegar and 2 teaspoons of beer. Stir together and add sea salt and pepper to taste.

Peel the potatoes by holding each one in the tea towel and peel the skin with the butter knife. The peels should come off easily and cleanly.

Slice each peeled potato in half, the cut into ½ inch cubes and put them in the bowl of vinaigrette.

Fold the cubed potatoes and the vinaigrette gently together using a rubber spatula. Cover each potato completely with the vinaigrette, then let it sit for 20 minutes. As it sits, the warmth of the potatoes will warm the vinaigrette and lightly cook the onions & shallots and the potatoes will become infused with the flavours of the vinaigrette.

After 20 minutes, test one piece of potato and add flavours to taste. For example, some will prefer it more acidic and add more vinegar, while others will prefer more flavour like pepper or salt.

Serve the salad in the large serving bowl that hold the bread plate at the bottom. The juices will go under the bread plate and keep the salad from getting sloppy.

Pour the remaining beer in a glass and serve with a wedge of lemon.
* To clean the leaves off a fresh sprig of thyme, lightly grasp it at the base with your finger and thumb. Pull the stem out through your fingers and the leaves will fall off. Watch the video below!
** More cool bits about Kressi flavoured vinegar: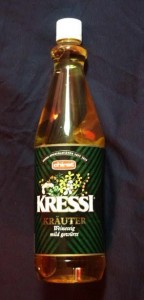 • Online grocery store: http://www.swisstreasures.ca/misc/kressiherbvin.html
• Kressi Essig Vinegar has a Facebook Group Page. They say, "Kressi essig (vinegar) is the greatest liquid known to man." http://www.facebook.com/group.php?gid=45923379700 I joined!
*** Popular Weissbiers (wheat beers) are Paulaner and Ayinger Weizen-bock. German wheat beers are called "weizen," which means "wheat." You want to use a German wheat beer in this recipe because it is from the same kind of region that the potatoes are grown in. This is key to the flavours blending. Read more about German wheat beers: http://en.wikipedia.org/wiki/Wheat_beer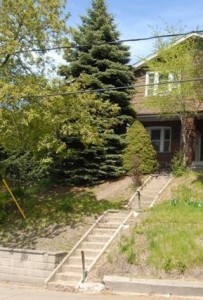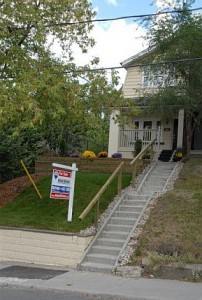 Looking for advice and important tips about fixing and flipping? Check out Ian's blog, "The Renovation Bible." Interesting name for a guy whose recipe is on "Cooking With Sin."

 http://www.ianszabo.com/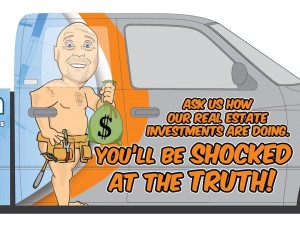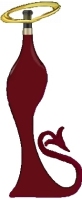 Tags:
Potato
,
Salad
,
Vegetarian