"Someone is putting brandy in your bonbons, Grand Marnier in your breakfast jam, Kahlua in your ice cream, Scotch in your mustard and Wild Turkey in your cake."

~ Marian Burros
It took a year of hanging out, just having fun together and dating other people for both Marc Hoare and Jenn Burr to realize they didn't want to go on without the other, so when they celebrated their wedding, they did it up in true style. An elegant historic hotel, Jenn's perfect white dress and the gorgeous decorations made the day a truly special event. Their families and close friends all came together happy to celebrate the union of such a uniquely special couple.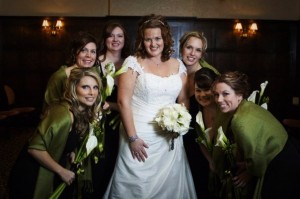 Just as you would expect, they wrote their vows with a lot of thought and consideration, but these two love a good laugh and are full of adventure, so at the end of her vows, when Jenn told Marc "You are the cheese on my cracker," everyone roared! That phrase put their wedding "on the map." Yes!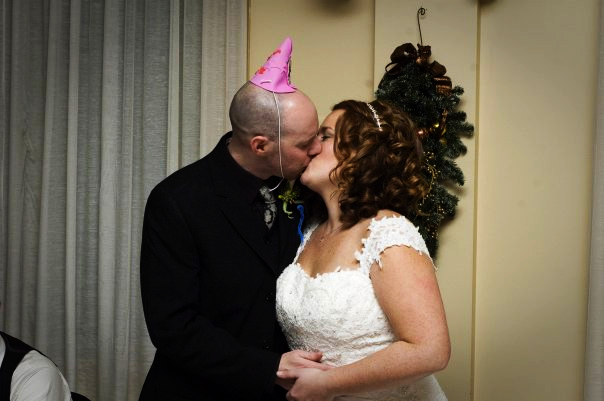 Marc and his friends are well known for their antics. They can find fun pretty much anywhere and at anytime. One Christmas he was spending time with his cousins and after dinner, dessert came out. To his delight this particular dessert proved to be amazing. It was layers of cookies and milk with Kahlua and whipped cream and chocolate. Between the Kahlua in the dessert and the alcohol in their glasses, the jokes began to roll. They all thought it was hilarious that someone had made a dessert out of milk and cookies at Christmas time. Adding Kahlua was a great twist on the traditional fare set out for Santa each year. Throughout the discussion and laughter, guys who had played Santa in the past wondered, "Where were these milk and cookies at the time we used to put gifts out?" No one really remembers what the original name of the dessert was, but that night Marc and his cousins renamed it "Milk and Cookies for the 'Real' Santa!" It is an annual favourite.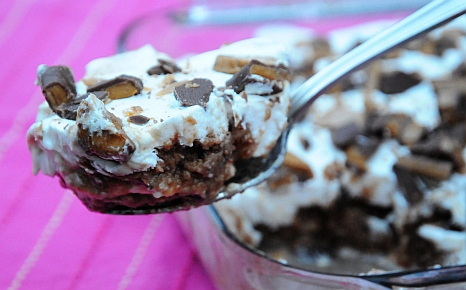 Milk and Cookies for the "Real" Santa
1/2 cup Kahlua
1/2 cup Milk
1 package Chocolate Chip cookies (homemade if you like; but store bought work well too!)
3 cups Dessert Topped, whipped (not whipped cream)
1 Skor bar, crushed
Directions:
1. Soak cookies in a mixture of Kahlua and milk.
2. Place soaked cookies in a cake pan, covering the whole bottom.
3. Spread Cool Whip over the cookies having approximately a 1″ layer.
4. Repeat process to make another layer of cookie and Cool Whip.
5. Crush up a Skor bar into fine pieces and spread over the top layer of Cool Whip. Top with chocolate chips, shaved chocolate or anything else that inspires you!
6. Place it in the freezer for 3 – 4 hours and serve.
Ho-Ho-Ho! Merry Munching!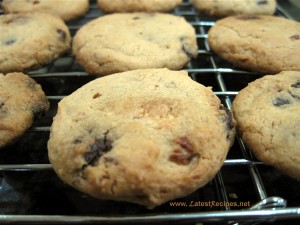 Carla's Kahlúa Cookies
Let's pump up the volume and make it with Kahlua cookies! I often make these for book signings. They always go over really well. Recently I started making them with Irish Cream and they may be my newest favourite.

Makes 40 cookies
Ingredients
3/4 cup packed brown sugar 1/2 cup granulated sugar 1/2 cup butter, softened 1/3 cup shortening 2 eggs 1/4 cup  tablespoons Kahlúa – Irish Cream and other liqueurs work well too! 3 teaspoons vanilla extract 2 cups flour 3/4 teaspoon baking powder 1/4 teaspoon salt 1/2 cup semisweet chocolate chips 1/2 cup premium white chocolate chips
Preparation
1. Preheat oven to 350°.
2. Combine sugars, butter and shortening in a large bowl. Beat with a mixer at medium speed until light and fluffy, about 3 minutes.
3. Slowly beat in eggs, Kahlúa and vanilla.
4. Mix flour, baking powder, and salt and gradually add flour mix, beating slowly.
5. Fold in chocolate chips, white chocolate chips.
6. Drop by level tablespoonfuls 2 inches apart onto ungreased baking sheets.
7. Bake 1 sheet at a time at 350° for 8 minutes or just until set and beginning to brown around edges and on bottoms.
PLUS!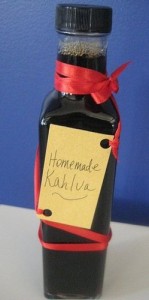 Make your own Kahlúa! I found this great recipe on http://www.ehow.com/how_2069432_make-kahlua.html
Ingredients:
1.75 litres high quality vodka
2 tsp. pure vanilla extract
1. Combine the brown sugar, granulated sugar and water in a small sauce pan. Simmer for 10 to 15 minutes until sugar is dissolved.
2. Remove from the heat. Stir in the coffee. Allow to cool completely.
3. Pour into a large plastic container with a lid. Add the vodka, vanilla flavouring and vanilla bean.
4. Cover and let stand for two to three weeks or until fully aged. Kahlua, when properly stored, can last safely for up to a few years.
Now, just for a little fun…
Want the answers? C & A!
A special occasion coming up? Personalized Kahlua labels. Who knew?
http://food.thefuntimesguide.com/2007/04/personalized_liquor_labels.php
If this was your kind of recipe, you'll probably like
"Fight Night" Kahlua Cookie Cake
Also,
Join us on Facebook & "Like" Cooking With Sin.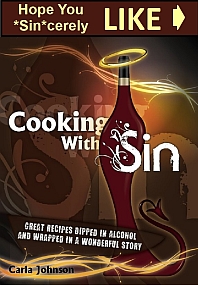 And Follow me, Carla Johnson, on Twitter @Carla_Johnson


Tags:
Chocolate
,
Vegetarian