I know my older sister loves me because she gives me all her old clothes and has to go out and buy new ones. 

~ Lauren, 4 years old
Her story ~ The Sisterhood of the Crêpe
by Darcelle Runciman
Speaking of love… my husband Pat and I met 10 years ago and our love of the outdoors and of cooking is part of what brought us together. One of our first trips together outside Canada was to the Dominican and I remember we ate at a local café and enjoyed chocolate crêpes, which now having the recipe we carry on that tradition. We love the outdoors so much that we were married on a beautiful sand beach in Prince Edward County in Ontario. We love spending time in the kitchen creating good food for family and friends over the years. We were married 5 years ago and will be celebrating my sister's wedding this year. So you can bet crêpes will be on our breakfast menu!
I remember one day just before lunch when I was visiting my sister and we both did not feel like cooking, we looked at each other and said so where should we go? Well to our local breakfast restaurant to have crêpes of course! I love that we can share laughs and food and create moments in time that we remember forever. Our family is very close and we love getting together and enjoying each other's time and cooking and having fun in the kitchen. It is simply part of what we do, and something I believe that has been handed down by our grandmother who was always in the kitchen. My sister and I love baking and she now owns her own cupcake business Bake Sale Girl and has won awards for her unique displays of "sinful" treats.
As for myself and my wonderful family, we continue to make crêpes a staple in our home, and I continue to bake for my family from recipes that have been passed down for generations. Enjoying them each time as if it were the very first.
Having lived in Montreal for 21 of my years there are many French inspired dishes that were created by my sister and myself over time. The crêpe is one of my favourites.
The history of the crêpe came from France where "the pancake is known as a crêpe" and spelled with a character known as the circumflex or ˆ over the first "e." The word comes from the Latin term crispus, which explains the flat, almost crisp texture. The crêpe actually originated in Brittany, in the northwest corner of France, where they still make sweet crêpes or galettes, which are filled with meats and cheeses.
In medieval times, peasants presented crêpes to their feudal lords as a demonstration of loyalty. In the Breton town of Quimper they actually have a museum celebrating the history of crêpes. It's located (where else?) in Place au Beurre or Butter Square!" February 2 is considered National crêpe Day in France, and are served everywhere.
Source – Read more.
Though most crêpes are made with white flour you can also use a variation of buckwheat flour, which if used will make the crêpes gluten free.
Crêpes can be crisp created by using less mixture added or thicker and heavier with more than three scoops added. Our family enjoys it with 2 scoops of crêpes mixture which lends to a thin, softer crêpes and not too heavy. We have enjoyed them with breakfast with our home made maple syrup that we make on our land by tapping our own trees, and fruit. These "Sinful" treats are so good I once hosted a crêpes party where everyone brought a variety of fillings and with the crêpes let's just say it was an evening never to forget of friendship, good food and fun! We had an egg & broccoli mixture, a main course meal that consisted of egg, bacon and ham, topped off with a dessert crêpe dusted with icing sugar. It was to die for! We used our own homemade maple syrup, chocolate, whipped cream and it was heaven! The ladies still talk about it to this day!
What was once considered a demonstration of loyalty has now become a demonstration of love for families around the world including ours which was created from a bond of two sisters, and the love for good food and great experiences. There are hundreds of recipes from around the world and you can find many on the source site above or any site that talks about Crêpes. The original base of the recipe can stay the same while the filler ingredients are what vary per household. Creating your own variation can be an adventure in the world of food. One that you will be glad you embarked on as our family has for over a century.
The love that goes into creating these masterpieces will tickle your taste buds and have you coming back for more. Enjoy!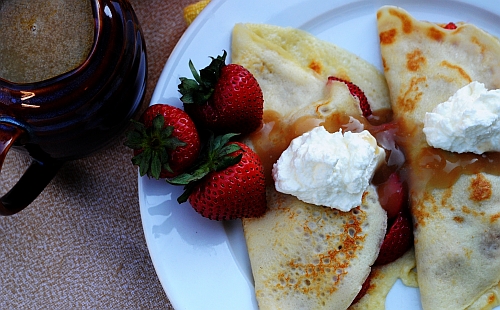 "Sisterhood" Maple Rum Temptation Crêpes
Serves 4
Delicious Crêpes that can be used for dessert, breakfast or main course. This sinful treat comes with an impressive sauce.
Ingredients:
3 eggs
1 1/3 cup (325 ml) of 2% milk
¾ cup (185 ml) of flour
1/8 tsp salt
¼ cup (60 ml) butter melted
1 tsp vanilla
Directions:
Mix 3 eggs with milk and 1 tsp of vanilla and set aside. Next mix in a large separate bowl, the flour & salt. Add egg mixture to the flour & salt and mix well with a whisk.
Once all ingredients are mixed without lumps, melt butter.
Add butter slowly to mixture beating continuously.
Grease pan (a pan the size of the crêpe you want) with oil or cooking spray.
Once heated use a large cooking spoon to put 2 scoops of crêpe mixture in pan so that crêpes are thin. Flip once and set aside. Best served warm.
Maple Rum Sauce:
½ cup Quality Maple Syrup
1/3 cup Whipping Cream
1/3 cup Butter
3 tablespoons Dark Rum
Combine first 3 ingredients in a small saucepan on medium. Heat and stir until butter is melted & mixture is boiling. Boil gently for about 3 minutes, stirring occasionally, until thickened. Add rum and stir. Makes about 1 cup (250ml) of sauce.
Toppings:
Whipped Cream
Fruit (see suggestions below)
Add fruit just prior to serving; bananas, raspberries, strawberries, blueberries and blackberries to crêpes. Top with whipped cream and sauce.
Prep Time 20 Mins.
________________________________________________________
Darcelle Runciman is an internationally recognized Business Mentor, Facilitator, Speaker and co-author of the Canadian Best seller, The Power of Women United.
With over a decade as a successful entrepreneur running a multi-million dollar company, Darcelle's expertise in business building & development, project management, real estate investment, corporate organization, marketing and teaming up with investors in joint venture partnerships, has allowed her to collaborate with high profile business coaches, government departments, and mentors.
She is now dedicated to coaching business owners to success though balancing their strengths, their spirit, and creating action, while increasing their profits. Find out more about Darcelle www.darcellerunciman.com.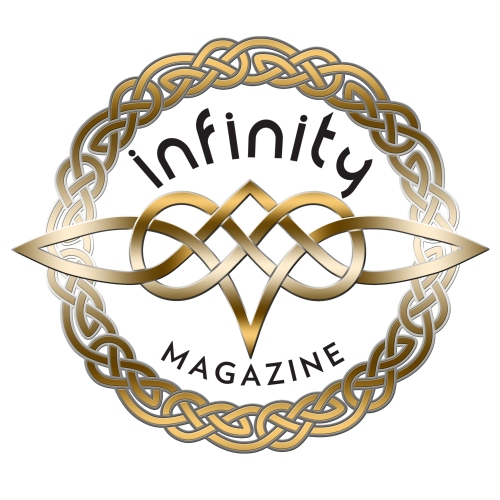 Update: I am proud to announce that Darcelle is launching Infinity Magazine, a new, exciting venture that I am very happy to be part of.
I hope you "Like" Cooking With Sin on Facebook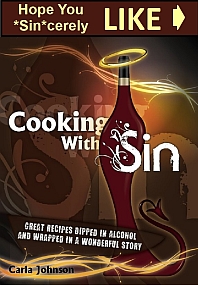 Follow me, Carla Johnson, on Twitter
@Carla_Johnson
Tags:
Eggs
,
Fruit
,
maple syrup
,
Vegetarian