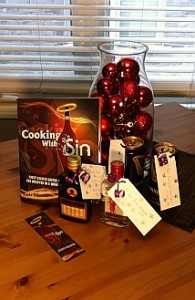 Chris Steingart is a good friend of mine and the designer of my website. He recently bought a few copies of "Cooking With Sin" and I love how he made one of them into a great gift for his mom.
Chris, thank you for sharing this!
(Spoiler alert for Mrs. Steingart!) 😉
We were having some fun with the gift for my mom today. With a $50 gift limit I bought the book for $30 then two cans of Guinness and a bottle each of gin and brandy to go with. While I know that she's got beer and wine a plenty I tried to buy some things that weren't already in her cupboard so that she could start trying the recipes right away. The LCBO small sizes are great because many of your recipes don't call for more than 3/4 of a cup of spirits anyways! So you're not breaking the bank buying a big bottle just to try out a recipe. Attached to each bottle I put a little note referring her to the page that the ingredient is used on just as a little reminder to actually make the recipe instead of drinking it away first.

Anyways, we were wrapping the gift and couldn't resist taking a little photo of our $50 gift collection. I know the Christmas shopping season is over shortly but I thought you might want to use this picture to inspire people to go out and "accessorize" their book for the perfect gift!
I hope you and your family have a very Merry Christmas!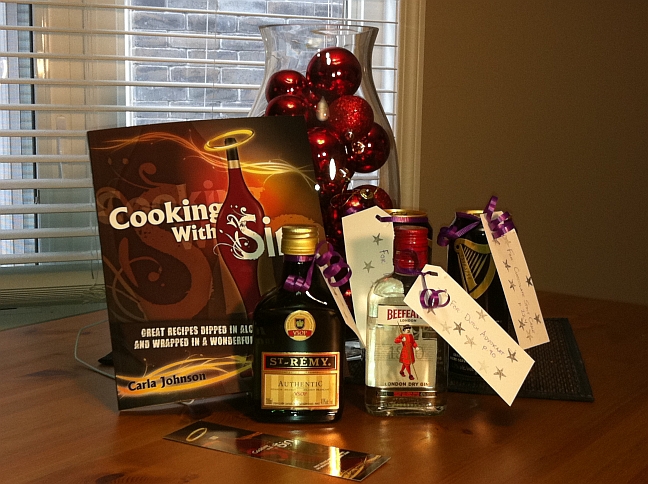 chris steingart
website designer and online marketing consultant
QT web designs
Buy the book
,
Fun