"

Beer is proof that God loves us and wants us to be happy."

~ Author unknown (commonly attributed to Benjamin Franklin)


"Always carry a flagon of whisky in case of snakebite, and furthermore, always carry a small snake."

~ W. C. Fields




"Irish cream in my coffee this morning. Life is good."

~ Author unknown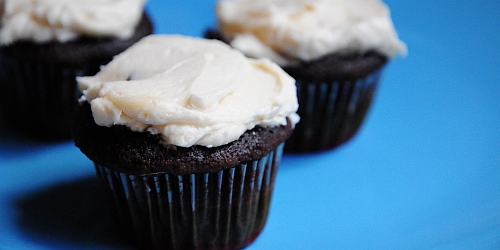 Today I looked at my Cooking With Sin stats and realized that we will probably reach 100,000 visitors this summer! That is 100,000 real people who will have clicked onto these pages since I started it in 2009! That's pretty cool! 😆
As of this moment 92,989 people have visited and last month alone we had 9,955 visitors, so it's looking really good!
When we reach 100,000 I will yell a primal "Ye-ahhhhhhh" just like The Who in the theme of CSI Miami. And let me stand up and say I, for one, miss Horatio's one-liner as he put on his sunglasses at the start of each show.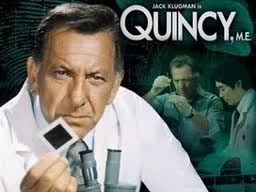 This recipe comes with a very special THANK YOU from me to each of you for making this project SO worth doing. I recommend making mini cupcakes so you get the taste of all 3 part of the cupcake in each bite.
*NOTE: If you're looking for a real bomb recipe, fuggeddaboudit. Make these cupcakes instead. The name comes from a shooter called a Bomb. Ya, maybe not the best name, but here are 3 – count 'em 3 – types of alcohol! Stout in the cake, whisky in the ganache and Irish cream in the icing. You're gonna love them! Besides, I heard that British spy hackers are replacing online bomb recipes with cupcake recipes, so it's all the rage! 😎
My cupcakes ended up kinda messy looking :oops:, but they were amazingly deeeeeeeeelish!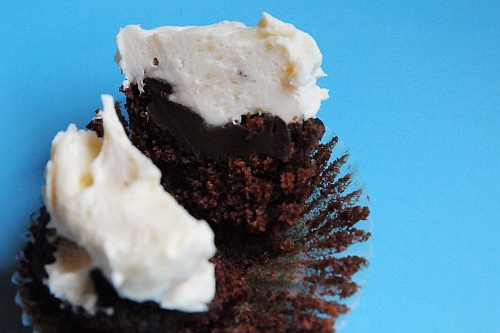 "THANK YOU" Chocolate Cupcake Bombs
Makes 50 mini cupcakes
The Cupcakes
1/2 cup dark stout beer
1/2 cup butter, melted
1/2 cup cocoa powder
1 cup flour
1 cup sugar
3/4 teaspoon baking soda
1/2 teaspoon salt
1/2 cup sour cream
1. Preheat oven to 350°F and line cupcake pan with baking cups.
2. In a large bowl whisk together the flour, sugar, baking soda and salt.
3.Bring stout and butter to a simmer over medium heat. Take it off the heat and add the cocoa powder and whisk the mixture until it is smooth. Let it cool a little.
3. In a large mixing bowl, beat the eggs and sour cream. Add the stout mixture and continue beating until it is combined.
4. With the mixer on slow speed add the flour mix and beat briefly. Continue folding batter with a spatula until the batter is combined.
5. Fill the liners 2/3 full with the batter and bake for 14 minutes.
6.Test with a toothpick in the center of a cupcake to make sure it comes out clean. Let the cupcakes cool.
The Ganache
3 1/2 ounces bittersweet chocolate (3 1/2 squares) orchips
1/3 cup whipping cream
1 tablespoon butter
2 teaspoons whisky
1/2 teaspoon vanilla extract
1. Chop the chocolate into small pieces and put into a heatproof or microwavable bowl.
2. Heat the cream on the stove until it is simmering. Pour it over the chocolate pieces. Let it sit for about a minute to let the chocolate melt then stir until smooth. If the chocolate is not yet melted, heat carefully in a microwave on medium/low for approximately 20 seconds.
3. While it is still warm stir in the butter and whisky until smooth.
4. Using a small cookie cutter, an apple-corer or a melon baller, cut out the centre of the each cooled cupcake about 2/3 of the way down.
5. Fill each cupcake hole with the ganache using a piping bag. I used a zipper bag with a hole snipped in one of the corners. You may want to let it cool before you squeeze the bag.
The Icing
1 1/2 cup icing sugar
1/2 cup butter, softened to room temperature
3 tablespoons Irish cream liquor
1. Put the icing sugar and butter in a mixing bowl. As you start to beat, slowly drizzle in the Irish cream.
2. Whip until it is combined and smooth. You may need more or less Irish cream depending on your preference. If the icing is too thin, add a bit more icing sugar and beat.
3. Spread the cupcakes and decorate as you wish.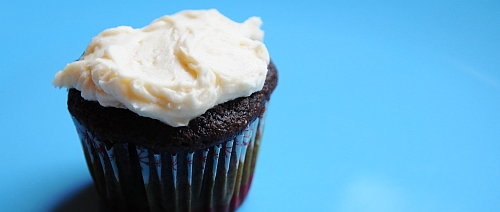 If you are familiar with other recipes here on Cooking With Sin, you might recognize that the cupcake batter recipe is very similar to the "A Suitcase and a Dream" Chocolate Stout Cake recipe. I'm sure it would work as well. It's at
http://cookingwithsin.com/2010/09/12/%E2%80%9Ca-suitcase-and-a-dream%E2%80%9D-chocolate-stout-cake/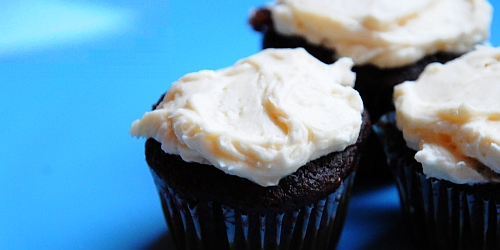 Join the fun and
"Like" Cooking With Sin on Facebook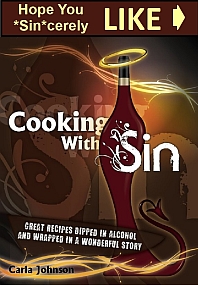 Follow me, Carla Johnson, on Twitter @Carla_Johnson
Tags:
Chocolate
,
Fun