My greatest wish for the two of you is that through the years your love for each other will so deepen and grow, that years from now you will look back on this day, your wedding day, as the day you loved each other the least.  ~ Unknown
In a culture full of in-law jokes, I am proud to say I love and adore my in-laws dearly. Jack and Helen Roorda have been in my life for over 20 years and have never over-stayed their welcome. They raised 5 children, 2 refugee teenagers and over 20 foster children. Helen is an extraordinary cook and her dinners are legendary. She makes a great soup with mini meatballs and if you show up in time for a meal, she'll joke that the soup was actually spaghetti and she just added water to make it stretch further.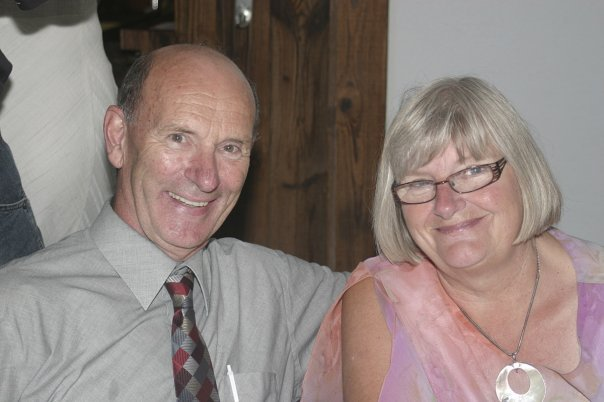 Helen enjoys making new and interesting dishes and is always looking for unique and obscure ingredients. Every dish she has ever prepared has been absolutely delicious… except for one. Of all the meals she has prepared for her family over the years, there is only one dish that went awry and they never let her live down. Her family loves her food and they are all adventurous eaters, but with a family of constant joksters, the tomato aspic dinner (with all due respect to tomato aspic fans!) – which was over 25 years ago – was tough to "stomach" and continues to be something they hold over her just for fun.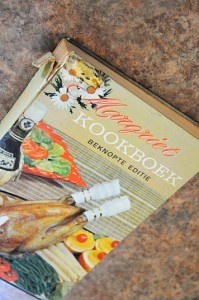 Jack Roorda and Helen Idsinga both emigrated from The Netherlands to Canada in 1952 when they were both 14 years old. Their hometowns had been only a couple of miles apart in Friesland, but they had never met until their families both settled in the same small town of Clinton, Ontario.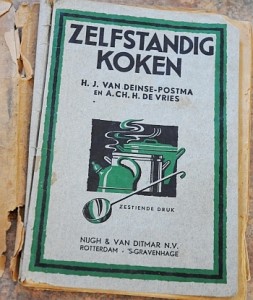 Anyone who emigrated from Europe in those days came by boat and went through the customs at the harbour in Halifax, Nova Scotia. Jack's Dutch name was Jappie and Helen's birth name was Hiltje. They were both given new English names by family members (cousins).
This summer, Jack and Helen are gathering the whole family together to celebrate their 50th wedding anniversary. They are renting a large chalet to host their brood of 21 – children, spouses, grandchildren and their special great-granddaughter. It will be a time of great fun and great food. We just know it!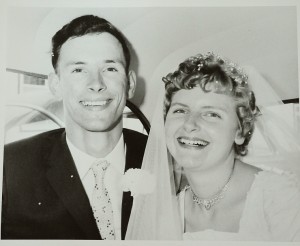 In 1960, Jack and Helen married in their Christian Reformed church. Friends and family from all over were invited. They are both the eldest of 10 children in their families, so they were not short of "hands" preparing the occasion.
Advokaat is a special Dutch treat that was traditionally served at weddings and Christmas. When it is prepared authentically, it is more like a pudding than a drink, though you can buy it as a drink today.
Preparing it is a both a science and an art and not for the faint of heart. Traditionally it is served in small fancy glass bowls and eaten with very small Dutch silver spoons.
A devout Baptist woman attended Jack and Helen's wedding and she was strict about not drinking. The Advokaat at their wedding had been made by Helen's mom and sisters. It was especially creamy and delicious. When the Baptist woman tasted the "pudding" she happily went back for 2nd and 3rds, not knowing it was spiked. No one knows if she figured it out, but she got tipsy enough for it to be chuckled over many years later.

Helen's Advokaat
This is Helen's original recipe from her Dutch cookbook. For "Cooking With Sin" the book, she reworked it. The Advokaat recipe in the book is much easier to make, yet tastes just as delicious.
8 eggs 1 cup sugar 1 teaspoon vanilla 375 ml bottle of brandy or gin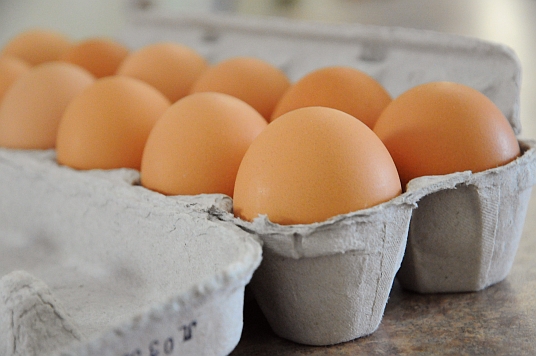 1. Beat the eggs, sugar and vanilla with a beater in a double boiler unti the mixture is lukewarm.
2. Take the mixture off the heat.
3. Continue beating the mixture while off the heat for another 10 minutes. It will rise and become quite frothy. It should be a light yellow-cream colour.
For Helen and I, the mixture started off with large bubbles.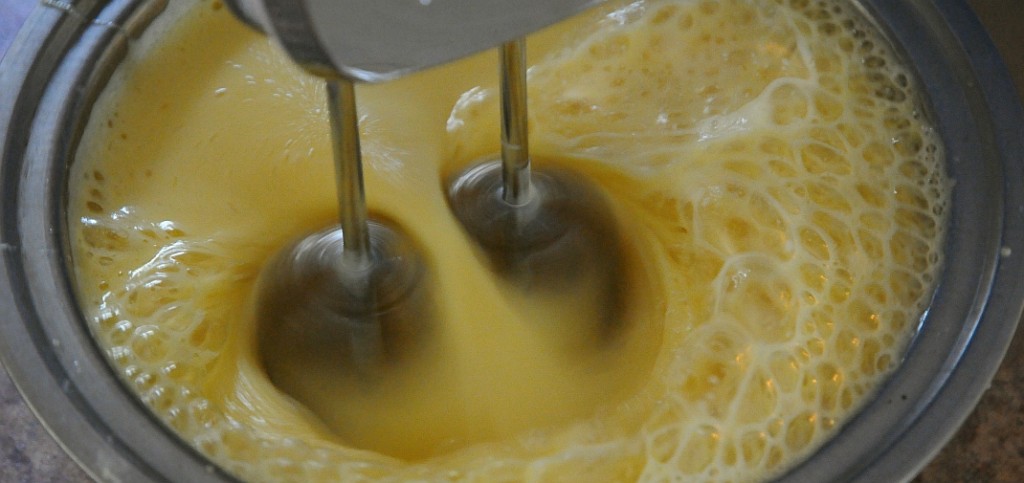 As we beat our mixture, it rose quite significantly in height, so we transferred it to a larger bowl where it became smoother and lighter in colour.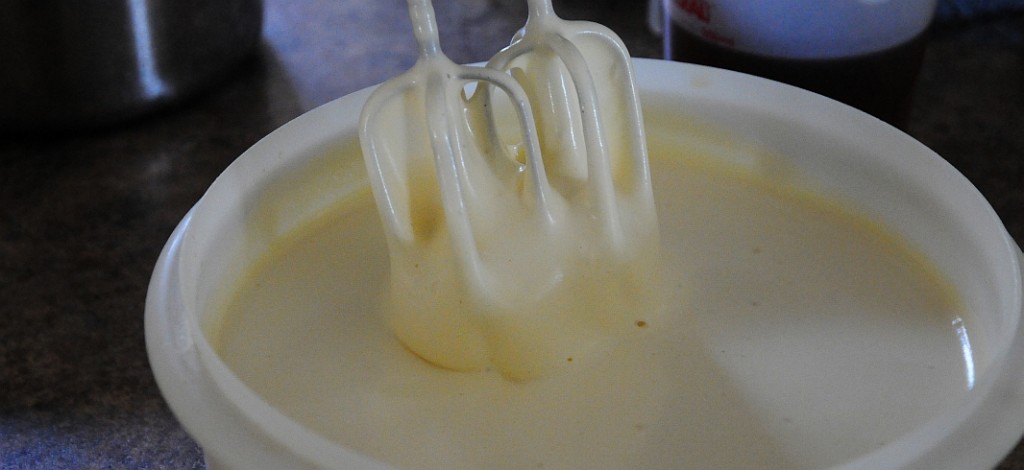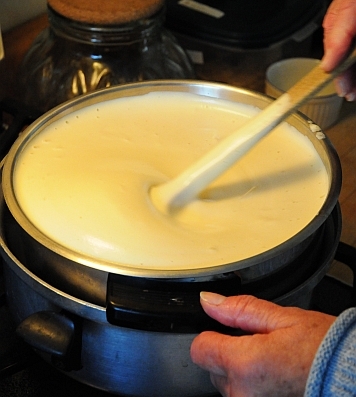 4. Slowly stir in the bottle of brandy, folding it in gently. You can use any kind of liquor you like. It is common to make Advokaat with straight alcohol.
5. Place the mixture back on the double broiler, stirring it constantly until it thickens. It will take several minutes. Be very careful not to let it get too warm or it will separate. It may be better to keep the stove off and just stir it over the warm water.
Allow to cool and serve in small fancy drinking glasses or small dessert bowls. Eat with small Dutch silver spoons.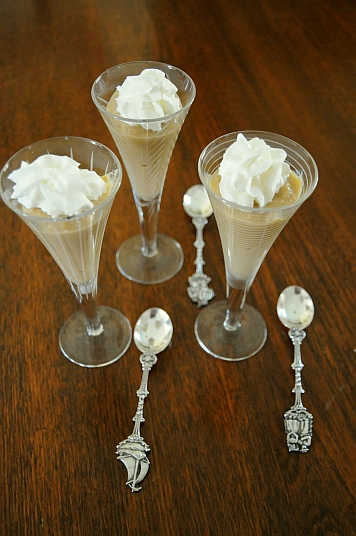 NOTE: For the book, Helen reworked this recipe so it is just as smooth and delicious, but much easier and virtually fool proof to make. I also took fresh new photos for the book too!
If you love this recipe, you will also love "Pretending to be Tipsy" German Eierlikor http://cookingwithsin.com/2011/03/27/%e2%80%9cpretending-to-be-tipsy%e2%80%9d-german-eierlikor/
Tags:
Eggs
,
Gluten-free
,
Vegetarian