As the only woman, I was able to sit with the officers in front, with a glass of vodka in one hand and a cucumber in the other. That's how I went to my first war.

~ Åsne Seierstad, Journalist & Author of "The Bookseller of Kabul"
The air was hot, the food was hot and so was I. I was not happy having to cook in this tiny, tiny kitchen on the hottest summer night in the Beaches! It was August in Toronto, still 90F at 4 pm and I was cooking for a freebie.
A year earlier, at a charity function, 4 women had won a gift certificate for a free meal, but when we tried to set a date for the dinner, they kept changing their plans. Realizing they were all single, I suggested a more informal buffet for 8. One of them had a 20 year old daughter who had taken some courses, so they volunteered her to be my helper.
I arrived and… there were now 10 women! I told myself it was not a big problem and got my 20 year old volunteer busy making fancy martinis and blender drinks. She was doing a great job. Then as the evening progressed, it got hotter and hotter and my 20 year old volunteer got very drunk and passed out! Can you see where this is going?
If that wasn't bad enough, there were the dogs – 10 dogs! Yes. 10. Each woman had brought her dog, so every time I turned around there was a dog underfoot eating the garbage or trying to chew skewers from appetizers. And because it was so wickedly hot, the owners took turns coming into the kitchen to get glasses of water for their dogs. Wonder why these women are single? "Jeez!" I thought, "I'm going to kill someone!"
If that wasn't distraction enough, there was a tenant from Japan whom I had thrown out of my nightmare kitchen at least 20 times. In the middle of the evening she came in again and said "Chef, excuse, please?" I turned around and 'SNAP.' She took my picture! "Oh, I send picture to Japan!" she tells me. Can you imagine what that picture says? My face was beet red and really glowed under my white hat!
Toward the end of the evening, my 20 year old volunteer sobered up and came into the kitchen with something on her mind. "Can I tell you something, but don't tell my Mother?"
"Is she pregnant?" I immediately thought, "No. I do not want to know!"
My 20 year old volunteer was not pregnant, instead her 5 foot boa constrictor had gotten lost in the house that evening while she was unconscious. She couldn't find it and both her Mum and the tenant were petrified of it – ya think?
That night, as I packed the car, I decided that I had to laugh! Laughter and tears are so similar. Tired and exhausted, I unpacked only some of my things before heading to bed. The next morning, as I went out to unload the rest my stuff the thought suddenly occurred to me. What if the joke is on me? What if I have the snake?!
Chicken with Sun-Dried Tomatoes and Cream
Serves 8
6 boneless skinless chicken breasts (cooked and chopped)
3 sweet peppers (red, orange or yellow) chopped
1 bag sun-dried tomatoes (chopped) oil packed is fine
20 mushrooms
6-8 shallots chopped
4-5 tablespoons butter
2 ½ cups chicken broth
1 cup vodka
1 tablespoon dill
1 teaspoon thyme
Salt/pepper
200 ml (4/5 cup)Whipping cream
1. Chop all veggies and sauté in 3 tablespoons butter
2. Add sun-dried tomatoes, chicken and spices. Adjust them to taste. Sauté until flavours are well combined. About 4 minutes.
3. Add vodka, steam for 1 minute and then add broth.
4. Simmer for 1 hour. Continue to season to taste. Should have a distinct dill flavour and vodka.
5. Add whipping cream just before serving. About 2/3 of a small container.
6. Sauce should still be quite runny!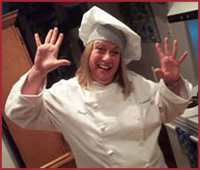 Chef Janet
www.satisfiedsoul.com
The Satisfied Soul
65 Geddes Street
Belleville, Ontario, Canada K8P 2X7
Telephone: 613 210-0250
Cell:  613 920-9257
Email:  Janet@SatisfiedSoul.com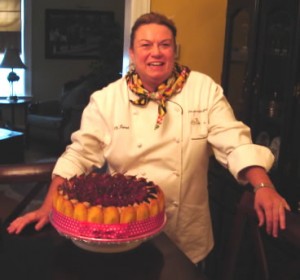 Tags:
Meat