"To be or not to be cointreauversial, that is the question"
with apologies to William Shakespeare

From the Cointreau website: http://www.cointreau.com/home
Some people have a natural ability to garner good will and Margaret and Robert Campbell are the best. After years working in careers, running businesses and counting down to retirement, they could have chosen to rest on their laurels and slow down, but no. They decided to start a new business.
When Bob & Margaret established Colour Tech Marketing http://www.colourtech.com/, they set out to be leaders in the business. They were the first company in Canada to print full colour, glossy business cards with colour photos on them. Today, they continue to stay on the cutting edge of technology and personal service.

Margaret has often said, "We do whatever it takes to keep our customers happy." Their quick smiles and generosity have gained them people's trust and confidence. It is surprising how many business people, far and wide, know them and like them.
Recently a real estate board organized their first trade show. It had a few bumps and by the end of the day, the word had spread among the hundred or so exhibitors to bring suggestions to Bob as the board was looking to him for direction for next year's show. Bob naturally stepped into his big brother role within the group.
Each week Margaret & Bob go full tilt. They will attend at least one trade show a week, often travelling a distance, and return to put in long hours running their growing business. Recently they decided to start yet another initiative – a Canadian first – to build on the marketing services they so adeptly provide. They go at a pace that would exhaust many people half their age.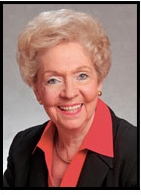 Talk to Margaret about food and she bursts with enthusiasm. She says it usually takes one special ingredient to take a dish from delicious to spectacular. Her beef stroganoff has always been a favourite, but recently she substituted cream cheese for the cream and that put it in a whole new league. There are a couple of kicker ingredients in her French Toast recipe: the Cointreau and the cream. It is her favourite thing to serve to guests.
I am always curious to find people who love food and cooking, yet maintain their weight. Bob will look you straight and sober in the eye and tell you he has to run 3 miles a day to keep his in check!
Midnight is the moment you are ending a day and starting the next. Bob & Margaret have enthusiasm, and creativity and are always looking to start something new.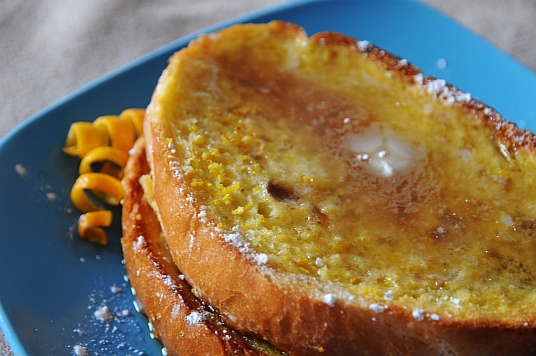 Working Past Midnight French Toast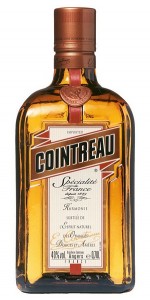 Ingredients:
1 dozen eggs
½ cup (125 ml) whipping cream
½ teaspoon (2 ml) vanilla
Zest of one orange
2 tablespoons (30 ml) Cointreau
1 loaf French bread – 1 inch thick slices
Equipment:
1 or more cake pans to fit the bread slices
Plastic wrap
Whip together the eggs, cream, vanilla, zest and Cointeau in a large bowl.

Place the bread slices in one or more cake pan and pour the egg mixture over all the slices making sure each slice is evenly coated.

Cover the pan(s) with a lid or plastic wrap and let it sit. It can sit on the counter for 15 minutes or be placed in the fridge overnight before baking.

Place the slices on a greased cookie sheet. Bake at 375ºF for 20 to 25 minutes.

Serve warm. Can be topped with fresh fruit, whipped cream, or maple syrup.
Garnish tip: Peel a slim strip of orange peel and wrap it around a toothpick. Later, pull the toothpick out and the orange peel should be curled and a perfect garnish for your French toast or a beverage.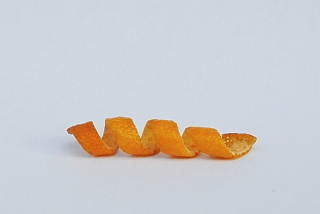 Hmmm…. Margaret…. Margarita….
According to the Cointreau website, Mrs. Margarita Sames created the first "Margarita" in 1948. Here is the original recipe.
Margarita

1 ounce Cointreau
2 ounces Tequila
¾ ounce Fresh Lime Juice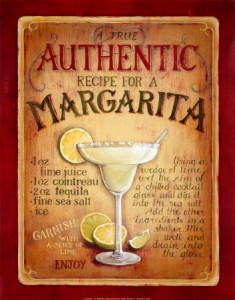 If you would like another bread recipe, you might enjoy "Bread Pudding & Hard Caramel Sauce."
I hope you "Like" Cooking With Sin on Facebook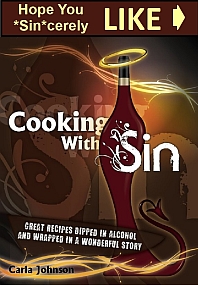 Follow me, Carla Johnson, on Twitter
@Carla_Johnson
Tags:
Bread
,
Vegetarian