La cucina di un popolo è la sola esatta testimonianza della sua civiltà.

~ Unknown (The cuisine of a country is the only exact attestation of its civilization.)

•   •   •

Reporter: Which of the cities visited did Your Highness enjoy the most?

Princess Ann: Each, in its own way, was unforgettable. It would be difficult to… Rome! By all means, Rome. I will cherish my visit here in memory as long as I live.

~ Excerpt from Roman Holiday (1953)
Many years ago (I won't give a number!), I used to babysit 3 truly adorable young Hersey kids, Simon, Sarah and Mark. Simon was always pensive and intellectual. He liked to discuss things, while Mark the baby did what most babies did – ate, slept and pooped! Sarah was quite charming and had a special sparkle in her eye. She figured things out really quickly and would often return your knowing glance with a coy smile.
After I left home for university, 3 more beautiful Hersey children joined the family, Rachel, Ruth and David. Of course they have all grown up now. Simon, Sarah and Mark are all married and have moved even further away. Mark, the baby, has really grown UP. Long ago topped my 6′ 2" height and he now hovers somewhere around a mere 6′ 9"!
When Sarah contacted me and told me she had a recipe, I was so pleased. It was wonderful to reconnect and catch up. She now has two children of her own, James and Elizabeth. and even though her husband's name is actually Jeremy, she sometimes just calls him "Handsome."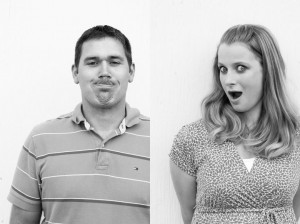 _____________________________________________
When their first child James was just 4 months old, Sarah and Jeremy Fresz decided it was time to visit her extended family in England. Adding an extra excursion to Rome and Paris was natural for the two history buffs. As Sarah explained it, "Rome because of the history and Paris, well… who doesn't want to go to Paris and the price was right!"
Walking through the Coliseum and the Roman Forum were Sarah & Jeremy's favourite moments. So much had happened there that continues to impact the world today. "It was awe-inspiring and overwhelming to stand there and think about all that had happened… to imagine Caesar, and Nero, and the other emperors in their fine robes walking amongst the pillars." She also pondered the prisoners and imagined some of the well known prisoners from Christianity like the apostles Peter and Paul walking through the streets in chains.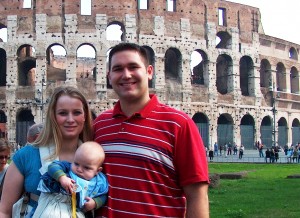 Then there was the food. Sarah and Jeremy share the Italian love of delicious food: the pastas, the meats, the breads dipped in olive oil, the balsamic vinegar and the wine. They had so much fun trying out different restaurants and all different kinds of food. They especially fell in love with Spaghetti Carbonara the way the Italians make it.
As Sarah explains it, "True Carbonera has eggs in it! The American version is more saucy… almost an Alfredo sauce and that is so wrong!"
When they returned home, Sarah and Jeremy were bound and determined to recreate it the authentic way. They found a recipe that was close and had a lot of fun adjusting the ingredients to get it right. They added garlic and that brought it closer, but the key ingredient that it needed was white wine. "It made all the difference in the world!"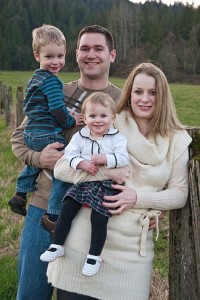 Italian Spaghetti Carbonara

Ingredients
1 pound spaghetti
1 tablespoon olive oil
8 slices bacon, diced
1 tablespoon olive oil
1 onion, chopped
1 clove garlic, minced
1/4 cup dry white wine (Sarah uses Piat d'Or)
4 eggs
1/2 cup grated Parmesan cheese
1 pinch salt and black pepper to taste
2 tablespoons chopped fresh parsley
2 tablespoons grated Parmesan cheese

Directions

1.In a large pot of boiling salted water, cook spaghetti pasta until al dente. Drain well. Toss with 1 tablespoon of olive oil, and set aside.
2.Meanwhile in a large skillet, cook chopped bacon until slightly crisp; remove and drain onto paper towels. Reserve 2 tablespoons of bacon fat in the pan, add remaining 1 tablespoon olive oil and heat in reused large skillet. Add chopped onion, and cook over medium heat until onion is translucent. Add minced garlic, and cook 1 minute more, being careful not to over-cook it. Add wine; cook one more minute.
3. Return cooked bacon to pan; add cooked and drained spaghetti. Toss to coat and heat through, adding more olive oil if it seems dry or is sticking together.
4. Add beaten eggs and cook, tossing constantly with tongs or large fork until eggs are BARELY set. It may be wise to take it off the heat first so the eggs don't fry. Quickly add 1/2 cup Parmesan cheese, and toss again. Add salt and pepper to taste (remember that bacon and Parmesan are very salty).
5.Serve immediately with chopped parsley sprinkled on top, and extra Parmesan cheese at table.
Sarah's Tip:
"If the eggs "scramble" when you're cooking them, you've overcooked them. Its a bit difficult to get them just right. Err on just under-cooking it as they will keep cooking in the dish as you serve it. I usually serve this with a big caesar salad and a French loaf of bread with extra virgin olive oil and balsamic vinegar."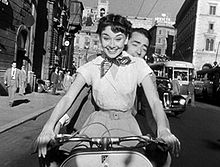 "The best thing I know is to do exactly what you wish for a while."
~ Excerpt from "Roman Holiday" (1953)
I hope you "Like" Cooking With Sin on Facebook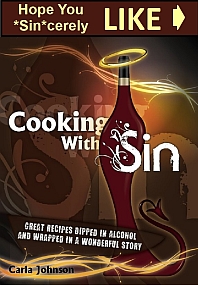 Follow me, Carla Johnson, on Twitter
@Carla_Johnson
Tags:
bacon
,
Pasta