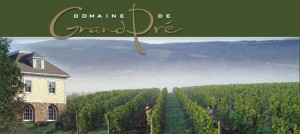 Today I had a great conversation with Jürg Stutz of Grand Pré Winery, the oldest winery in Nova Scotia. 
Their restaurant Le Caveau has won several awards and has an impressive dining menu.  Chef Jason Lynch will be sharing a recipe or two right here in a few days! Yeah!
Grand Pré Winery is tucked by the Bay of Fundy in the Annapolis Valley, where farms and orchards are abundant. The number of wineries in Nova Scotia has dramatically increased recently. It's very exciting to see.
Their Pomme D'or is the marinade base for Chef Suman's "Roasted Rabbit Marinated in Pomme d'Or" recipe. 
While it is comparable to ice wine, Pomme d'Or is a bit more acidic and has a lower sugar count. It may be the perfect apperitif for someone who finds ice wine too sweet. Ice wine has a sugar count often around 12, where Pomme d'Or is a 6. Both wines have similar alcohol content.

~ Pomme d'Or ~
Apple Dessert Wine
10% alc., 375ml, $22.50
The Facts
This apple dessert wine is made from both new and old apple varieties grown locally in the picturesque Annapolis Valley of Nova Scotia, a place world renowned for its apple production. A unique vinification process allows us to extract the pure sugar from the freshly pressed apple juice which is used for fermentation. The result is a spectacularly rich wine displaying complex notes of baked apple, apricot and caramel. A concentrated and sweet treat these wonderful flavors are balanced with a nice acidity and a long sweet finish.
Food Affinities
This dessert wine is a perfect compliment to any apple dessert, with mild cheesesand richly textured foods such as foie gras.
Awards
Bronze Medal Winner – 2003 All Canadian Wine Championship
Silver Medal Winner – 2004 NSLC Port of Wine Festival
Bronze Medal Winner – 2007 Canadian Wine Awards
Silver Medal Winner – 2008 Finger Lakes International Wine Competition
To purchase Pomme d'Or, you need to contact Grand Pre Winery directly. I checked with our local LCBO and sadly they no longer carry it. I say it's a great excuse for a trip to the east coast!
I hope you "Like" Cooking With Sin on Facebook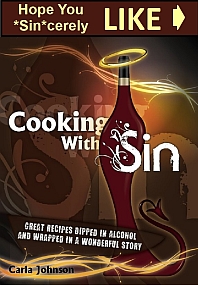 Follow me, Carla Johnson, on Twitter @Carla_Johnson
Tags:
Winery