"The trouble with jogging is that the ice falls out of your glass." ~ Martin Mull
Today at noon I had great fun on Rogers TV promoting Cambridge Memorial Hospital's Best Bites gourmet garden party fundraiser.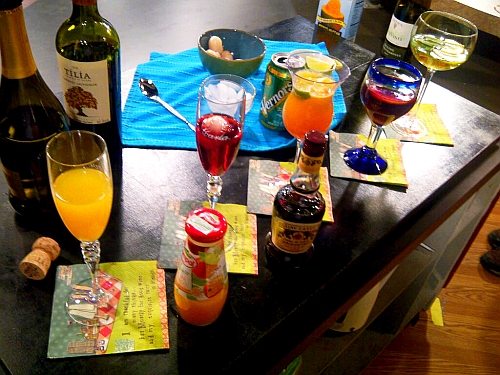 Here are the 5 cocktail recipes I shared. You can see them in the photo form left to right.
A. Bellini
2 parts Villa Sandi Prosecco 1 part peach puree
Pour the puree in the glass first, then add the Prosecco so it bubbles up peachy coloured bubbles.
Optional: Add fresh peach slices
B. Prosecco with Cassis
Pour a small drizzle of Cassis in the bottom of the glass then top with Prosecco. The bubbles will be purple coloured.
I added a leechee fruit for a fun bite at the end.
C. Prosecco Sangria
1 part peach puree 1 part mango puree 2 parts Villa Sandi Prosecco 1 leechee fruit lemon & lime slices
1. Pour the purees into the bottom of the glass then add the Prosecco.
2. Add the fruit to the glass, then serve.
Sparkling Wine Tip – Whenever you are mixing something with sparkling wine, add the wine last. If you add the other ingredients after the sparkling wine has been poured, they will inhibit the bubbling.
D. Quick Sangria
Follow the same instructions as the Prosecco Sangria above, but substitute Tilia Cabernet-Sauvignon for the Prosecco.
Tips – If you pour the red wine in slowly, the colours of the purees and the wine will marble until it is stirred.
E. Riesling Cocktail
2 parts Strewn's Two Vines 2010 Riesling/Gewurztraminer 1 part ginger ale. I used Vernors, a stronger ginger ale. Lemon slices Fresh sage leaves, ripped into pieces
1. Pour the riesling into a glass and top up with the ginger ale.
2. Squeeze the lemon slices into the glass, then drop the lemon slices in.
3. Add the sage leaves, stir gently and serve.
Cheers!
I Am The World's Last Barman Poet
  I see America drinking the fabulous cocktails I make. America's getting stinky on something I stir or shake. The Sex on the Beach. The schnapps made from peach. The Velvet Hammer. The Alabama Slammer. I make things with juice and froth, The Pink Squirrel, the Three-toed Sloth. I make drinks so sweet and snazzy, The Iced Tea, the Kamakazi. The Orgasm. The Death Spasm. The Singapore Sling. The Dingaling. America you're just devoted to every flavor I got. But if you want to got loaded, why don't you just order a shot?
"Cocktail" (the movie) – The Last Barman Poet
Please join CWS on Facebook!
Click this "Like" image.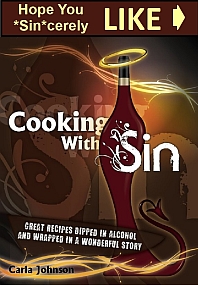 Events