Sometime ago I bought a bottle of Taboo Absinthe. The name had a nice fit with the "Sin" theme and I was curious about Absinthe. Last night good friends came over, so we finally openned our bottle.
What an interesting drink. Absinthe is an herbal spirit distilled from anise seed & fennel seed along with the flowers & leaves of the wormwood tree. A lot of exaggerated rumours have spread about it for many years, so it was fun to dispel all the myths and give it a try.
Absinthe has a very high alcohol content, so you can not drink it neat – without diluting it with water. The bottle in our bar is 60%. As you add water, the rich clear green liquid makes an interesting transition becoming much lighter and cloudy. You can purchase slotted spoons designed specifically for this purpose.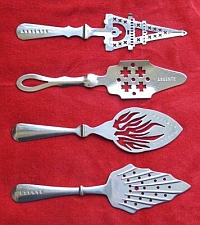 I like black licorice and the anise flavours were nicely dominant in the drink, but I will admit I didn't fall in love with my first taste of it last night. I am sure I will try it again sometime, but I definitely prefer it with sugar.

Today I found this really helpful video "Are You Absinthe Curious?" It explains the history of all the rumours and shows a special Absinthe water dispenser. If you are an Absinthe fan, I'd love to hear your thoughts & opinions.
Tags:
Absinthe