"It is well to remember there are five reasons for drinking: the arrival of a friend, one's present or future thirst, the excellence of the wine, or any other reason." ~ Latin Proverb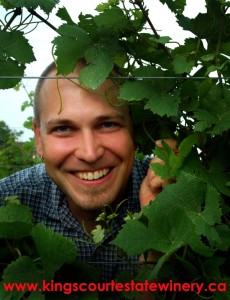 Last year at our Best Bites, Taste of the Region fundraiser, I struck up a nice friendship with Roland Zimmermann of King's Court Estate Winery. When I learned about his unique family history of wine-making, it was the focus of my article for the Winter Issue of Infinity Magazine. Plus he not only makes *sin,* he and his wife cook with it too. See their "King's Court" Mussels in Wine Broth.
In December Roland invited my husband and me into his tasting room in the basement of his home where we enjoyed sipping his wines and we left with several cases of King's Court wine for corporate and personal gifts. Christmas shopping doesn't get funner or easier than that!
Knowing I have been doing wine reviews, Roland recently sent me an Extra Special Delivery of two bottles of his beautiful, award-winning wines to taste & review. Excitedly I opened each bottle with my husband, and over two different evenings, we sat and savoured the beautiful flavours.
Please understand I am not a sommelier. I have no formal training in wine tasting, but I like to think I have a decent nose and palate. Plus, I like to think experience counts. Don't you agree? 😉 Yes, Roland knew that when he sent them to me. For his trust I am most appreciative.
King's Court Estate Winery, Sauvignon Blanc, 2012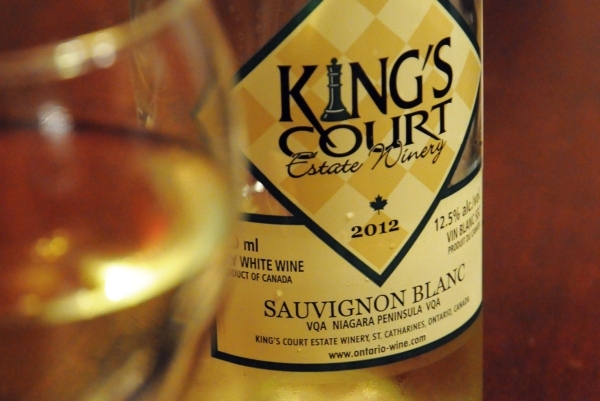 This Sauvignon Blanc had much more personality than many others I have tried. Many are mass produced to appeal to the palates of a broad market. Roland is an artist though, and his wines are uniquely, finely tuned to bring out all the tones and textures in each varietal.
The colour of this wine truly reflects its taste. It is a clear, bright yellow with just a touch of green in it and I would describe its flavour as light and crisp with a hint of green herbs.
It was a very beautiful and interesting wine with a full, smooth mouth feel.  Nicely bouncing on the herbaceous and acidic tones of my palate, it had a dry crispness that came with a sour twist of a bit of rhubarb that was grounded with a gentle green tea and a bit of fresh grass. It finished with a very soft, yet almost salty, taste on my lips. I kept licking and licking them.
While I tasted this Sauvignon Blanc on a clean palate, it should pair well with something creamy, like a pasta with alfredo sauce or something a little sweet like pork tenderloin with caramalized onions.
King's Court Estate Winery, Wild Blueberry Wine, 2010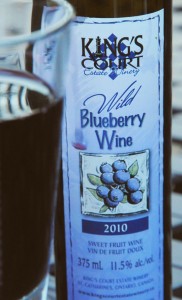 Roland's Wild Blueberry Wine absolutely piqued my curiosity. Years ago, my brother-in-law hand picked elderberries from our family property and made his own wine with them. It was a pain-staking effort that resulted in something wonderful and unforgettable. Knowing Roland's passion for detail, I knew his Wild Blueberry Wine had been precisely tuned and nurtured. I was excited to try it.
The first thing that drew me in was the colour. It was a deep, virtually opaque, plum purple and the rim was a deep, ruby red. The nose was light, but with its gorgeous, intense colour, I knew the bouquet was just teasing me. The mouth feel was smooth and gentle.
The taste had a surprisingly deep complexity to it that comes only with using wild berries. Wild blueberries are smaller and punchier than their domesticated relatives, making the skin-to-flesh ratio higher. This richer flavour gives the vintner a juice with an interesting intensity.
This wine beautifully balanced sweetness and dryness, neither one dominating. The lovely sweet blend of black currants, prunes, raisins, dark cherries and a hint of fig integrated nicely with the a low, earthy tones that came through from the skins.
While it didn't linger, the finish was delicate and sweet.
There is a prevailing gentleness to this wine. It is truly delightful. I would serve it the same way I would serve a port. It is perfect as a dessert alone and it makes a wonderful port alternative, for those who find the tannins in grape port too harsh.
These are Roland's own notes – which are significantly less wordy than mine. 😉
"Deep royal purple colour fading to light burgundy rim. The intense blueberry on the nose follows through to the palate. Sweet cherries and ripe blueberries notes with a touch of sweetness blend together for a strong intense finish. Enjoy with pork, beef, or fried foods. Will keep until 2015."
I tasted it at room temperature, but Roland says he has tried it both chilled and room temperature with equally enjoyable results. He and his family have enjoyed pairing it with cheese cake.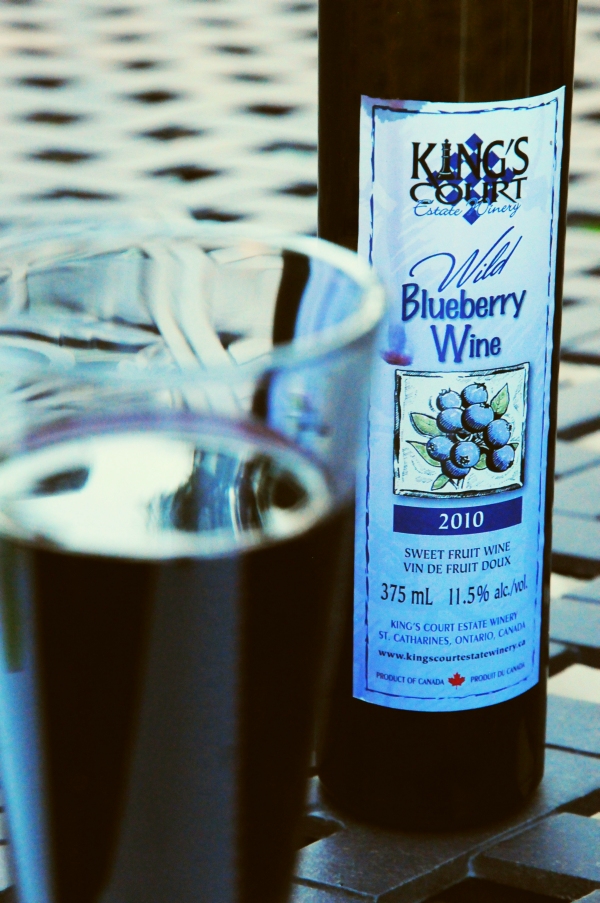 Awards
Both of these wines won awards at the 2013 All Canadian Wine Championships. The Wild Blueberry Wine took a Gold and the Sauvignon Blanc took a Silver. Click here for more information about the wines' awards.
I posted reviews, based on this post, for these two wines here:
Wild Blueberry Wine 2010 & Sauvignon Blanc 2012
Enjoy!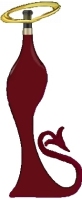 Tags:
King's Court Estate Winery
,
Tasting
,
Wine Tasting
,
Winery