"All his life he tried to be a good person. Many times, however, he failed. For after all, he was only human. He wasn't a dog." 
~ Charles M. Schulz
The 1st  in a series of 3 dog "tails" written by Chef Janet Craig of The Satisfied Soul
As a Personal Chef I work in many peoples' homes with a variety of family pets and as a dog owner I love their dogs. Those of us who have dogs in our lives know each one has their own personality and we can rave ad nauseam about this, much like new parents with their infant. I find that people identify with your child or your dog so you are either Buzzer's Mum or Timmy's Mum depending if you are in the dog park or the schoolyard. Of course we dog-crazy people can't quite understand for a moment why some people do not like them or are terrified of them.
Often times I work in clients' houses alone for the day and I enjoy having their dog as company, but it can also be a lot of responsibility. As a result, I have had some hilarious situations.
One day I went into my client's kitchen and there was a young standard Schnauzer named Guinness in his crate. The moment the dog saw me, he went nuts so I phoned the client at her office and asked, "Can I let the dog out while I'm here? When I'm done I will re-crate him before I leave." She was relieved and said the yard is fully fenced so I could also let him outside. So that sounded good.
Now when I am cooking I usually make about 20 entrees with sides that are labelled and frozen so I'm really busy and every burner is on plus the oven, microwave, etc. I often bring my lunch as well.
So that day I was working away and noticed that Guinness was very quiet. Searching the house, I caught him on the living room rug gnawing away on my lunch steak! I freaked! Not only had he eaten my lunch, but it looked like someone had been murdered on the rug! Quickly I put Guinness back in his crate, turned off all the burners, found the soda and vinegar and got on my hands & knees to scrub the rug and try to make it presentable.
Finally I was able to get back to my real job in the kitchen. I was under pressure and behind in my schedule, but I had to listen to the incessant whining, crying of poor Guinness. Wouldn't you think, with a belly full of rib eye, he would be sleepy? So, later while cubing meat for shish kebobs to grill on the barbeque I caved and let him outside to run around the yard.
Well, you guessed it. A little while later, I returned to the backyard to find NO dog! I frantically called him and there he was smiling like only a big goofy puppy can from the neighbour's back yard. Was he able to jump the fence?
So I had to run back into the kitchen, again, turn off the stove, then turn off the barbeque, lock the door and leave the house. As I ran around the block to get to the neighbour's yard I seaw the tail end of Guinness going over the hedge & fence back into his own yard. NOOO!
I am usually in and out of a client's house in 4 to 5 hours and leaving before they return home from work, but that day my car was pulling out of the driveway as they were pulling in and she said, "I bet you got playing with that dog!"
"Yeah, you got it!" 😉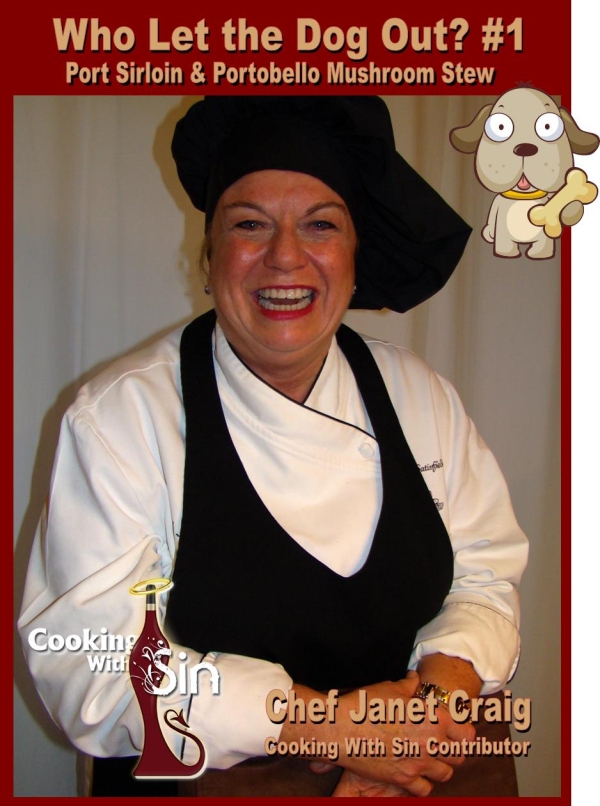 "Who Let the Dogs Out?" #1
Port Sirloin and Portobello Stew
Serves 4-6
3 cups hot beef broth 2 bay leaves 1 teaspoon each of dried thyme and rosemary (or 1 tbsp each of fresh) 1/2 cup red wine 1.2 lb sirloin roast, cubed salt & pepper 1/4 cup flour 1/4 cup veg oil 1 cup onions, diced 1 cup carrots, sliced 1/2 cup celery, sliced 1 cup Portobello mushrooms, sliced 1 cup red potatoes, skin on, diced 2 cloves minced garlic 2 tablespoons butter 1 cup port wine 2 teaspoon each of salt & pepper 1/2 cup tomato paste (1 small can)  
1. Heat broth; add bay leaves, thyme, rosemary, red wine. Simmer 20-30 min.
2. Season beef, dredge in flour, brown, and remove. Add onions, carrots, celery, mushrooms, potatoes, garlic & butter. Sauté until onions are caramelized.
3. Return beef, add port, hot broth, s & p. Bring to boil, simmer 45-60 min.(this is nice in Crockpot or baked in heavy casserole) Near the end, thicken with tomato paste.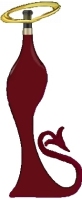 Tags:
Chef Janet Craig
,
Meat
,
Portobello mushrooms
,
Stew
,
Who Let the Dog Out