The wines that one best remembers are not necessarily the finest that one has ever tasted, and the highest quality may fail to delight so much as some far more humble beverage drunk in more favorable surroundings.

~ H. Warner Allen
My mother, Betty (Nickel) Johnson, was raised in a staunch, devout, Mennonite Brethren home.  Her family moved throughout western Canada – Grande Prairie, AB to Yarrow, BC. She and her 5 siblings, Jerry, Hank, Alice, Esther & David remain proud and true to their roots, but enjoy sharing tales of the times they grew up in.
The Mennonite tradition is rooted in simple living and a solid work ethic, so in the 1940's things like nail polish and lipstick made one stand out too much. Smoking, dancing, drinking and playing cards were also taboo. It was often joked that they weren't allowed to have sex is because it might lead to dancing.
My maternal grandmother, Elizabeth (Voth) Nickel Dyck (1910-1996), lived the life of a true pioneer. As a teen, she and her family fled the Russian Revolution with only the clothes on their backs. They started off farming in Mexico, then picked up again and travelled to northern Alberta where they settled down to farm the cold prairies. She had worked extremely hard her entire life and had seen first hand how it paid off for her family. Faith was #1. Work was #2.
When Grandma married my grandfather, John Nickel, and started a family, she was extremely dedicated to making the farm flourish. Work was so important for her that she questioned the value of humour. She often told her children that jokes and laughter were a waste of time. Her love of work was supported by her enormous stamina. She had to bury her infant son Melvin (my Mom's twin) and out-lived two husbands and only slowed down in her mid-80's just before she passed away. When Grandma first met Steve, my husband, she grabbed his face, nodded approvingly and said, "Good for work."
I grew up in the east in Ontario. Visits with my western relatives were few and far between. Grandma lived in Clearbrook BC and I remember one of her visits when I was a teen. Mom was making one of my favourite dishes, Chicken Cacciatore and she liked to add a bit of red wine into her recipe. (Please understand, my parents were both devoted non-drinkers. There was never alcohol in our home and I never saw my parents take even a sip of wine until I was in my 20's.) On that particular day, mom was hunched cautiously over the stove quickly pouring the red wine into the pan of cooking chicken before Grandma found out. Too late. Grandma came around the corner and caught my mom "red wine handed." With her firm voice and Plautdietsch (Low German) accent, she hrmphed, "Cooking with sin, are we?"
It was the first time I ever really saw my mom become defensive. "Well Mom, the alcohol is cooked off in the pan. It adds a nice flavour. It's fine to eat… really."
We all happily ate the cacciatore for supper and enjoyed every morsel. As the years went by, Grandma mellowed – as we all do – and became more relaxed about many things. After she passed away in 1996, the family was very surprised to find a good stash of liquor in her nursing room cupboard. Way to go Grandma!
Recently, my daughter Daren and I spent a day with Mom where we made her chicken cacciatore and reminisced. We were joined by my Aunt Esther, her daughter Leanne and Leanne's daughter Beth. The six of us represented the only maternal lines decended from Grandma. Betty and Esther were the daughters of Elizabeth who had a daughter, who had a daughter. We had a great time together.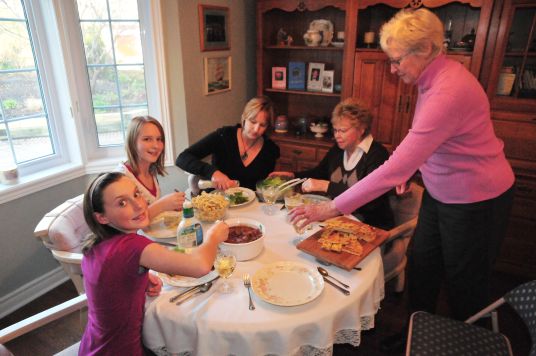 Here is my mom's chicken cacciatore recipe. We served it on homemade mennonite Kjielkje (cheel'-cha) that Grandma often made by hand and also had it with salad & garlic bread sticks. We paired (or tripled
) it with both a red Colle Secco and a white Pinot Grigio.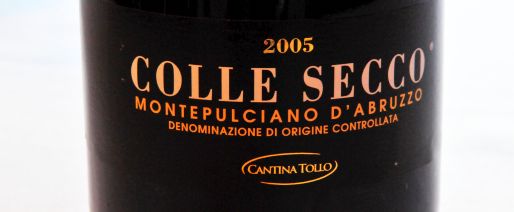 For dessert, we had a small bowl of beautiful vanilla gelato. Grandma often served her own rice pudding for dessert. She would bake it in an enamelled metal bowl. Mom and her siblings would fight over who go the Hüt (hoot), the brown, sweet milky skin on top.
* * *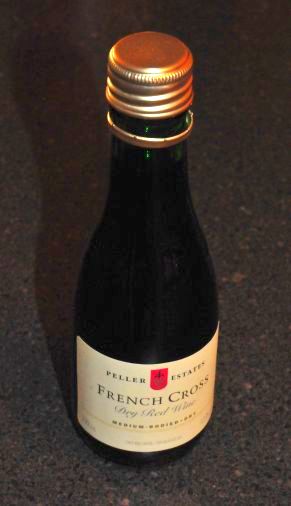 Betty's Chicken Cacciatore
Ingredients:
14 fresh button mushrooms 2 tbsp + 2 tsp olive oil 7-8 chicken thighs 3/4 cup flour sea salt pepper Herbes de provence 1 tbsp margarine or butter 1 onion, chopped 2 cloves of garlic, chopped 1 large can (796 ml/28 oz) chopped tomatoes 1 can (398 ml/14 oz) chicken broth 1/2 cup red wine (we used a mini bottle of French Cross Dry Red Wine) 2 tbsp parsley A sprinkle of oregano or marjoram
Freshly grated parmesan cheese A few fresh basil leaves torn up by hand A handful of cherry tomatoes
Instructions:
1. Roast the mushrooms. Place them caps down on a non-stick baking pan. Sprinkle them with 2 tbsp olive oil, pepper and sea salt and bake at 375° F for 20 minutes.
2. While the mushrooms are baking, roll the chicken thighs in a mix of flour with salt, pepper & oregano. Brown them in margarine or butter to seal in the juices.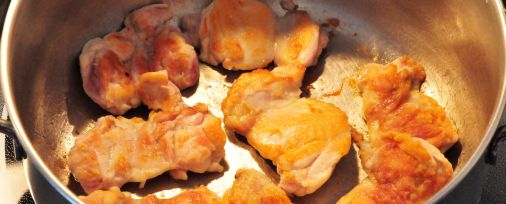 3. As the chicken is browning, sprinkle with Herbes de Provence. Take the meat out when browned, and stir the chopped onion in the meat drippings with 2 tsp of olive oil. Fry them for 4-5 minutes, until they are soft and clear, then stir in the chopped garlic and cook for 1 minute. The garlic gets a shorter time as you don't want it browned.
4. Add the wine to the onions & garlic and stir making sure to stir up the browned bits on the bottom of the pan. Then add the can of chopped tomatoes followed by the chicken broth. Bring to a boil, reduce the temperature and cook for 10 minutes.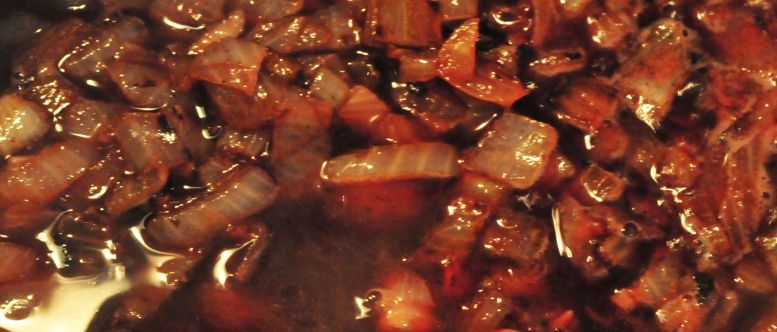 5. Return the chicken to the wine-tomato sauce adding the parsley and the oregano or marjoram and the mushrooms. A few of the basil leaves can be added at this time too. Bring the entire mix to a boil then reduce to a simmer and let cook for 20 – 25 minutes until the chicken is tender. If all goes well, it will be beautifully tender.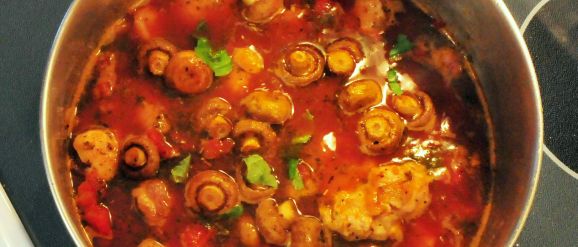 6. After transferring the cacciatore to a serving bowl, place cherry tomatoes loosely and sprinkle the basil leaf pieces on top.
Note: This recipe can be prepared a little healthier by substituting chicken breasts for the thighs and baking the chicken instead of frying it.  Some may prefer substituting white wine (more traditionally combined with chicken) instead of the red.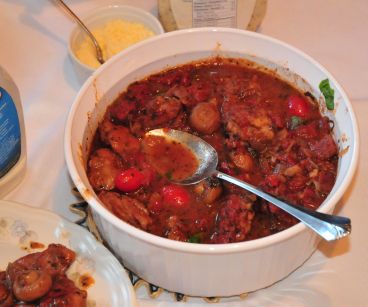 PLUS!
We served it on Kjielkje (recipe below) sprinkled with fresh parmesan, but it works well on rice or on a bed of fresh spinach leaves.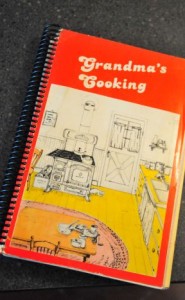 This was one of Grandma's cookbooks. The word for noodles is spelled "kielke" in here.
Kjielkje
(Mennonite handmade noodles)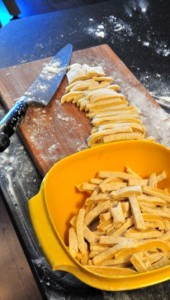 Ingredients:
1 egg to 1 cup of flour milk sprinkled in as needed
1. Make a hill of flour on a smooth working surface. Create a small bowl-like opening in the top of the hill of flour (much like a volcano) to put the egg(s) in.
2. Using a fork, stir the egg from the top centre of the pile, pulling the flour into the egg slowly for it to blend. Continue stirring  the flour into the egg and srpinkle milk as needed until it is all mixed together and feels like a thick dough.
3. Roll the pasta dough out until  it is about 1/3 inch thick. Add flour to keep it from sticking to the surface.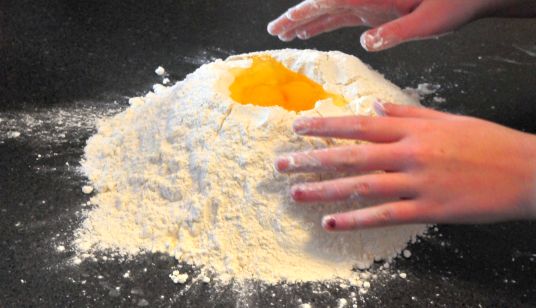 4. Cut the pasta into strips and boil until tender. It will be a thick, rough type of pasta with a soft texture and it will taste dee-lish! A less healthy option is to fry the noodles up after boiling them. Yum!
* * *
The night before we cooked the cacciatore, Mom and I were going through her kitchen looking for ingredients when I found a bottle of brandy and some exquisite Belgium chocolates. That evening as we sat around her kitchen table, we savoured the chocolate, rolling the brandy over our chocolatey pallets. So nice.
Cheers!
I hope you "Like" Cooking With Sin on Facebook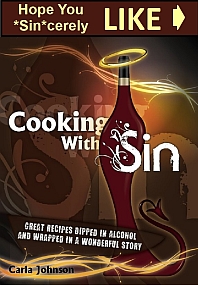 Follow me on Twitter
@Carla_Johnson
Tags:
Meat
,
Pasta