"Give me a woman who loves beer and I will conquer the world." ~ Kaiser Wilhelm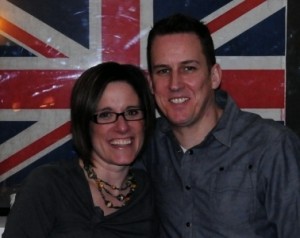 Take a Canadian girl, add a Scottish guy, mix with some Chinese flavours and stir in an American beer. What do you get? A great Indian Curry! 
Really! 
Jenni Foss's love of music drew her to concerts and the music industry, so in 1997 she uprooted herself from her Canadian home and found a great job at a recording company in London, England. Later that year, at a concert in Camden Town, she met a handsome and talented Scottish musician named Richard Guy. Richard had been raised in Edinburgh, and was working in London. They were immediately hooked on each other. 
Fast forward two years. Jenni and Richard celebrated their marriage at the elegant Jakobstettel Guest House in St. Jacob's, Ontario here in Canada. 
Jenni and Richard settled in Cambridge, Ontario, and when they bought their new home, they made sure it was within walking distance of a good British pub. They wanted to be close to a place with UK lagers on tap, authentic pub grub and Indian food.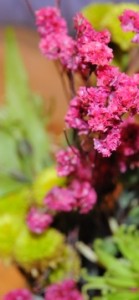 Marriage requires compromises and blending two cultures certainly doesn't make it easier. Richard graciously gave up his life in the UK and came to Canada because he loved Jenni dearly. That was never lost on her, and there was one special thing she wanted to do for him.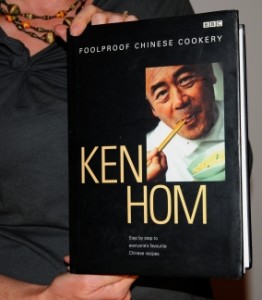 In Scotland, Richard's favourite comfort food was a curry chicken he used to order from a local Chinese restaurant, so Jenni set out to recreate it here in Canada for him. It turned out to be more challenging than she had anticipated. There are many different kinds of curry and the one Richard had loved back home had been cooked with a British lager. Jenni knew this journey would be as fun as the destination. 
Jenni started with a Chinese Chicken Curry recipe she found in a cookbook by Ken Hom, a popular chef on British TV. His recipe had the basic ingredients and steps of a good curry and helped her determine the balance of ingredients and flavours. Hom used Chinese flavours like soy sauce and toasted sesame oil and as she experimented she adjusted the recipe accordingly. Each attempt was taste-tested with Richard as she tried to get it just right. 
The part that stumped Jenni was the beer. Ken Hom's recipe called for rice wine, but she was certain that the restaurant in Scotland had used one of the lagers that are loved throughout the Kingdom. She tried cooking with all different kinds. On one attempt she tried a strong beer. The next time she tried a heavy beer. She tried stouts and bitter beers, but none were  quite right.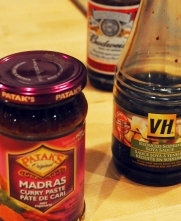 It may have been a moment of desperation or just a lark, but the day Jenni added Budweiser beer was the ticket! An American light beer did it. She had not seen that coming. She had finally found the right combination and Richard found some Scottish – well… Scottish-Indian-Chinese – comfort in his new homeland. 
If you find yourself needing medical help in Cambridge, Ontario, Richard may be the paramedic first on the scene. He has been a paramedic for several years now and every year he makes a guest appearance at "Mrs. Guy's" school. "Mrs. Guy" is a beloved middle school teacher and "Mr. Guy" is always a favourite on career day.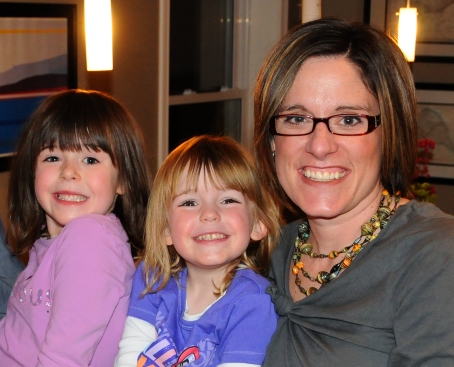 If the siren of his ambulance doesn't charm the students, his accent certainly does. 
Jenni and Richard have two very bright and enchanting daughters, Eva and Astrid. If you get a chance to visit in their home, the girls love music and will give you a special show that will put a wide smile on your face. 
Jenni's recipe is named after the town Richard was raised in, Penicuik (say penny-cook), Scotland. Here it is in her own words.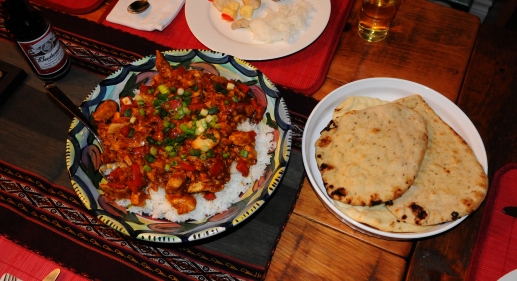 Memories of Penicuik 
Chicken Curry
Serves 4   2 cups (500 ml) basmati rice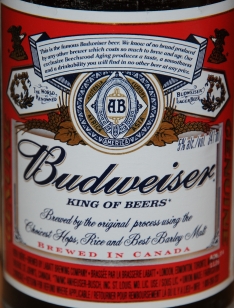 2 tablespoons vegetable oil 3 or 4 boneless, skinless chicken breasts,     cut into 1 inch cubes 2 cloves garlic, crushed 2 red peppers     (or switch one up for a different colour if you want to      live on the wild side), cut into 1 inch pieces 1 375 g block paneer cheese cut into ½ inch cubes 2 tablespoons madras curry paste (I like Pataks) 1 tablespoon good quality soy sauce ½ bottle Budweiser or any lightish beer     (other half of bottle to be enjoyed while you finish cooking) 1 teaspoon cornstarch 1/4 (125 ml) cup cold water 2 green onions, finely chopped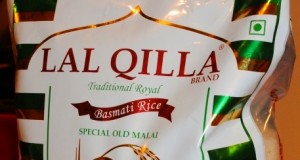 Wash 2 cups of basmati rice. Then wash it again. And again. I hate mushy rice! 
Add 3 cups of water and place on high heat with the lid on. As soon as it starts to boil, turn it down low and let it simmer for 8 to 10 minutes until pits begin to form in the surface of the rice. Turn off the heat let the rice steam while you make the curry. 
Cut the sweet peppers and paneer before you start frying. Things happen quickly. 
Heat the oil in a stir-fry pan or wok. Add chicken and fry until cooked through, about 4 min. Add the garlic and cook one minute more 
Add peppers and paneer to the chicken. Cook, stirring, so the paneer doesn't stick to the bottom of the pan for 3 minutes or until the peppers begin to soften.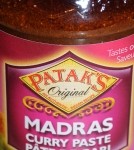 Spoon in curry paste and stir until everything in the pan is coated. Add the soy sauce and the beer and stir. Let everything bubble away for a few minutes. 
Stir the cornstarch into a ¼ cup of water and pour it into the curry. Let everything come to a boil again so the sauce thickens up. 

Make a nice cloud of rice in your serving dish. Pour lovely, yummy curry over top. Top with finely chopped green onions. Serve with fresh naan and more beer!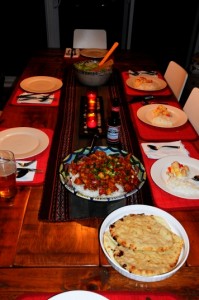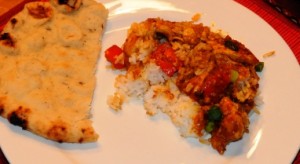 Dig in!
Tags:
Cheese
,
Meat