"I always love being in the company of women. It's all about good conversation and great wine." ~ Naomi Watts

"God may be in the details, but the goddess is in the questions. Once we begin to ask them, there's no turning back." ~ Gloria Steinem
Sometimes we call ourselves "The Goddesses." Other times we're "The Divas." Either way, it's clear what we think of of ourselves. We are women who met 10 years ago at work. We are all teachers or principals and while we have all moved on to different schools, we continue to get together a few times a year.
Whatever we have gone through individually, The Goddesses have been there to support. We are all passionate about living life vibrantly with integrity. We all love travel and adventure. We are intellectuals and insist on delving into issues rigorously, especially when it comes to education, and most important of all we laugh loud and we laugh long.
We have seen each other through the inevitable ups and downs of life. Some of us are married, some of us are divorced, some of us are single. We raised a glass of bubbly when when one of us got married, we poured lots of red wine when one of us faced a break-up and we championed the virtues of being single when one of us struggled with the idea. We anguished together when one of us faced daunting parenting challenges and we were consoling when one of us faced a hysterectomy that came too early in life.
Among The Goddesses, I have been the most prodigal, so I invited everyone to my house for a "Sin Supper" and the jokes ensued. "Can we get tipsy on pork tenderloin?" "I'm bringing a dish called 'Potted Cheese' with Riesling, not pot." "We may need to make it a sleep-over."
The dinner was pot-luck and we had an absolutely wonderful time tasting each other's dishes and ranting about the need for more Arts in education. There was Pat's Potted Cheese, Laurie's Chicken au Champagne and Trish's Pork Tenderloin with Brandied Mushrooms & Shallot Sauce. Gillian brought Pasta Amatriciana and a bottle of Passion-Fruit Jamaican rum. I made George's Sherry Potatoes and Melissa made Sex In The Pan (What a great idea!) for dessert.
Here are all the recipes from our "Goddess Supper" one course at a time. Enjoy!
Entree #1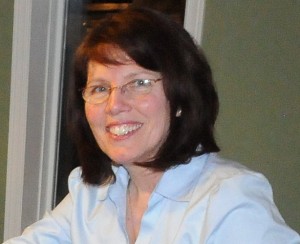 Laurie Douglas made Chicken Au Champagne. Laurie works with primary students, and recently won a prestigious teaching award. She brings such a thoughtful and caring spirit to her classroom, that you may miss the fact that she is actually very organized and direct. I am easily distracted and rarely look at the time, so Laurie kept me focused on getting food on the table in for our dinner. Thank you Laurie!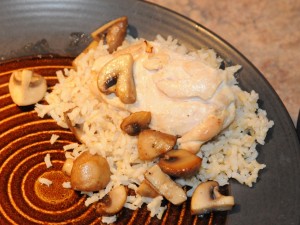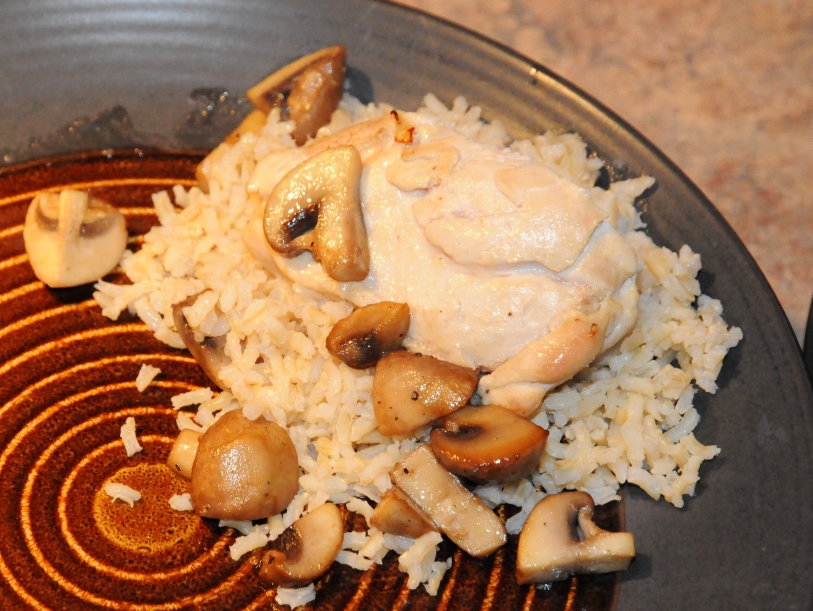 Chicken Au Champagne
Ingredients:

4 organic, free range, chicken breasts salt & freshly ground pepper Chervil, tarragon or thyme (These herbs are optional and can be substituted according to taste.) 1 shallot quartered 1 cup Champagne (with a sweetness of "1") 4 cups cooked brown rice
Garnish:
1 cup mushrooms, chopped a touch of olive oil a few drops of lemon juice 1 teaspoon freshly chopped sage 1 tablespoon butter
Bone-in, skin-on chicken breasts were recommended, but Laurie used boneless, skinless chicken breasts for our meal.
Place chicken breasts in a roasting pan, skin side down, and season them with the salt, pepper and herbs. Pour ½ cup of the champagne over the breasts. Make a slit in each breast and insert a piece of shallot.

Place the pan under the broiler for 3 minutes until the skin is nicely browned. Turn and broil the other side for 5 minutes.

Remove the chicken from the broiler and baste in the pan juices, adding the remaining ½ cup of Champagne.

Adjust the oven temperature to 475°F and bake the chicken for 30 minutes, basting once or twice.

Place each breast on a bed of rice.

Garnish:
Sauté chopped mushrooms in a touch of olive oil.
Add the lemon juice & sage seasoning to taste.
Stir in the butter until it melts.
Pour over the chicken & rice and serve.
I added George's Sherry Potatoes to the plate.
http://cookingwithsin.com/2010/03/03/comfort-of-home-sherry-potatoes/
In case you were worried, the remaining Champagne did not go to waste – unless you mean my waist… tee hee!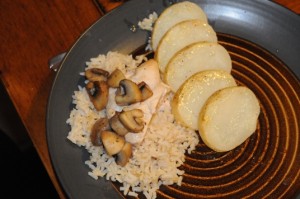 Check out the next post for the next entree of our dinner; Trish's Pork Tenderloin and Brandied Mushroom Shallot Sauce.
http://cookingwithsin.com/2010/03/28/goddess-supper-iii-pork-tenderloin-and-brandied-mushroom-shallot-sauce/
Tags:
Goddess Supper
,
Lemon
,
Meat
,
Mushrooms