"Beer. Now there's a temporary solution." ~ Homer Simpson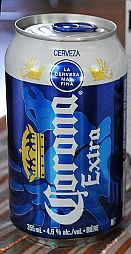 A while back, my 2 siblings and I started a tradition of meeting for our birthdays and we love it. We all live within an hour of each other, so we get together for lunch without kids or significant others and it's really fun. Recently I celebrated mine, so Brett and Michelle took me out for lunch.

In keeping with this year's theme, I was supposed to choose an Italian restaurant, but I chose sushi instead.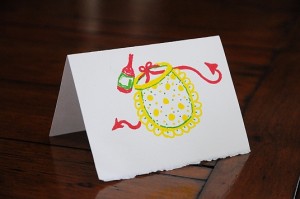 After lots of delicious salmon sushi and dragon rolls, Brett & Michelle had me open my gift. It made me laugh. It was a Beer Can Chicken set! I can't wait to try it. I am going to wait until we are all at our cabin and try it up there. That way everyone can have a taste. I'll update this post afterword with the pictures.
Update: Tried it at home. Turns out there are 3 packs of seasoning, so I tried it with my family. Dee-eelish!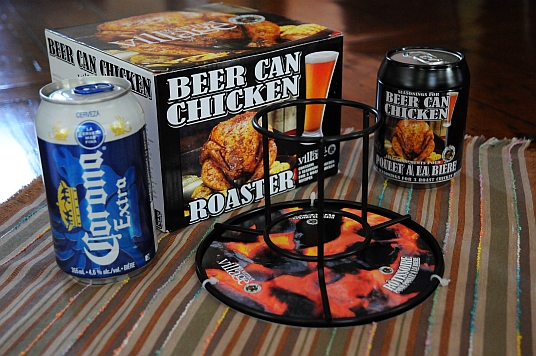 The set came with the frame and a can of seasoning. The beer was bought separately. Brett & Michelle had difficulty finding a liquor store that sold Corona in cans. Who knew?!
Beer Can Chicken
1. Mix 2 tablespoons of the seasoning with olive oil and rub it on all over the outside and inside of the chicken (with the giblets removed.)
2. Warm up your BBQ. Only start one side. The chicken will cook on the side with no direct heat. This little dude was a reminder we hadn't used our BBQ enough this season. We gave our BBQ a good warm up today. Gives new meaning to "cook off."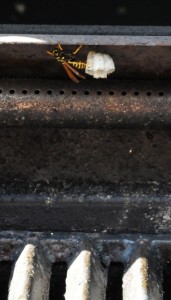 3. Pour off (or drink :)) half the can of beer. Mix the remaining seasoning with ketchup and add to the beer can. Punch two more holes in the top of the can. We used a hand can piercer to to make the holes.
Tip: We added some of the beer remaining in the can to the seasoning-ketchup mixture. The mixture was thick and going to be a challenge to get into the beer can. It was easy getting the more liquidy mix into the can and we used a funnel.
4. Put the beer can in the frame and placed the chicken over top. The chicken will sit upright. Put the whole unit in a metal pie pan, then place it on the non-heated side of the bbq. It will cook best with indirect heat under it.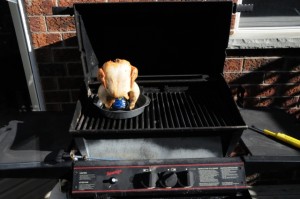 5. Cook for 1 1/2 – 2 hours until the interior temperature of the chicken (I checked the thigh) reaches 185 F.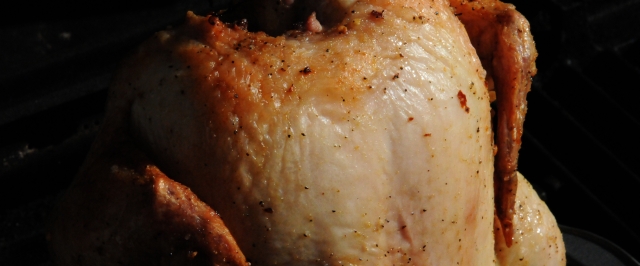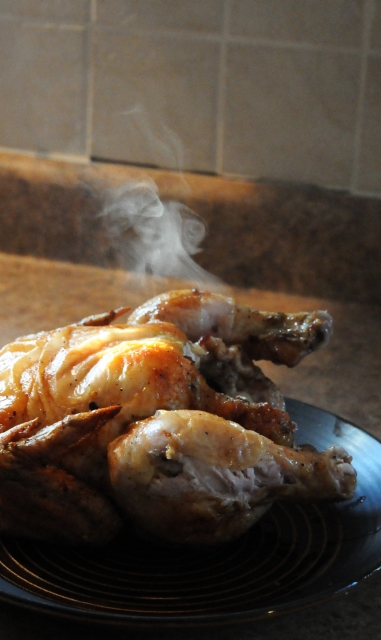 Smokin'!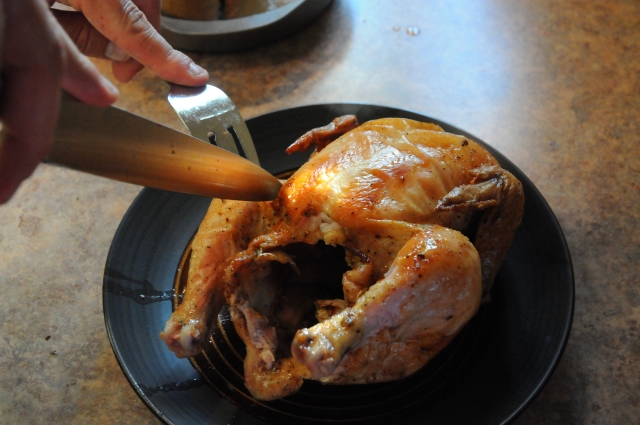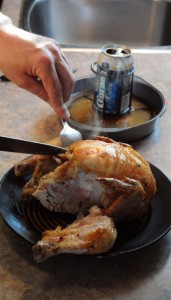 Enjoy a meal of absolutely dee-eelishous fall-off-the-bone roasted chicken. The seasonings in this package were mild and simply enhanced the natural flavours of the bird. It was so good that our cat sat outside the cupboard door to our garbage/recyling/composting hoping to get his paws on a bone or two. He was so out of luck!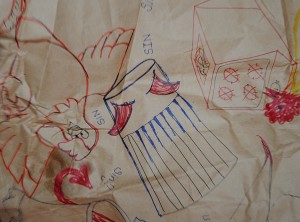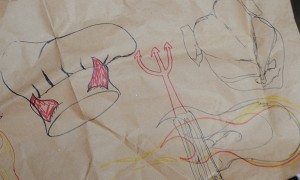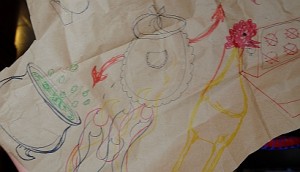 My sister Michelle is an artist www.MichelleJohnson.ca and everything she does is "the road less travelled.' She decorated the brown wrapping paper in keeping with the Cooking With Sin theme. Truly cool!! My daughter and her friend held it up for a photo. That's my girl with the funny face and her lovely friend!. Love them!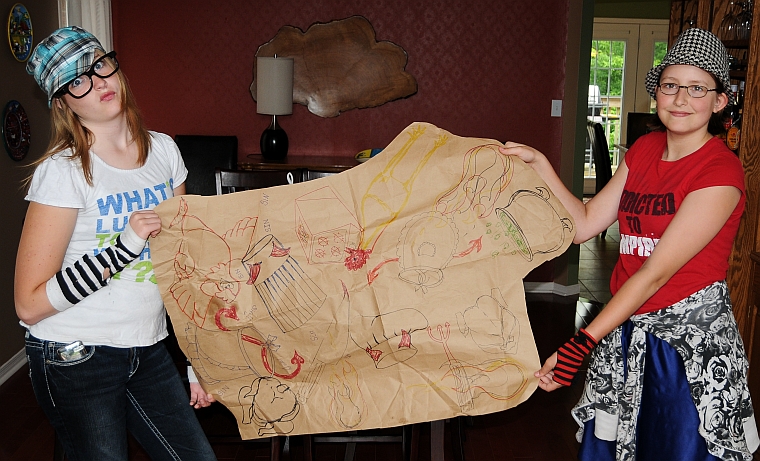 This project has brought a few other gifts my way. A couple days ago my husband Steve bought me this funny fridge magnet.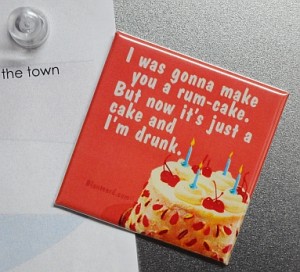 Thank you, my family!



Tags:
BBQ
,
Meat