"If it wasn't for the olives in his martinis, he'd starve to death!" ~ Milton Berle

"La scoperta di un piatto nuovo è più preziosa per il genere umano che la scoperta di una nuova stella." (The discovery of a new dish is more precious to human beings than the discovery of a new star.) ~ J. A. Brillat-Savarin
It was the annual Wine Pairing gala event held in Kitchener Ontario, an invitation-only dinner that has been held over the last five years. It was in grand style on this evening that "Chef D" Chef Darryl Fletcher was the host for the gourmet six-course wine and food pairing dinner.
Each course was a unique and special plate that Chef D had prepared using only the finest ingredients with exquisite presentation. Just before each course was served he would come out and describe the dish to the guests. Then he was followed by the wine importer who would share the complexities of the wine that was being paired with each course.
The evening started with teasing the diners palates with a mouth watering amuse bouche that was greeted warmly with a wine that paired perfectly. The next course brought forward, a spring pea soup, took everyone by surprise with its light fresh flavour whose taste only crescendoed with the subtle grape essence that slipped past your taste buds with a lovers touch. These diners were excited. These diners were curious. These diners were stoked. Then the atmosphere took a dramatic turn.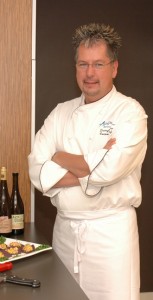 There are a few things that distinguish a chef from a common cook. One of them is that Chefs know food on an intuitive level and can vision combinations that no one has thought of before. Those combinations often test the limits of the most adventurous palates.
When Chef D came out to present the Scallop Martini course, he was excited. It was a whole new dish presented in a whole new way and he knew it was a winner. He began by describing how he seared the large fresh scallops in butter. Then he explained how he prepared the sauce by reducing a mixture of cream and Irish cream. It was at this point that the crowd held their tongues. They listened politely as Chef finished the description. It was both a tantalizing flavour and a tantalizing experience. The wine maker came up and described what delightful tastes would compliment this unique oral experience to a less than silent crowd. The wine was poured. Swirled and smelt in the glass. As the scallop martini was placed in front of the hesitant guests soft murmurs of, "I'm not eating that," "Why would you ruin a scallop like that?" and "Why would you ruin Irish cream like that?" were heard around the room.
Slowly the murmurs were replaced with moans of pleasure as the scallops disappeared from the glass in front of each delighted diner. Questions of doubt were replaced with questions as to whether it is polite to drink the sauce out of the bottom of the glass dish? I would be lying if I didn't share that, yes, some licked the glass clean. Everyone in the room was pleasantly amazed and delectably surprised.
Chef D's wife Tric calls his artistry "Edible Magic" for many good reasons. That night his magic melted a cautious, reluctant crowd into a room of smiling, delighted diners.
Chef Darryl Fletcher "Chef D" is the talent and culinary genius behind Chef D TV, the popular online cooking show. With flare and enthusiasm he whips up amazing dishes that truly astound and amaze. "Great food. Great wine. Great company. These are essential parts of la dolce vita – the sweet life." www.ChefDTV.com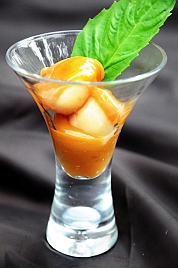 Chef D's Scallop Martini
Serves 4
Ingredients:
8 large dry scallops
2 tbsp butter
1 cup 35% creme
1 cup Irish Creme
4 fresh basil leaves
In a medium size sauce pan, combine the Irish Cream and the 35% creme. On medium heat, let it boil until it reduces by ¾, stirring occasionally. It will become thick. This should take about 12 to 15 minutes just make sure mixture does not boil over.
Once mixture reduces, take heat down to a simmer.
In a large non-stick fry pan (or cast iron) over high heat, warm up the pan for about 2 minutes, add butter and let it melt before adding scallops.  Cook scallops 1-1/2 minutes on each side.
Place 2 scallops in each Martini glass. Drizzle the cream sauce over top & garnish with fresh basil.
Carla's note: While this dish has scallops in them, the creme is very caramelly and sweet. It works best as an appetizer, but feels like a dessert. Yes, it is an extraordinary dish. It will make you melt!
"This recipe came about when I was creating a wine and food pairing dinner. I love to see the look on people's faces when describing this dish and than seeing their faces when they actually eat it. It's a winner!" ~ Chef D
Update: It was fun sharing this recipe with Chef D on his new show "At Home with Chef D" on Rogers.
And print off the calendar page for January 2014 with this recipe.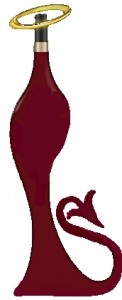 Chef D
,
Seafood