Days of wine and roses laugh and run away,
Like a child at play.
~ Johnny Mercer (1909-1976)
Lisa Melic spends her days helping people buy and sell their homes, but at the end of the day, she loves to come home to her own kitchen where she enters her own world. She's a passionate cook who rarely uses a cook book and she loves to create new dishes for special occasions.
A few years ago, her teenage nephews Javier and Fred Melic emigrated to Canada from Argentina. It was a big adjustment for them to make new lives for themselves in Canadian so, they especially loved time spent with their aunt. Lisa was proud of how quickly they learned English. They were worked hard learning, exploring and adjusting to their new life, so she loved to treat them with special meals.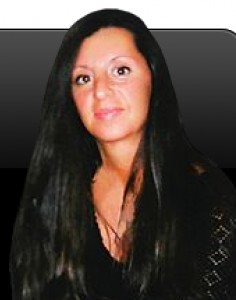 On one of her nephews' visits Lisa was enjoying her time in the kitchen with Javier & Fred and her son Luca. She was feeling quite imaginative and they were all a little hungry when she created a special veal cutlet meal just for them. When they sat down to eat, Lisa could tell right away that the boys loved it. This recipe has became a regular favourite and every time she makes it, she is reminded of her nephews new beginnings in a new land, so she calls it "Veal Cutlet Breaded in Paradise."
Lisa is very proud of her nephews and their accomplishments. Javier graduated from high school with a scholarship. He has joined his aunt in the real estate business and also owns his own business. Fred is at college studying to become an electrician. She richly treasures the times she spends with them and her memories of good times together at the dinner table.

Veal Cutlets Breaded in Paradise
Serves 8
Step 1: Sauce
1 Spanish onion cut into thin wedges
1 can diced tomatoes
1/4 cup olive oil
1 beef bouillon cube
1 + 1/2 tablespoon nutmeg
1/2 cup white wine
1. Put the onion, tomatoes, beef cube and 1 tablespoon nutmeg in a pot. Let it cook on medium heat for 15 minutes with the lid off. Then put the lid on, leaving a 2 cm air gap and reduce to simmer for 45 minutes.
2. Add the wine and 1/2 tablespoon nutmeg. Stir and simmer for 10-15 minutes. The sauce should be thin. If it is thick, add some water.
Step 2: Breaded Veal Cutlets
4 eggs
1 tablespoon garlic powder
3 cups bread crumbs
8 veal cutlets
1/2 cup vegetable oil
1 cup grated Havarti cheese
Dried parsley flakes
1. Preheat the over to 375°F.
2. Beat eggs in a medium bowl and add the garlic powder.
3. Place each cutlet in the egg mixture then press all sides of the cutlet into the bread crumbs on a large plate.
4. Heat up the oil in a pan and fry the cutlets, 2 – 3 minutes on each side, until they are cooked through.
5. Spread 1/4 of the sauce on the bottom of a cookie tray. Place each cutlet on top and sprinkle the cheese evenly on top of each cutlet. Cover each cutlet with the remaining sauce.
6. Place the tray in the oven for 10 minutes to warm up the dish through.
7. Sprinkle each cutlet with parsley flakes and serve.
Lisa says, "The amount of diced tomatoes I use in one can, however, one can also use fresh chopped tomatoes approx 4 to 5 palm sizes.

One can substitute the veal cutlet for……breaded chicken, turkey…..

The trick to this recipe is the onion and nutmeg flavours…they must be the ingredients that stand out……….finish by sprinkling dried parsley flakes at top……….this meal is best served with a salad.

The beauty about this recipe is not only the taste but the aroma that is present as one is cooking it. My mother walked in one day as I was doing the sauce and said..Che bello adore…(what a beautiful smell)…….This you will notice when you try the recipe."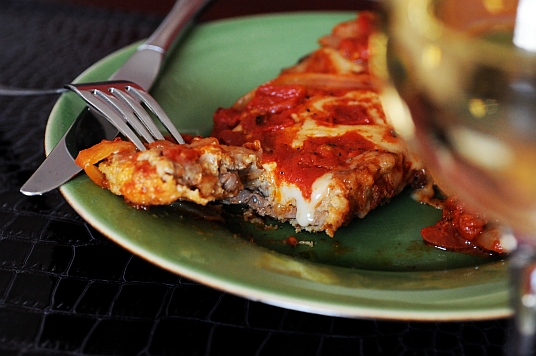 _______________________________________________
Lisa Melic is a real estate representative with Royal LePage Professionals in Woodbridge, Ontario. Her website is www.lisamelic.com.
Lisa's recipe was featured on Cooking With Sin's March 2014 Calendar page. Check it out!
Tags:
Meat