Several months ago I entered CWS in a few cookbook contests. They have proven to be great opportunities for learning and promotions.
Cuisine Canada
The Cuisine Canada Awards will take place the first weekend in November. Leading up to the event, I have been invited to participate in the Royal Winter Fair that same weekend. I will be hosting a culinary competition with 12 teams preparing one of my recipes. I think it will be a LOT of fun.
The Ben Franklin Awards
Here is what they had to say:
"WHAT WORKS It's about time someone did this and the author grabbed it and ran with it – great job! There are terrific ideas for any celebration for those over 21. Very creative and a mouthwatering blend of booze and food for instance, "Better than recess." The Russian proverbs as well as the other quotations with credit are great – what a fun book with smashing photos, good color and the alcohol burn-off chart is helpful. Great cover – it's a grabber. WHAT DOESN'T Nothing – it's good."
Gourmand International
Surprisingly, I was contacted by Edpuard Cointreau's office and they requested a copy of my book, so I sent one. This is the primo of all cookbook awards, so why not?!  It will happen early in 2012, so we'll just have to see!
UPDATE! December 5, 2011
"Cooking With Sin" has just won the award for Best Wine Book for Canada, in the prestigious Gourmand International's "World Cookbook Awards."

http://cookingwithsin.com/2011/12/08/gourmand-international-winner/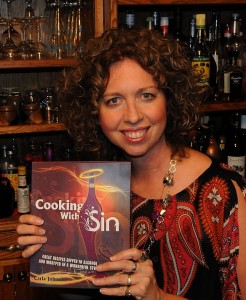 Tags:
Awards
,
Events