A daughter is the happy memories of the past, the joyful moments of the present, and the hope and promise of the future.  ~ Author Unknown
Joanne Papple Flanagan started making rum butterscotch bananas about ten years ago. She was hesitant to use it with the children as she didn't know about the alcohol, but now they are all older her daughter Morgan has started to request it. She just loves it. It is easy to make, so now that Morgan makes it herself, they have it fairly often.
Recently Morgan requested it for her birthday supper. She is lactose intolerant so it goes well with lactose free ice-cream. Joanne's other daughter must eat gluten free so butterscotch bananas was a really good choice.
Joanne and I met through a mutual friend and the first thing she asked me was if I knew just how much alcohol remained when you cooked with it. It is a range and there is a burn-off guide in the book to help you gauge. I'm a mom too and a lot of people ask the same question. I have learned it takes a lot longer to actually burn off the alcohol than we think, but a lot less remains than we think.
For example, with this recipe, if you let the rum simmer for 15 minutes, 40% of the alcohol remains. Rum starts of at 40% alc. and after15 minutes of cooking is down to 16% alc. If you look at the dish as a whole, the rum is probably only 5% of an entire serving, so the actual alcohol content, at 16%, is a minuscule amount.
A little math helps. Most rum is 40% alc. You boil it down to 16%. Once served, the rum is approx 5% of each dish. 16% of that 5% equals less than 1%, so the alcohol content of an entire serving of butterscotch bananas is less than 1%. (I hope that's not too confusing!) To compare, cough syrup ranges between 5-14% alc.
Go ahead, enjoy butterscotch bananas guilt-free with your kids. If you want to have a little more fun and take a wee bit more off, you could flambé it with them too.
Mother-Daughter Butterscotch Bananas
Serves 4
1/2 cup brown sugar, packed
1/8 cup dark rum
1/4 cup butter
2 large ripe, firm bananas
1. In 1 1/2-qt. casserole stir together brown sugar and rum. Add butter. Cover. Microwave at High 4 to 5 Minutes, stirring after 2 minutes, until sugar is dissolved.
2. Cut bananas lengthwise, then crosswise so there are 8 pieces. Add to syrup, stirring to coat each piece.
3. Microwave at High 1 to 2 Minutes, until hot. Serve over ice cream.
Options: chopped pecans or 1/4 tsp cinnamon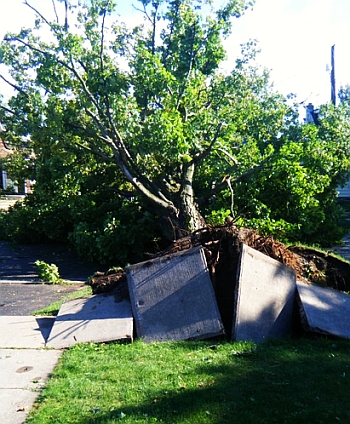 This summer, Joanne's town of Goderich Ontario was hit by a horrible tornado. Many homes and other buildings were completely destroyed, This tree was right in front of Joanne's place and fell onto the road. They were lucky it didn't fall on the house! Goderich is a truly beautiful part of the world and the loss of homes, historic buildings and old trees has devastated everyone. With an estimated damage of $185 million, The people of Goderich will be rebuilding for a long time and would truly appreciate your support. Please go to http://edgefund.org/
Here is Goderich before, during and after the storm.
Tags:
Fruit
,
Gluten-free
,
Vegetarian