"I'm going to throw caution to the winds and have a sweet sherry." – Alan Bennett's character Joyce Chilvers in the movie "A Private Function."
Cooking With Sin has some interesting connections. Chef Tim Wasylko, the creator of "Stuck on Reduction" Grilled Watermelon Salad has cooked for our Canadian Prime Minister. Now I get to share a recipe from someone who has cooked for U.S. political leaders.
Looking at my stats here, I was surprised to see how many people were looking for vegetarian recipes, but I knew that most of my vegetarian recipes were for sweets. So, I put a request on LinkedIn to find a vegetarian, gluten-free recipe that was a savoury. Lauren Hoover-West responded.
Lauren Hoover-West trained at The California Culinary Academy then worked as a pastry chef for some of the top restaurants in the United States. During her time at the Hyatt in Indian Wells, she was honoured to prepare food for 4 U.S. Presidents and a U.S. Senator.
Lauren went on to become a culinary school instructor and while she was working on her Psychology degree, she was diagnosed with food allergies. Always looking for opportunities to be creative in the kitchen, she started converting and testing recipes to work with her new diet of no gluten, no dairy and no refined sugar. She happily shared her food and recipes with her classmates who were a great source of encouragement.
Enjoying her new found health, Lauren furthered her new cooking style by incorporating vegetarian recipes. She also does not use xanthan gum or guar gum in her cooking.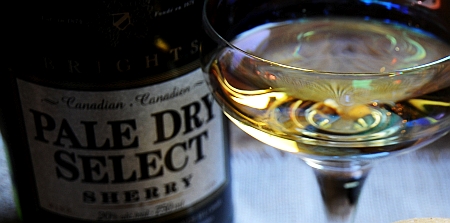 "Presidential" Gluten-n-Dairy-Free Mushroom Pot Pie
Yields: 1 pie, 6-8 servings
Step 1: Gluten-Free Pie Crust
This delicate, flaky pie crust can be made by hand, or in a food processor which is much faster. I learned how to make this from my Aunt. Her desserts are perfection and the whole family always looks forward to enjoying them at gatherings and holidays!
Yields: 2 single crusts
3 cups oat flour
½ teaspoon sea salt, fine
2 sticks vegan Earth Balance or 1 cup vegetable shortening, frozen and diced
½ cup iced water (bottled or filtered)
1. Put bowl and pastry cutter into the freezer while measuring out ingredients. Try to handle dough as little as possible. You want to keep the pieces of Earth Balance or shortening cold, which will make the crust flakey rather than tough.
2. Sift flour and salt into a large glass or metal mixing bowl or food processor. Add ½ cup shortening or 1 stick Earth Balance and cut into the flour with a pastry cutter, or pulse with food processor, until it is the size and texture of cornmeal.
3. Add remaining ½ cup shortening or stick Earth Balance and cut into the flour with cutter, or pulse with food processor, until it is the size of small green peas.
4. Slowly drizzle 1 Tablespoon of water at a time and blend just until dough forms a ball or comes together so it doesn't break apart.
5. Take a tablespoon of dough, roll it out and if it cracks or falls apart, you need more water. If the dough is sticky, you added too much water. If it is too sticky, add 1-2 Tablespoons of flour. The humidity in the air will determine how much water you will need.
6. Cut dough in half and wrap in plastic and refrigerate or put into a freezer zip bag and freeze until ready to use. Thaw in refrigerator for 8 hours.
When ready to make the pie:
1. Between two pieces of plastic wrap or on a well-floured board, roll out the dough -when rolling dough, roll once with even pressure and turn a quarter turn and continue rolling and turning until it is ¼ inch thick. If it sticks, add more flour to board. Only roll out one time or it will become tough instead of flakey. Brush off any excess flour with a dry pastry or basting brush.
2. If using plastic remove the top piece of plastic and lift up the bottom piece of plastic holding the dough and flip it over into a pie pan and peel off the plastic.
3. If using a floured board, gently roll the dough around the rolling pin, start at the edge of the pie pan, and unroll it over the pie pan. If it sticks to the board, slide a long flat spatula under it.
4. Roll out remaining half of dough after you have filled the pie and are ready to bake it. Dough can be frozen up to 6 months if double wrapped in plastic and then put into a zip freezer bag. It will keep in the refrigerator for a few days.
Step 2: Gluten-Free, Dairy-Free Mushroom Pot Pie Filling
Portobello mushrooms have a meat like texture a make great vegetarian main dish!
1 small organic yellow onion, diced
1 cup sliced organic carrots
4 stalks organic celery, sliced
2 large Portobello mushrooms, cubed or 4 cups crimini mushroom caps, halved
1/3 cup dry sherry
1 cup organic frozen petite green peas
1 bunch organic flat Italian parsley, chopped
4 Tablespoons organic oat flour
4 Tablespoons organic grape seed oil or extra virgin olive oil
2 cups organic vegetable stock or broth
salt/pepper to taste
2 teaspoons dried herbs (thyme, basil, savory, marjoram or your favorite)
1 recipe of pie crust, unbaked
1. Preheat oven to 375° F. Roll out half the pie dough to ¼ inch thick and about 1 inch wider than your pie pan, place in pie pan, refrigerate for 30 minutes or more. Keep the other half of dough refrigerated.
2. In a large pot, sauté onions, carrots, celery and mushrooms over medium high heat until soft. Add ¼ cup dry sherry and cook for 1 minute until liquid has cooked down.
3. In the same pot add oil and flour and whisk over medium high heat until bubbling and then cook an additional 2 minutes. Slowly add the vegetable stock while whisking vigorously to avoid lumps.
4. Bring the pot to a boil and add all of the mushrooms, vegetables, frozen green peas and chopped parsley. Add herbs, pepper and salt if needed. Mix everything together and pour into pie pan lined with dough.
5. Roll out remaining half of dough about 1 inch wider than pie pan, cut a ½ inch hole in the middle and place over the top of the pie, and crimp the edges as you like.
6. For fewer calories, omit the bottom crust. Bake pie on the middle rack for 1 hour or until it is bubbling in the middle. Remove from oven, let it cool for 5-10 minutes, serve and enjoy.
7. This will keep in the refrigerator and make great leftovers for a few days. Do not freeze after baked. If you want to make it ahead, you can freeze it before you bake it and just bake it while frozen, but add more cooking time.
Enjoy!
Lauren has appeared and cooked on "ABC Live" in Chicago and Sacramento. She has cooked for 4 United States Presidents and a United States Senator.
Lauren Hoover-West was classically trained at The California Culinary Academy. She is a Chef/Educator/Consultant specializing in food allergies and health issues, including Diabetes, Autism, Celicac Disease, Autoimmune diseases and inflammatory conditions. Lauren has created a revolutionary way to cook delicious food that is gluten-free, dairy-free, low glycemic index and very healthy.
She is the author of No Wheat No Dairy No Problem cookbook and blog site. She has 20 years of cooking and teaching experience at La Folie (Michelin star), Fairmont, Hyatt Resorts, Bally's, Marriott etc… Lauren is the owner of Lauren's Kitchen Biscotti Company. She also earned a Bachelor of Science in Psychology. For more information go to her blog www.NoWheatNoDairyNoProblem.com.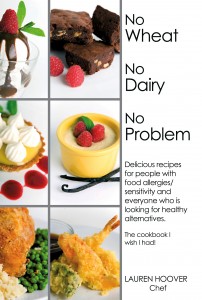 Tags:
Dairy-free
,
Gluten-free
,
Vegetarian