"May you live as long as you like, And have all you like as long as you live." 

~ A toast to health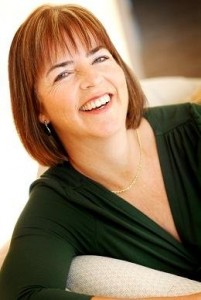 Two years ago I wrote about my Anna, Dr. Anna-Marie Ball in "My BFF & 7 Deadly Zins." Anna was raised as a TCK (Third Culture Kid). She has a Canadian passport, but was raised in another country. The other country in Anna's case was Zambia, Africa.  The last few years she has been living in Uganda working for HarvestPlus a global organization that "seeks to reduce hidden hunger and provide micronutrients to billions of people directly through the staple foods that they eat."
Anna-Marie works in mostly rural communities in several different countries in Africa on a significant orange-flesh sweet potato project. Sweet potatoes are a staple food in many parts of Africa and the world, but they are often white with few nutrients. Orange-fleshed sweet potatoes are full of vitamin A and make a significant impact on the developing bodies of children. Vitamin A does important work such as supporting the eyes, the skin and it strengthens the immune system to help the body fight off disease.
Before the potato vines arrive in Anna's jurisdictions, an enormous amount of research and development goes into finding and creating the right strains, the right kind of potatoes to grow under various regional growing conditions. Anna's job is to implement the project locally and there is nothing simple about it.
First, resources have to be in place to encourage farmers to grow the orange-fleshed sweet potatoes. Then Anna monitors to see that the crops are harvested properly and make it to the market. Once the potatoes are in the market, she has to make sure the infrastructure is in place to urge and support people, mostly moms, to buy them, prepare them and feed them to their children. Each step is crucial to the project's success.
Recently at a community gathering in Mozambique, one of the local moms, exhausted by the presentations, sighed, "It's so much work." One of Anna's co-workers became indignant and wanted to scold the mom. Couldn't she see how important this was? This new orange-flesh sweet potato was for the betterment of her children and her family's health. Before anything was said, Anna quietly intervened, "We are all the same. Many people in Canada don't like to do the work necessary for their families to live healthier either."
I did not expect Anna to have any orange-fleshed sweet potato recipes with *sin* in it, but it turns out she does! Her project had recently submitted several recipes to Bono's One project, and this is an extra one I am "tickled orange" to share here. Pretty sweet, eh?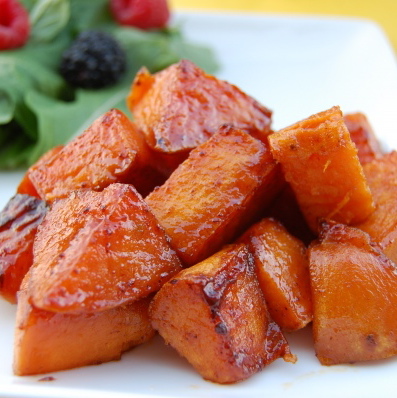 "Vitamin A" Sweet Potatoes
Serves 6
6 medium sweet potatoes cooked and peeled 3/4 cup of sweet vermouth 1/2 cup apricot jam 3 tablespoons of butter  
 1. Cut potatoes in half, length wise and place in shallow casserole.
2. Blend the vermouth with the jam, spoon evenly over the potatoes and dot with butter.
3. Bake at 350°F  for 30 minutes, basting twice
Photo credit:
http://www.livingbetterat50.com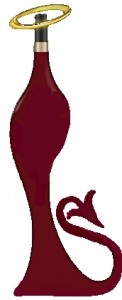 Tags:
Sweet Potatoes
,
Vegetarian
,
Yams