Wine lovers, I hope you enjoy "The Winemaker's 7 Essential Tips For Serving Wine With The Best Results!" from Roland Zimmermann, co-owner and winemaker of King's Court Estate Winery.
There are many tools devised by clever oenophiles for the purpose of pulling the cork from a bottle of wine, from the very first versions crafted by early blacksmiths, to modern electronic pulls. The most effective, and least expensive, however, is probably the simple waiter's friend, or "sommelier knife."
Sommelier knives have three extensions that pull out from the handle, similar to utensils on a pocket knife. Most sommelier knives feature a short, serrated-edge blade, an auger or helix screw, and a lever.
To open wine, begin by extending the knife, placing the serrated edge just below the lip of the bottle. Run the knife around the foil covering the neck. Remove the foil top, exposing the cork. Close the knife.
Open the screw and place the point at a 45 degree angle in the centre of the cork. Start to twist and then right the screw aiming straight down the neck of the bottle. Twist the screw into the cork until there is one visible curve remaining.
Find the notch on the lever and place it on the rim of the bottle, then pull the handle upward. Some tools may have a two-stage lever that allows for a short first pull, requiring repositioning of the second stage of the lever to continue the pull. Finish by taking the cork between the thumb and forefinger, and pulling by hand to remove from the bottle. Now, it's time to pour, admire, and enjoy!
Cheers!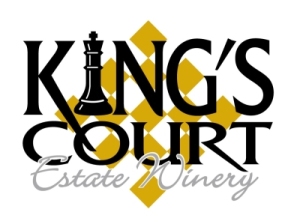 See also…
Winemaker Tip #2. A Matter of Degree: Temperature & Wine
Winemaker Tip #3. Stemware Selection for White Wine: A Delicate Dance
Winemaker Tip #4. Red Wine Stemware: Passionate Presentation
Winemaker Tip #5. Stemware for Dessert Wines: Short & Sweet
Winemaker Tip #6. Wine & Cheese: Perfect Pairing
Winemaker Tip #7. Decanting Wine: Sediment & Evaporation
Tags:
King's Court Estate Winery
,
Wine Tasting