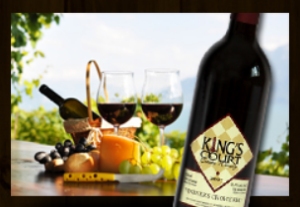 Wine lovers, I hope you enjoy "The Winemaker's 7 Essential Tips For Serving Wine With The Best Results!" from Roland Zimmermann, co-owner and winemaker of King's Court Estate Winery.
If you're serious about dessert wines, you already know that they embrace a wide range of sweetness and style. But were you aware that light, fruity Rieslings, Vidal Blancs, and Sauternes, present a completely different profile than the deep red Ports, Marsalas, and Madieras? Icewines, prepared from both red and white grapes frozen on the vine, deserve a special mention, due to their incredible concentration and rich palate. In order to appreciate the characteristics of each, appropriate stemware should be a consideration.
Due to the intense profiles, sweet wine glasses tend to be on the smallish side. Rounded bowls, while not nearly as large as those of dry red or white wines, still allow for the wine to roll smoothly while swishing to aerate. A bowl of between 235 and 265ml (8 and 9 ounces) provides a good balance for most sweet wines. Additionally, the stems of dessert wines are usually shorter than those for dry wines.
Icewine stemware has a very tapered bowl, with a raised globe nearer the rim than the stem. The shape helps to highlight acidity, balancing the delightfully concentrated wine with late aeration on its way to pleasing the palate. Bowls that are just a bit larger than dessert wine stems, with bowls of 265 to 325 ml (9 to 11 ounce) capacity, especially flatter the sip.
Similar to icewines, late harvest wines exhibit a concentrated flavor and sweetness profile deserving of a smaller bowl perched upon stemware with a shorter stem. Late harvest wines, such as our 2009 Vidal Late Harvest bottle, are best poured to fill only a third of the bowl, allowing for just enough breathing room to keep the wine lively, and just enough tuck at the top to maintain the punch of the concentrated nose. These incredibly rare and tasty wines deserve proper presentation. If this wine proves to be a favorite, be on the lookout for extraordinary antique glassware sets, should one be lucky enough to happen upon them.
"Cin cin!"
See also…
Winemaker Tip #1. The Corkscrew: Cut, Twist, Pull
Winemaker Tip #2. A Matter of Degree: Temperature & Wine
Winemaker Tip #3. Stemware Selection for White Wine: A Delicate Dance
Winemaker Tip #4. Red Wine Stemware: Passionate Presentation
Winemaker Tip #6. Wine & Cheese: Perfect Pairing
Winemaker Tip #7. Decanting Wine: Sediment & Evaporation
Tags:
King's Court Estate Winery
,
Wine Tasting