"Wine is a living liquid containing no preservatives. Its life cycle comprises youth, maturity, old age, and death. When not treated with reasonable respect it will sicken and die."

"The only time to eat diet food is while you're waiting for the steak to cook."

~ Julia Child
Last Sunday was the 4th time I watched the movie "Julie & Julia." There are so many different reasons to enjoy that movie. It's a wonderful story of two women forging new paths for their lives by following their passions; doing what they love to do for themselves rather than doing for someone else.
Being a happily married woman – 21 years and counting – I enjoyed the husbands in this movie, too. After years of playing villains, Stanley Tucci has found his way into my heart.
For many years I have been a classroom teacher and I took this year off to pursue some of the ideas that have been brewing in my imagination, this being one of them. Sitting at a computer, I knew I wouldn't be as active, so I decided to lose some weight. I figured even if I didn't lose a lot of weight, at least I wouldn't gain a lot!
Recently Weight Watchers magazine published their trimmed down version of Julia Child's Boeuf Bourguignon. Both recipes call for red wine. We know Julia's recipe is stellar, yet the Weight Watcher recipe has received its share of kudos, too. I cooked the WW version and loved it! I'll share them both with you here. You can decide for yourself.
Boeuf Bourguignon can be served over potatoes, buttered noodles, rice or green vegetables. It can also be served with bread for dipping.

Julia Child's Boeuf Bourguignon
(Serves 6)
Kitchen Supplies:
9- to 10-inch, fireproof casserole dish , 3 inches deep

Slotted spoon
Boeuf Bourguignon:
6 ounces bacon

1 Tablespoon olive oil or cooking oil

3 pounds lean stewing beef , cut into 2-inch cubes

1 sliced carrot

1 sliced onion

1 tsp. salt

¼ teaspoon pepper

2 Tablespoon flour

3 cups full-bodied, young red wine, such as a Chianti

2 to 3 cups brown beef stock or canned beef bouillon

1 Tablespoon tomato paste

2 cloves mashed garlic

½ teaspoon thyme

Crumbled bay leaf

Blanched bacon rind

18 to 24 small white onions , brown-braised in stock

1 pound (450 grams) quartered fresh mushrooms , sautéed in butter

Parsley sprigs
Directions:
Remove rind from bacon, and cut bacon into lardons (sticks, ¼ inch thick and 1½ inches long). Simmer rind and bacon for 10 minutes in 1½ quarts of water. Drain and dry.
Preheat oven to 450°F.
Sauté the bacon in the oil over moderate heat for 2 to 3 minutes to brown lightly. Remove to a side dish with a slotted spoon. Set casserole aside. Reheat until fat is almost smoking before you sauté the beef.
Dry the stewing beef in paper towels; it will not brown if it is damp. Sauté it, a few pieces at a time, in the hot oil and bacon fat until nicely browned on all sides. Add it to the bacon.
In the same fat, brown the sliced vegetables. Pour out the sautéing fat.
Return the beef and bacon to the casserole and toss with the salt and pepper. Then sprinkle on the flour and toss again to coat the beef lightly with the flour. Set casserole uncovered in middle position of preheated oven for 4 minutes. Toss the meat and return to oven for 4 minutes more. (This browns the flour and covers the meat with a light crust.) Remove casserole, and turn oven down to 325°F.
Stir in the wine, and enough stock or bouillon so that the meat is barely covered. Add the tomato paste, garlic, herbs, and bacon rind. Bring to simmer on top of the stove. Then cover the casserole and set in lower third of preheated oven. Regulate heat so liquid simmers very slowly for 2½ to 3 hours. The meat is done when a fork pierces it easily.
While the beef is cooking, prepare the onions and mushrooms. Set them aside until needed.
When the melt is tender, pour the contents of the casserole into a sieve set over a saucepan. Wash out the casserole and return the beef and bacon to it. Distribute the cooked onions and mushrooms over the meat.
Skim fat off the sauce. Simmer sauce for a minute or two, skimming off additional fat as it rises. You should have about 2½ cups of sauce thick enough to coat a spoon lightly. If too thin, boil it down rapidly. If too thick, mix in a few tablespoons of stock or canned bouillon. Taste carefully for seasoning. Pour the sauce over the meat and vegetables. Recipe may be completed in advance to this point.
For immediate serving: Covet the casserole and simmer for 2 to 3 minutes, basting the meat and vegetables with the sauce several times. Serve in its casserole, or arrange the stew on a platter surrounded with potatoes, noodles, or rice, and decorated with parsley.
For later serving: When cold, cover and refrigerate. About 15 to 20 minutes before serving, bring to the simmer, cover, and simmer very slowly for 10 minutes, occasionally basting the meat and vegetables with the sauce.
Copyright © 1961, 1983, 2001 by Alfred A. Knopf. Reprinted by arrangement with the Knopf Doubleday Publishing Group, a division of Random House, Inc.
– Everytime I read that I hear Meryl Streep's "K-Nopf."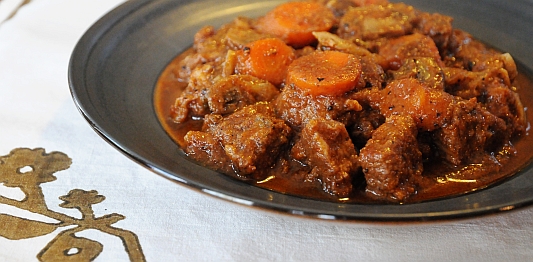 Weight Watcher's Boeuf Bourguignon
January • February 2010 ǀ Weight Watchers magazine
(Serves 6)
Ingredients
2 lbs boneless bottom round roast, trimmed and cut into 3/4-inch cubes

¼ cup all-purpose flour

1 tablespoon olive oil

1 (14½ ounce) can low sodium beef broth

1 cup red wine

1 (16 ounce) package frozen pearl onions

1 (10 ounce) package cremini mushrooms

2 tablespoons tomato paste

4 garlic cloves, chopped

1 tablespoon chopped fresh thyme

1 bay leaf

½ teaspoon salt

¼ teaspoon black pepper

1 lb. (450 grams) carrot, thickly sliced

2 tablespoons chopped fresh flat-leaf parsley
Directions:
Toss beef and flour in medium bowl until evenly coated. Heat oil in large Dutch oven over medium-high heat. Add beef, in batches if necessary, and cook, turning occasionally, until browned, about 6 minutes. Transfer to medium bowl with a slotted spoon.
Add broth, wine, onions, mushrooms, tomato paste, garlic, thyme, bay leaf, salt and pepper; bring to boil, scraping up browned bits from bottom of pot.
Stir in beef and reduce heat. Cover and simmer 1 hour. Stir in carrots.
 Cover and simmer until beef and vegetables are fork-tender, about 30 minutes. Serve sprinked with parsley.
Filling Extra: Add 1 lb thickly sliced parsnips with the carrots.
Bon Appétit!



Tags:
bacon
,
Light
,
Lite
,
Meat