"From man's sweat and God's love, beer came into the world." 

~ Saint Arnold of Metz, The Patron Saint of Brewers
Carbonnade à la Flamande is a Belgium beer and beef stew with a sweet-sour flavour. The key ingredients are beef, onions, Belgian beer and the flavours of thyme and bay.
The type of beer is important. It needs a beer prepared the Belgian way with a somewhat bitter-sour flavour. Oud bruin, Brune Abbey beer, Flanders Red Ale, Newcastle Brown Ale, Anchor Steam, Ommegang Alley Ale, or dark Trappist beers from Chimay or Orval.
There is no story to go with this recipe. I just thought I'd share it here because I am getting ready to go to print with this project and am looking for some interesting bits to supplement the recipes. This carbonnade is a cousin to the French Boeuf Bourguignon.
Ingredients
3 1/2 lbs chuck roast, cut into 1-inch pieces

3 strips of bacon

Salt and freshly ground black pepper

4 Tablespoons butter

3 medium yellow onions sliced about 1/4 inch thick (about 8 cups)

1 ½ Tablespoon chopped garlic

3 Tablespoons all-purpose flour

1 1/2 cups chicken or beef broth

1 1/2 cups (12 oz bottle) Belgian beer

4 sprigs fresh thyme

2 bay leaves

1 Tablespoon whole grain mustard

1 Tablespoon brown sugar
Season the roast pieces with salt and pepper, then brown in a large pot or Dutch oven with 2 tablespoons of butter on medium-high.

Brown the meat in 2 tablespoons of butter in batches. Brown the beef one side at a time, approximately 3 minutes per side. It is best not to stir so that the meat can brown well. Place the browned beef in a bowl.

Cut the bacon into small pieces and brown in the pan until crispy. Set the bacon aside leaving the bacon fat in the pan.

Add the remaining 2 tablespoons of butter to the large pot. Add the onions and cook over medium heat until the onions are browned. Add the garlic half way through as it browns quicker. Sprinkle the flour over the onions and stir until the onions are coated evenly (about 2 minutes).

Add the broth and stir loosening the browning on the bottom of the pan. Stir in the beer, thyme, bay leaf then add the browned beef and bacon. Add salt and pepper to taste.

Cook on medium-high until it is a full boil, then reduce and simmer for approximately 2 ½ hours, partially covered, stirring occasionally. If it doesn't thicken, slowly stir in a mixture of cold water and flour or cornstarch.

After 2 hours, add the mustard and brown sugar and let it finish cooking for another ½ hour.

Remove the bay leaf and thyme sprigs before serving.

Can be served plain, or over potatoes, noodles, or French fries. Serves 6.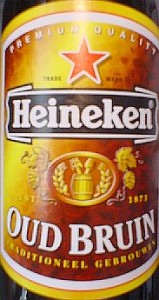 Because it is a traditional dish, there are a lot of different ways to prepare and serve Carbonnade à la Flamande. It can be made with chunks of ground chuck instead of the chopped roast. Vegetables can be added near the end. Potatoes work well cooked in the broth. The seasonings can be adjusted to taste; nutmeg and parsley work well.
To achieve the sweet-sour taste red wine vinegar or cider vinegar can be substituted for the sour and concentrated fruit juices or tomato paste can be substituted for the sweet.
For the final stage of cooking, bread spread on both sides with mustard can be placed on top of the stew to be absorbed into the stew. It adds flavour and thickens too.
Tags:
bacon
,
Meat