Recipe Courtesy : "From Pemmican To Poutine – A Journey through Canada's Culinary History"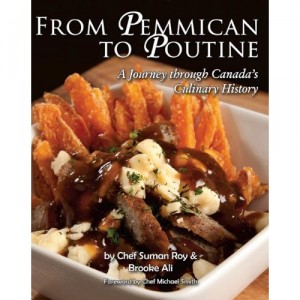 Author : Chef Suman 
With a lovely view of the Bay of Fundy, Grand Pre Estates Winery makes Nova Scotian wine in the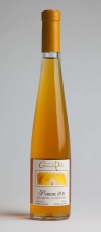 beautiful Annapolis Valley. Their stately rows of grapevines grow unique grapes that have been designed to thrive in the particular growing climate of Annapolis Valley. Instead of growing Old World varieties like Chardonnay or Sauvignon, Grand Pre strongly believes that new wine producing regions should develop and perfect their own varieties, styles and vineyard practices to make wines that are born of and unique to their region. Not only does this create a truly Nova Scotian wine, but it makes it easier to grow the grapes without the costly and sometimes environmentally damaging methods needed to grown non-indigenous strains.
Grand Pre is the oldest winery in Nova Scotia. It was started in the 1970s by Roger Dial, who is considered the pioneer of Nova Scotia winemaking. He ran the winery until 1993 when it was purchased by Hanspeter Stutz. Stutz wanted to create not just wine but also a tourism experience, by renovating the grounds and offering vineyard tours in the summer and fall. They still make wines with their special grapes, but they now also offer unique varieties like icewine and their very special Pomme d'Or.
Pomme d'Or means "golden apple" in French and is a particularly apt name for this wine; the rich golden hue combines with the sweetness almost of an icewine to make it seem like you really are drinking sweet liquid gold. Made from six varieties of apples grown in the Annapolis Valley (Macintosh, Cortland, Russet, Northern Spry, and two secret varieties), the mix of old and new strains give the flavour and bouquet a complexity that makes it stand apart. The notes of baked apple, apricot and caramel pair beautifully with the saddle of rabbit and bring an unmistakable flavour to the marinade. Just make sure to save a few glasses for yourself.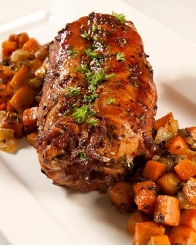 Roasted Rabbit Marinated in Grand Pre's Pomme D'Or
Serves: 6
Marinade:
1 cup Grand Pre's Pomme D'Or
2 cups chicken stock
¼ tsp ground nutmeg
¼ tsp fresh tarragon, finely chopped
1 tsp garlic, finely chopped
1 tsp shallot, finely chopped
1 tbsp chili pepper flakes
1 tsp salt
1 tsp black pepper, freshly ground
Meat:
2 (2 lbs) rabbits
Roasting Vegetables:
3 sweet potatoes, 5 cm (2") diced
2 carrots, peeled and 5 cm (2") diced
1 celery stalk, 5 cm (2") diced
1 onion, 5 cm (2") diced
1 bay leaf
1. In a large mixing bowl mix together all of the ingredients for the marinade and marinate both rabbits overnight in a refrigerator.
2. Preheat the oven to 300°F.
3. In a roasting pan layer the bottom with the large diced vegetables, and place the 2 rabbits on top. Reserve any leftover marinade.
4. Roast in the oven covered for 3 hours until cooked through, basting occasionally with the leftover marinade. You will know it is cooked when the meat is almost falling off the bones.
5. Increase the oven temperature to 400°F and remove the cover to get an even golden brown colour on the rabbits.
6. Serve the rabbits with the vegetables and the juices from the pan.
Wellness Notes:
Rabbit meat contains niacin, selenium, phosphorous, iron, and B12. Look for grass fed rabbit, as grass fed animals contain more nutrition and healthier fats than grain fed animals of the same breed
Purchase a copy of Chef Suman's new cookbook "From Pemmican to Poutine"
UPDATE: Check out the Lobster Caesar recipe Chef Suman enjoyed for his birthday.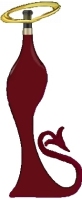 Meat
,
Potato
,
Rabbit