"

Here's a toast to the roast that good fellowship lends,

With the sparkle of beer and wine;

May its sentiment always be deeper, my friends,

Than the foam at the top of the stein"

~ Anonymous
Take a chef who loves pork, make him a die hard fan of the TV show Iron Chef, then give him a BBQ team with off-beat humour and an unmatched flare for the grill. What could you possibly name that BBQ team? …"Pork Ninjas!"
Jason Rees is loved by his fans for his extraordinary panache for all things culinary. His BBQ team "Pork Ninjas" competes all over the country and wows every crowd with their smokin' grillin' expertise. When Jason turned 30 he commemorated it with a very fine flying pig tattoo.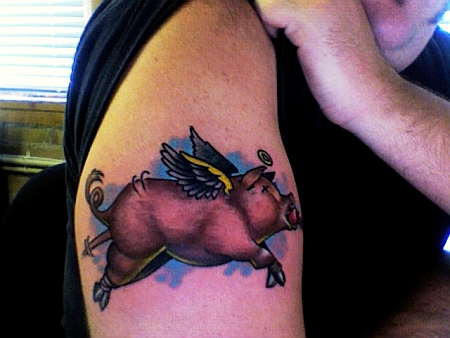 http://www.bbqblog.ca/2006/12/my-love-of-bbq.html
Pork Ninjas' Salad Dressing
1/4 lb. bacon, cooked and crumbled
1 cup blue cheese, crumbled
1/2 raw red onion, sliced thin
1/2 cup cream ale
2 tablespoons mayonnaise
1 teaspoon granulated garlic
1/2 teaspoon mustard powder
pinch salt
ground white pepper to taste
2 teaspoons Dijon mustard
splash of hot sauce
1. Loosely toss the bacon, blue cheese and onions.
2. In a separate bowl make the beer dressing by combining the rest of the ingredients, and whisk briskly until the beers flattens out.
3. Crumble the cheese-bacon-onion mixture over your favorite potato salad or cobb salad, then drizzle the beer dressing over top of the entire thing.
4. This dressing is truly rocking when served super fresh, so you don't want to store it to use later.
*G-F Tip! Make this dressing with gluten-free beer and voila!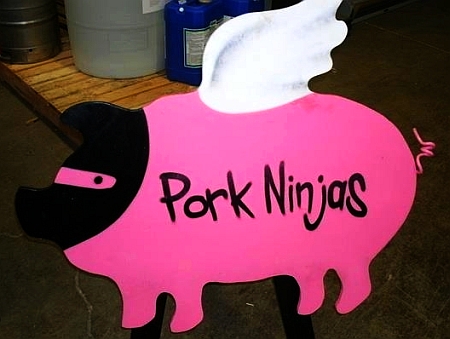 Tags:
bacon
,
Cheese
,
Gluten-free
,
Salad