"You're a marshmallow. Soft and sweet and when you get heated up you go all gooey and delicious." ~ Janet Evanovich, One For The Money
For most of my life I thought marshmallows were the simple candy treat you buy in a bag at the grocery store. Simple and inexpensive, they make great rice crisp treats and I love roasting them for S'mores over campfires at our family cabin.
Camping enthusiasts know that roasting a marshmallow on a stick over the coals of an open fire is truly an art. You want a crispy, toasty brown colour on the outside and slightly melted, warm & soft on the inside, but the temperature must be not be too hot. A burnt lip or tongue will definitely spoil the fun.
I also have a soft spot on my palate for the chocolate covered, heart-shaped marshmallows on a stick you can buy at the corner store for Valentine's Day. A few years ago, my eyes were opened to a whole new marshmallow landscape when I found out that Reid Chocolates, our local, wonderful chocolatier made their own marshmallow for their seasonal treats. Their soft, tasty chocolate-coated sweets took marshmallow to a whole new level. I was a convert!
Chef Jason Parsons, Executive Chef at Peller Estates Winery Restaurant and the creator of this recipe, claims it is a fool-proof recipe, but I was still really happy that my friend Connie Campbell tested the recipe instead of me. She is a passionate, brilliant chef. If you know me, I don't even consider myself a proper cook. Connie did a great job and you can read about it on her blog post "Icewine Marshmallows… or should I say Marshmellow…?"
I didn't ask Connie if she would use them in S'mores, but I think a light coating of chocolate might be perfect.
"Not From Your Grocery Store" Icewine Marshmallows
  3/4 cup Icewine (Connie used red) 3 envelopes unflavoured gelatin 3/4 cup water 2 cups sugar 2/3 cup corn syrup 1/4 teaspoon salt 1 tablespoon vanilla (Connie used a clear vanilla) ¼ cup icing sugar (more if needed)  

Line a 9-inch square pan with oiled plastic wrap.
Pour Icewine in a small saucepan over medium heat and simmer for several minutes until reduced to approximately 4 teaspoons. It will be a thick syrup. Watch closely to prevent scorching. Let cool.
In a mixer bowl, pour 1/2 cup of water and sprinkle with gelatin. Let stand 10 minutes to let it soften.
While the gelatin sits, combine remaining water, sugar and corn syrup in a saucepan. Bring to a boil until it reaches 240°F the "soft ball" candy stage.
Stir the sugar-syrup mixture into gelatin mixture along with the salt. Beat with whisk on high speed for eight minutes.
Add the reduced Icewine and vanilla. Continue beating for 2 more minutes.
Transfer mixture to the lined pan. Use an oiled spatula to spread evenly.
Allow to set several hours in a cool area, but non-refrigerated.
When the marshmallow mixture is firm, remove from the pan. Cut into squares with a lightly oiled knife and coat each square in icing sugar.
Tip! When you cut the marshmallow be sure to pull the pieces apart or they will join back together again becoming "uncut."

Marshmallow probably first came into being as a medicinal substance, since the mucilaginous extracts come from the root of the marshmallow plant, Althaea officinalis, which were used as a remedy for sore throats. Concoctions of other parts of the marshmallow plant had medical uses as well. The root has been used since Egyptian antiquity in a honey-sweetened confection useful in the treatment of sore throat. The later French version of the recipe, called pâte de guimauve (or "guimauve" for short), included an egg white meringue and was often flavored with rose water.Pâte de guimauve more closely resembles contemporary commercially available marshmallows, which no longer contain any marshmallow plant. The use of marshmallow to make a sweet dates back to ancient Egypt, where the recipe called for extracting sap from the plant and mixing it with nuts and honey.
Gin & Tonic Sorbet
Recently, Connie sent me a picture of a recipe she and a friend found online for Gin & Tonic Sorbet. They tried it out and found it "yummy and very sweet." I told her that at some point we need to publish "Cooking With Sin With Connie" because she is such a rich source of interesting food and recipes.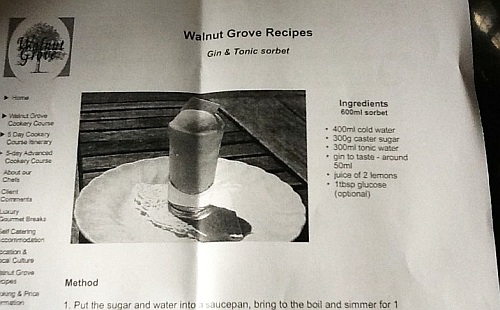 G & T Sorbet
400ml cold water
300g caster sugar
300ml tonic water
gin to taste – around 50ml
juice of 2 lemons
1 tablespoon glucose (optional)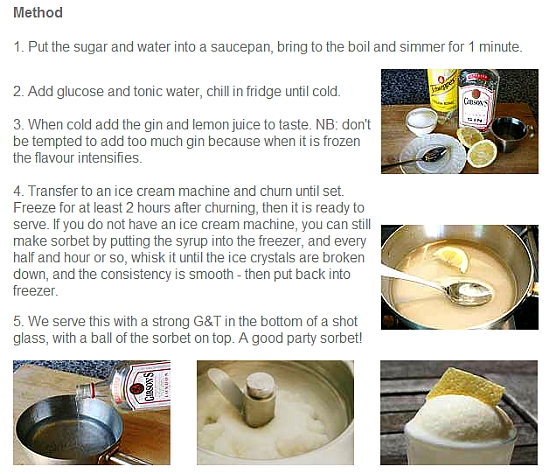 Here is the original recipe from Walnut Grove Cookery in France.
See Connie's other posts here on "Cooking With Sin"
"Oops I Did It Again" Bouillabaisse
"Good Neighbour" Gluten-Free Beer Braised Beef
Tags:
Connie Campbell
,
Gluten-free
,
Sweets
,
Vegetarian
,
Winery