"No soldier can fight unless he is properly fed on beef and beer."

– John Churchill, 1

st

Duke of Marlborough
Connie & Don Campbell live, eat and cook with passion. They keep busy running a large business and they keep grounded by tending to their farm. They raise their own beef cattle and free range hens, plus they grow their own vegetables and herbs.
Farming can come with interesting challenges. Recently some of their renegade hens started running a"fowl" of the pen. Connie and Don have not yet figured out the escape route, but a few days ago they found this nest tucked away in another building. 17 days worth of eggs!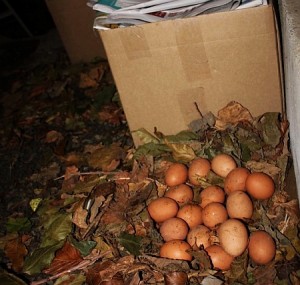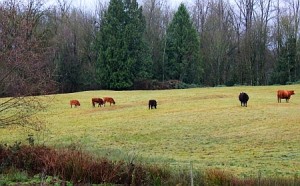 Connie and Don often travel, so when they come home they enjoy delicious meals prepared with care and thought. Connie is a wonderful cook who loves to be challenged to improve her skills. She trained at two Culinary Institute of America campuses, one in New York and the other in California. The California campus was in Napa Valley, so she cleverly called it "wine boot camp."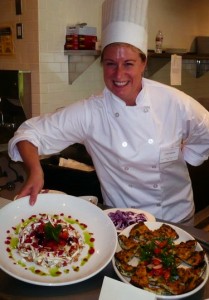 Six years ago I met Connie and Don for the first time. My husband and I decided to buy rental properties and were pleased to find R.E.I.N. (Real Estate Investment Network). Don is the president of R.E.I.N. He & Connie have been real estate investors for over 25 years and work hard to help educate others who want to do the same and do it wisely.
Recently a new friend moved in to Connie and Don's neighbourhood. When Connie learned their new friend had to eat gluten-free, she happily took it upon herself to prepare a special gluten-free meal with cuts of their own beef, gluten-free beer and gluten-free flour. It was a fun opportunity to get to know new friends and connect over an exquisite meal.
2 tablespoons brown sugar
1 tablespoon cider vinegar
salt
black pepper
vegetable oil
3 – 4 lbs. round steak, cut 3/4 inch thick in portion sizes
3 tablespoons all-purpose celiac flour or other gluten-free flour
1 bottle of gluten-free beer, 12 oz.
1 cup gluten-free beef stock
2 teaspoons dried thyme
1. Preheat the oven to 350°F.
2. Cook the bacon until crisp and transfer to paper towels. Set aside.
3. Add onions to drippings and cook over medium heat for 15-20 minutes until soft. Sprinkle brown sugar over onions and increase the heat to medium high and cook for about 8 minutes, until onions are golden.
4. Add vinegar, salt and pepper to the onion mixture and stir briefly. Transfer to a baking roaster.
5. Sprinkle all sides of the beef with salt and flour.
6. Heat oil in a large skillet and brown the beef on both sides. Transfer beef to the roaster and place on top of the onions.
7. Add the beer and stock to the heated skillet and scrape up the browned bits. Reduce the liquid a little, then pour it over the beef in the roaster. Top beef with the bacon and thyme.
8. Place in the oven for approximately 2 hours. After 1.5 hours, check for desired tenderness.
9. Alternate cooking methods:
a) Place in slow cooker for about 8 hours.
b) Braise on the stove-top for about 1.5 hours. More stock or water will be needed.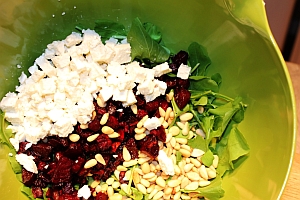 Connie and Don are both avid bloggers.
Connie's great food blog is  "Growing Cooking Sharing"
Don's real estate investing blog is "Insights on Canadian Real Estate, Business, Economics and Life"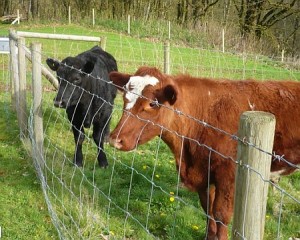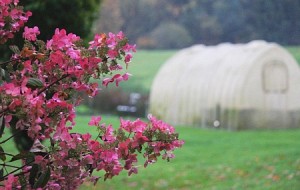 All photos above are courtesy of Connie J. Campbell.
Connie recently introduced me to her friend Anita. Here is Anita's story & her recipe for "Una Della Famiglia" Limoncello.
If you like this recipe, you'll probably like Connie's latest contributions to CWS "Oops I Did It Again" Bouillabaisse & "Not From Your Grocery Story" Icewine Marshmallows.
Tags:
Connie Campbell
,
Gluten-free
,
Meat